Perficient's Minneapolis colleagues are all about supporting the local community from large to small organizations and projects. Their latest Giving Back event featured The Sandwich Project, whose ultimate goal is to feed the homeless within the Minneapolis area not only around the holiday season but every day. Currently, they feed about 4,500 people per week with sandwiches that are donated by the local community.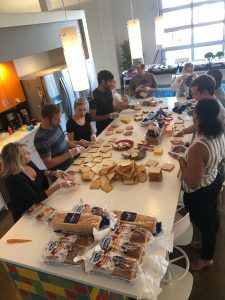 "It's so easy to take a decent meal for granted and we know kids learn better, play harder, and grow healthier with a full belly. If we can help parents provide that to their kids, it's a privilege to help make that happen. And it was a great way to spend a little time getting to know our colleagues better, doing good at the same time!" Megan Jensen, Senior Digital Marketing Strategist
The Perficient team worked with four local grocery stores to gather donations to create 500 sandwiches, which included 50 loaves of bread, 32 packages of deli meat, and 500 slices of cheese. The Giving Back team of 11 colleagues from multiple business units including some from our latest acquisition in Fargo, Sundog Interactive, were able to assemble all 500 sandwiches within the matter of an hour and fifteen minutes. The cross-business unit collaboration and general teamwork used to make this a successful giving back event a fantastic way to shows how our colleagues pull together to support the local community.
One colleague to highlight is Alex Schill, who really went the "EXTRA MILE" by biking from downtown Minneapolis to our local Perficient office to donate his time and energy in assembling sandwiches for the local community. The outstanding generosity from our Minneapolis colleagues is truly above and beyond.
"The sandwich project was a great time! It was nice connecting with my Perficient colleagues while doing good for the community by helping those who need it most!" Alex Schill, Financial Analyst