At Perficient, we spend a lot of time bringing creative and innovative ideas to the table and then working hard to turn them into successful realities. It's kind of our thing. In fact, it's our thing even when we're not at work!
Four of our creative and technical powerhouses proved this earlier this year at the Kennessaw State University Global Game Jam, where they turned their first foray into video game design and development into a victory.
The Origin
The journey began when Colton approached Aidan, Aaron, and Maxx to see if they'd be interested in joining him and his brother Cameron for the game jam. Although no one in the group had previous experience designing or developing video games, each had been wanting to give it a try. The answer was an enthusiastic "Yes!"
The Players
Maxx Morgan, 2D Artist
Aidan Arrowood, 2D Animator & Developer
Colton Dale, Developer
Aaron Hevenstone, Developer
Cameron Dale, Composer, SFX Artist & Video
The Jam
Facilitated by the Georgia Game Development Association (GGDA), the game jam took place at Kennesaw State University Marietta campus in Marietta, Ga., where more than 100 individuals in about 20 teams came together to compete. Each team was given a classroom to work in and 48 hours to create a prototype of a video game that somehow related to the theme "What Home Means to You" and the concept "transmission."
After some brainstorming, the team decided on a post-apocalyptic game concept set in a subway tunnel where a crash has recently taken place. Players have to explore the setting and find clues in order to fix a broken radio and call for help, all while looking for other survivors and building a new home for themselves. They called the game "Hatch," referring both to the hatch the characters escape through and the idea of progression from one state to another.
The experience and existing team dynamic the group brought from Perficient proved to be a major advantage at the game jam. Maxx handled the two-dimensional design, Colton and Aaron worked on development in Unity, and Cameron created the score and sound effects. Aidan took on the role of animator and quickly learned how to use the video game animation software Spine to bring Maxx's designs to life.

"The work we've been doing at Perficient translated very well to the game jam," Colton said. "It helped that we'd all worked together in the past. Knowing how each other works and who would be best suited for what definitely made the approach a lot easier."
Colton had set up a code repository and Trello board for collaboration before the game jam, so the team was able to hit the ground running once the event began. They took the same approach as they would for a client project at work, breaking it up into individual tasks, establishing parameters for the minimum viable product (MVP), and keeping the scope of the project realistic for the tight deadline.

This approach set the team up to create a well-executed, deep vertical slice of the game and caught the attention of the judges and observers.
"It started out with us just doing it for fun, but I think at some point we started to notice that we were getting a lot of visitors and then a lot of repeat visitors," Colton said. "The people who were working at the game jam were walking around and would come in and take a look. We started to realize that we were doing a little bit better than the average team there."
"I heard some of the judges walking by saw that we were handling scope well, which is part of what we've learned while working together on projects at Perficient," Maxx added. "We knew what scope creep looks like, and when ideas started to get a little out of control, we knew how to step in and say, 'Okay, we realize what's happening here. Let's scale it back. What can we actually accomplish in the next 48 hours?'"

The 48 hours went by quickly, with the team working late into each night and catching Zs on borrowed couch cushions. In the end, their creativity, hard work, and lost sleep paid off. After viewing the trailer and game demo, the judging panel (made up of KSU Department of Computer Science faculty) selected "Hatch" as the winning game.
The Next Level
After taking the title at the KSU Global Game Jam, the team had one month to continue working on "Hatch" before they would compete again, this time against the winning teams of the three other GGDA game jams that had taken place across Georgia. They were also provided with a mentor to work with during that month, as they continued to polish the game demo.
"This one was somehow even more difficult," Colton said. "Now we didn't just have a whole weekend we could dedicate to it. We were balancing it with work and life."
Colton added that the team had to deal with even more scope creep during the month they were polishing "Hatch."
"You're going to have more coherent ideas over a month than over 48 hours," he said, "so scope creep became an even bigger issue. We had to dial it back to a good, digestible amount that we would be able to package nicely. Basically, we had to readjust to decide what our new MVP would be."
Their hard work paid off again. After presenting the updated game to the panel of GGDA board members and mentors, the team tied for first place and earned additional professional resources, access to PR consulting and audio development firms, to help them continue to develop "Hatch."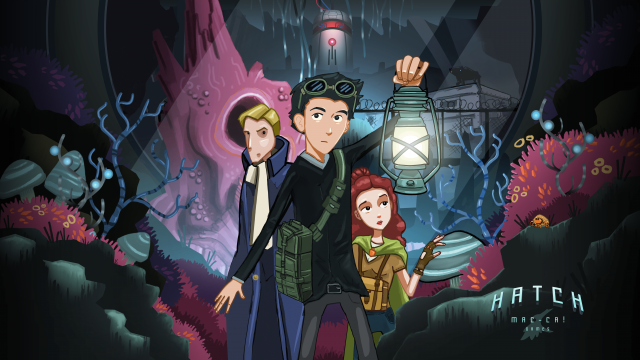 What's Next
The team, now known as Macca Games, enjoyed their first foray into game development and is continuing to develop, expand, and polish "Hatch."
"I absolutely loved the game jam," Aaron said. "I got to work on something I was interested in but had always been kind of afraid to jump into. We still meet up almost every week to discuss what we're working on next and what the future is going to look like for this game. We're creating this whole world that we're excited to share with everyone else."
The Game
Watch the trailer for "Hatch."
Download and play the original version of "Hatch."
Special Thanks
Kennessaw State University, Department of Computer Science
ListenUp Audio Production
Vicarious PR
Wabi Sabi Sound
Joe Cassavaugh
Technologies Used
Unity
Spine
Adobe XD
Adobe Photoshop
---
At Perficient, we continually look for ways to champion and challenge our talented workforce with interesting projects for high-profile clients, encourage personal and professional growth through training and mentoring, and celebrate our people-oriented culture and the innovative ways they serve Perficient and the community.
Learn more about what it's like to work at Perficient at our Careers page. See open jobs or join our talent community for career tips, job openings, company updates, and more!
Go inside Life at Perficient and connect with us on LinkedIn, YouTube, Twitter, and Instagram.