It's widely known that links are a ranking factor, but is that still really important in SEO?
In this episode of the award-winning Here's Why digital marketing video series, Eric Enge explains why links remain critical to successful SEO and shares tips to get links to your websites.
Don't miss a single episode of Here's Why. Click the subscribe button below to be notified via email each time a new video is published.
Resources
Transcript
In a recent "Here's Why—Backed by Data" episode, I shared data that showed that brands that are producing a depth and breadth of content are getting crazy good results in organic search.
Today, I'm going to take that one step further and talk about how links continue to play a role in rankings. This is always a tricky topic because there are so many wrong ways to go about getting links to your site. But today, I'm going to focus on some of the right ways.
First of all, it starts with creating highly valuable content. If your site is not worth linking to, you have a problem. Here's some data from HubSpot that shows that longer form content earns more links.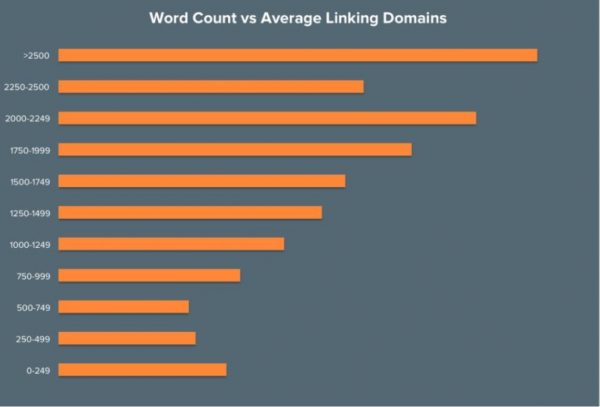 Secondly, at Perficient, we did a study that showed the impact of links on rankings. Here's a chart showing that data.


So yes, everything starts with creating the right content. But it's actually not really just about being longer—it's about being better with your content.
That by itself is still not enough; you need to tell the world about it. Your content costs a lot of money to produce. It's crazy not to promote it. There are many good ways to do that, and now I'm going to explore a couple of those.
Let's start with a case study. This is work that we did with a client of ours around the topic of distracted driving. We surveyed a thousand-plus users and asked them what they thought about distracted driving and whether or not they themselves were ever distracted while driving. We gathered that through a set of 30 different questions, and then we published that data.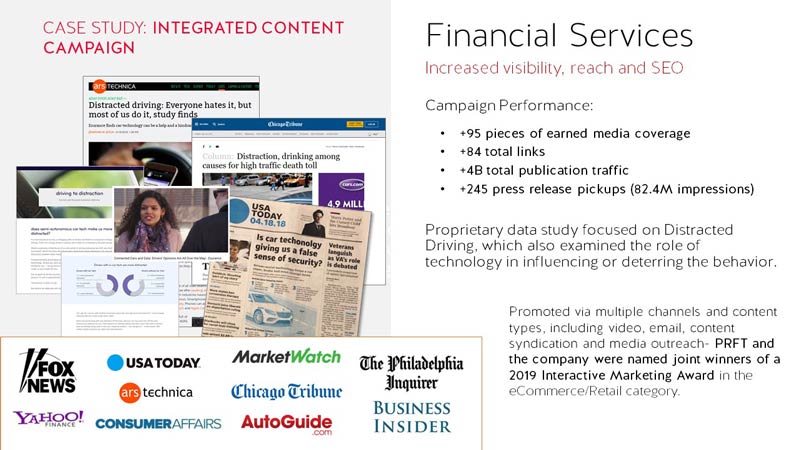 The results from this were fantastic. We ended up with 92 media links. The market reach of the sites we were linked to from was over four billion users, or more than half the population of planet Earth. Overall, we got really, really strong results for them through publishing this market-leading data on a hot topic. That was really at the core of that. This is one great strategy for attracting a lot of attention to your site.
For my second example, I'd like to share a model for a thought process for how you can create something worth people citing and linking to on your site, more generally.
This is what I call, "Resource-based link building." Yes, I know it's a terrible name, but I will fix that in the future. Here is a quick view of what that might look like. Honestly, though, I'd like to simplify it for you, so take a look at the following chart: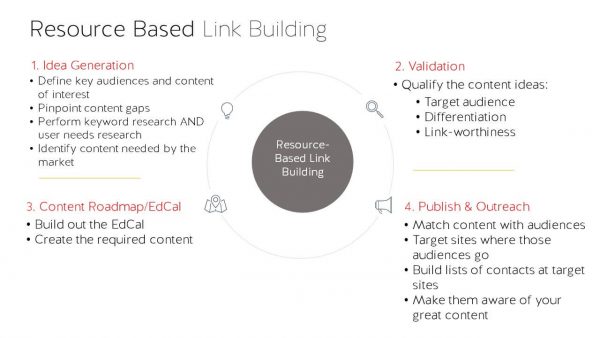 What I'm emphasizing here is a very simple concept. Make the best damn resource on the web about some given topic, and just tell people about that and promote that effectively. You will inherently draw lots of links to your site related to that topic. It's a fantastic way to approach link building.
Those are my two models that I wanted to share with you today. But I want to actually give you a little more data. I'm going to start with a case study for an addiction treatment site. Here's some data on the rate at which they have been adding links to their site. The data is pulled from Ahref, by the way. You see that they have a really nice steady growth of links to their site.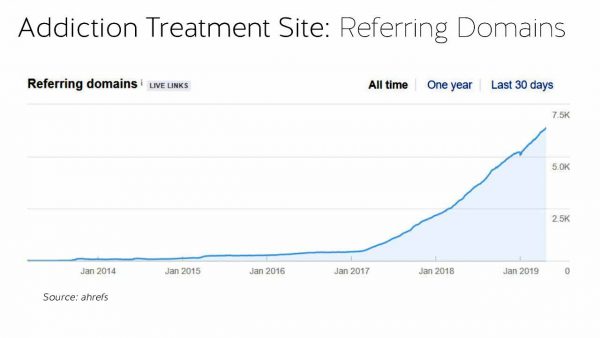 Let's take a look at a second chart where I'm going to show the traffic, or really the SEO visibility, according to SearchMetrics. I'm going to overlay on top of that, for the same time frame, the rate at which they were adding links.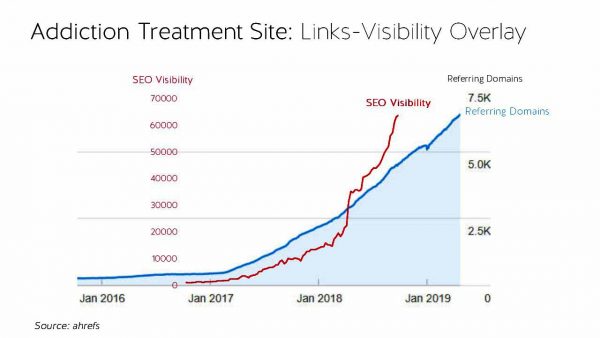 You can see the strong correlation between the rate at which links are being added and their SEO visibility growth; a very, very dramatic growth curve for both. Now let's take a look at my second case study I want to share with you.
This is for a career site. The first chart that I'm going to show you again is their rate of adding links. You actually see this really sharp pop at one point.

Actually, what happened at that point is that this site that had an authoritative main domain elsewhere on the web, had a career section on that site. What they did is they retired that career section and they moved it to a new domain. And 301 redirects were put in place on the date where you see the big pop in the traffic. That's why they get so many links so quickly. So they had this great rate of link addition. What did it do for them on the traffic site? Well, here's another chart for you: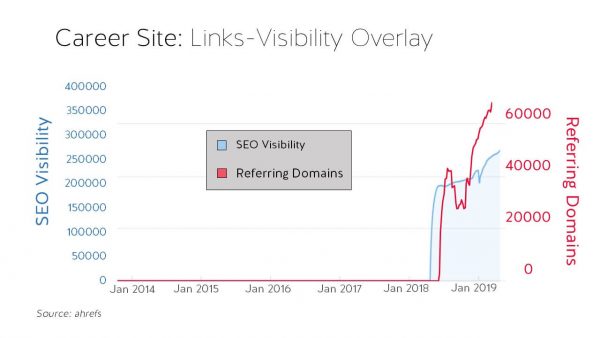 This one, again, is a SearchMetrics SEO visibility chart with an overlay of the link addition to it. Again, you see the sharp correlation between when the links popped and the traffic popped.
Hopefully, that's given you a view as to how important links are in this picture still today, and some ideas on how to approach getting them.
In summary, we see that creating something worth linking to is where you must start. Success at this will take you a big step forward. Really having that fantastic content on your site will up engagement for your users and get you links. But it's not just about getting you links. That fantastic content will help you build your brand, reputation, and visibility. The links are actually a side effect of those things happening.
Hopefully you've enjoyed this episode of "Here's Why—Backed by Data." If you did, please go ahead and hit the subscription button in the show notes below. I hope to see you in a future episode.
Don't miss a single episode of Here's Why. Click the subscribe button below to be notified via email each time a new video is published.