Perficient is proud to be an exhibitor at Oracle OpenWorld, which is being held September 16-19 in San Francisco. Visit us at booth #401 to connect with subject matter experts and thought leaders and learn how we've leveraged our extensive expertise in Enterprise Performance Management (EPM), Enterprise Resource Planning (ERP), and Business Intelligence and Analytics (BI), to drive digital transformation for our customers.
We are an Oracle Platinum Partner and have achieved the Cloud Select designation within the OPN Cloud program. We're committed to partnering with our clients to tackle complex business challenges and accelerate transformative growth. Perficient's Oracle consultants are certified to deliver the official Oracle course curriculum to customers via onsite training classes. Perficient owns and operates an Oracle Approved Education Center in partnership with Oracle University.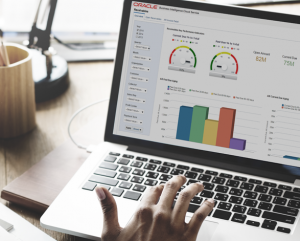 Explore key considerations, integrating the cloud with legacy applications and challenges of current cloud implementations.
We have a great session at this year's conference, where you can hear Jason Lu, VP and CIO at Stallion Oilfield Services present on his company's successful move to the cloud.
Customer Case Study Session
Stallion Oilfield Services: Winning with ERP Cloud and Lessons Learned [CAS4105] Monday, September 16th | Moscone West (Room 3020B) | 12:15 PM – 1:00 PM
In this session learn how you could achieve your organization's growth goals, meet your business requirements, reduce your IT costs, and do it all for one-third the cost and one-third the time over any ERP on-premises solution. With Oracle ERP Cloud, Stallion did just that. Plagued with nonstandard business practices as well as antiquated and manual systems, Stallion needed to provide for large growth with a system that could scale up and prepare it for the next generation of business. In this session learn why Stallion chose an all-cloud solution and never looked back.
If you're not able to attend the event, but would like to learn more about the Stallion case study, view the on-demand recording of a recent webinar featuring this great story.
In-Booth Sessions
We're also hosting a number of sessions in our booth #401. In-booth sessions will be delivered by key leadership and subject matter experts at Perficient Monday – Wednesday. We know you have a full schedule already, so these presentations are intended to provide great insight in just 7-minutes. Feel free to stay for the Q&A session after each presentation or come back by when it's convenient to for you to speak with our presenters.
Looking forward to seeing you soon in San Francisco!