While Pfizer's IT team had been supporting the legacy CTMS and other clinical systems for many years, the company's current strategy centers on implementing cloud solutions. The reason for this approach is to reduce the burden on internal resources and reduce the need to invest in IT infrastructure.
Having different, nuanced processes and decentralized data across the company didn't allow for the quick and effective analysis and reporting across all studies, so the creation of a single CTMS platform was necessary to ensure there is a single source of truth for study information. To address the challenges it had with the legacy system for study management, Pfizer understood it had to implement a new cloud CTMS solution for its global clinical operations.
Why Pfizer Chose Oracle CTMS (The Short Answer)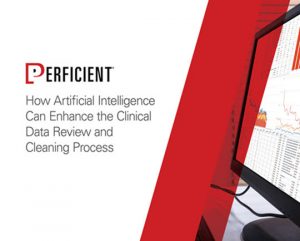 This guide analyzes how artificial intelligence – including machine learning – can be used by pharmaceutical and medical device companies to improve the clinical data review and cleansing process.
When selecting from a cloud CTMS vendor, Pfizer knew that the solution needed to be one that is comprehensive and proven. It also needed the solution to be capable of being configured to meet the organization's specific requirements.
Pfizer determined that Oracle CTMS met most of its requirements out of the box. Oracle CTMS allowed for the application to be configured using the system's inherent tools, while the remaining requirements were met by using the system's inherent tools to configure it. Moreover, the stability of the system and clear upgrade paths ensures compliance and reduces risk.
To learn more about Pfizer's implementation of Oracle CTMS in the Cloud, you can download the paper here or fill out the form below.
Perficient and Pfizer showcased this success story during Oracle Health Sciences Connect 2019. The session, "Key Takeaways from the Oracle CTMS Cloud Implementation," highlighted the strategy and process behind the implementation, along with the challenges, considerations, and tips for implementing the solution.