Stallion Oilfield Services, a leading energy service company, struggled with non-standard business practices as well as antiquated and manual systems. The company needed to change and standardize processes across all business units, establish governance, and accounting controls. A modern financial, procurement, and inventory management solution was the answer. Stallion selected Oracle ERP Cloud and partnered with Perficient to deliver the implementation in a six-month timeframe. 
In our previous post, we chatted with Jason Lu, Stallion vice president, and CIO, as well as Scott Forbes, director of technology and got an inside look at how they handled change during their respective implementation. Here, we'll get their insight on a couple of granular aspects – project-based issues and challenges – that prove to be invaluable considerations for organizations interested in Oracle Cloud. Jason and Scott speak to challenges and issues that may surface up in your implementation to better inform your potential cloud journey.
Continue reading or tune in to the entire webinar by clicking here.
Project-based Issues and Challenges
Were there any issues on integrations with third-party systems or cloud-to-cloud integrations that aren't already built or fully complete?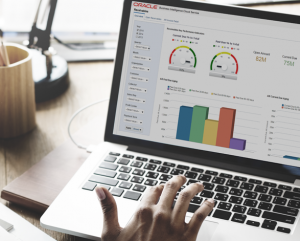 Explore key considerations, integrating the cloud with legacy applications and challenges of current cloud implementations.
[Stallion] We don't have any cloud-to-cloud because we don't have any other cloud applications today. That's when Jason talked about our two-application footprint that we're going to have. The second application will be cloud and that's going live later this year. So we're starting to look at those integrations and build them. We're probably going to be using middleware for that. The integrations we do have from and to our legacy systems have been defined so far. We were using the REST APIs and Oracle Cloud to extract a lot of the data that we need to pass information to our local data center, SQL Servers, as well as the SOAP interfaces, to pass information back up into that, into Oracle Cloud.
There have been no major issues there so far. In order to marry some of our data needs between Oracle and our legacy systems, we have some process system integrations as well that extract the data from OTBI on a schedule and download that into our local databases for that. No major issues on automated integration. Everything else that we do from a data perspective on that is probably just spreadsheet uploads.
What was the biggest challenge in the eight-month project period?
[Stallion] The reason why I say we could double down on probably more organizational change management is if you look at what Stallion did we disrupted all of HR. More than 1,400 users one way or another had their lives disrupted in some way or form. We've changed all our back-office financial systems and then we changed all our reporting and analytics all at one time, nearly, simultaneously between October, November, and December of last year. And it was very swift. It was on time, exactly as planned. But that's a lot of volume for a lot of people to take on. And what we've found is that even though we train people two, three, four times, it wouldn't have hurt to train them sometimes five and six times. We found our team doing a little bit more post-go-live support than we anticipated just from an end-user training perspective, but not so much from a bug-fix perspective.
---
Stay tuned for Part 4 in the coming week on project considerations and "things to know" as we continue to tell the Stallion success story with Oracle Cloud. For more on organizational change management, click here to get more insight on how to better manage your next implementation.
To learn more about Supply Chain 4.0 and how it can transform your business, you can download our entire guide here or below.