Colleagues based in our St. Louis office recently started the Perficient Bike Club, a fun, non-competitive group made up of riders from all levels and experiences. The club plans to meet after work hours and on Saturday mornings to tackle local trails and explore popular hotspots. Missouri is a bike-friendly state, so the group has their work cut out for them with plenty to explore.
The "Why" Behind the Bike Club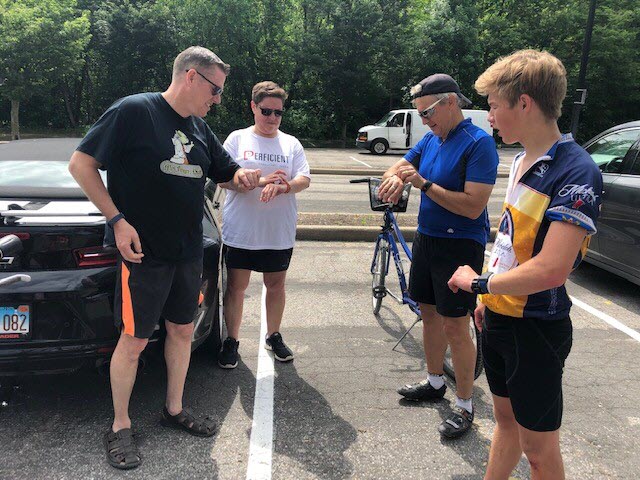 Their purpose to foster community with coworkers and their families is fueling the group's drive to gather and exercise as one team. "The bike group is a great way to get some exercise while also getting to know your coworkers," says Noelle Reinhold, marketing manager. A club with this type of makeup and motivation will only bring co-workers closer and closer together by cultivating office camaraderie and team spirit. Without a doubt, the bike club is destined to grow.
First Venture: Katy Trail
Their most recent venture consisted of a 25-mile bike ride on the Katy Trail, a popular statewide trail spanning hundreds of miles — 240 miles to be exact. Suffice it say, they aren't afraid to break a little sweat in a non-competitive way. This particular excursion ended at the Trailhead Brewing Company for well-deserved group refreshments. Not bad for a finish line!

Community Impact
One of the most admirable things about the club is community involvement, which is something the club prides itself on. "I joined the bike club because I enjoy biking and this gave me a way to get to know the people I work with a little better and help others while doing something I like," added Dawn Slechta, office administrator.
Several members of the club plan on participating in numerous charity rides as a way of giving back to the community. These include Tour de Cure (American Diabetes Association), Pedal the Cause (cancer), Bike MS (MS), and JCS Bike for Heroes (Joshua Chamberlain Society).
With a jam-packed calendar full of events and group rides, the team is ready to put the pedal to the medal.
READ MORE: Unveiling the New Perficient People Promise
---
At Perficient, we continually look for ways to champion and challenge our talented workforce with interesting projects for high-profile clients, encourage personal and professional growth through training and mentoring, and celebrate our people-oriented culture and the innovative ways they serve Perficient and the community.
Learn more about what it's like to work at Perficient at our Careers page. See open jobs or join our talent community for career tips, job openings, company updates, and more!
Go inside Life at Perficient and connect with us on LinkedIn, YouTube, Twitter, and Instagram.