The financial services industry serves as a prime example of one that's poised for rapid digital transformation. Since the economic meltdown in 2008, many financial services firms have been focused on regulatory compliance. Now firms are starting to take investment budget and put it toward projects that help grow or change the bank as opposed to just running it.
I think the challenge that many firms have – unless they're one of the big four banks – is that there's a tremendous amount of investment that's required to remain competitive from a digital point of view. That's the way the industry is moving. The banks with the biggest market share don't necessarily have branches in the regions in which they operate. A lot of people are opening accounts with firms that are far away, and they do it all online through their mobile devices. They don't necessarily have to have as much face-to-face interaction as the industry has been accustomed to traditionally. That requires tens of millions of dollars a year in investment. That's a tough hill to climb for a lot of the mid-market and regional banks.
Firms are figuring out how they're going to react to the massive changes in demographics and technology of the past decade and hopefully set themselves up for growth in the next decade.
Businesses in all sectors have a lot to glean from this. Most importantly, companies need to think through and determine their value propositions. That entails figuring out what their customer bases want, what they'll tolerate, and how to interact with them accordingly.
Two Strategies to Determine Your Value Proposition:
1. Find Out What Your Customers Really Want
Many companies have gotten away from doing primary research. Too many times they rely on research they might do from a customer satisfaction point of view that's necessarily germane to the question they're trying to answer. For instance, a survey might include, "Tell me about the last transaction. Were you satisfied with it?" If there are a lot of "yes" responses, they could say, "we have a lot of satisfied customers," but that doesn't really get into the details of what caused that satisfaction or maybe what caused dissatisfaction.
Whether conducting surveys, focus groups, or interviews of customers, find out what people really want and what they're really thinking. Don't just rely on conventional wisdom. I often ask, "What market are you trying to serve?" When the answer is, "we want to be more relevant to millennials," to me, that's not really an answer to the question because that's an aspirational statement. It doesn't really take into account, what a company is trying to sell to them. Does the company really understand how millennials think, or is it just buying into the mythology that all they want to do is sit around on their phones and interact via text messaging and social media?
2. Let Customer Data Inform Your Next Move
Once you have solid customer data, incorporate it into your business strategy. Look at what you're trying to achieve as a business and deconstruct that into a list, series, or hierarchy of business capabilities that you need to provide.
Questions to ask:
What items on the list are essential to maintain competitiveness?
What are table stakes just to be in the game?
What is not germane to your particular market or your particular customer segments?
Once you define that hierarchy of business capabilities, you can match the appropriate technology to support those capabilities. Remember, technology decisions are driven by customer experience capabilities, not the other way around.
Success Story
Getting to the Root of the Problem
I led a team that developed a strategic technology roadmap for the stock plan services division of a global wealth management firm. This firm had more than 40 years of experience in equity compensation, 2.5 million participants, 400 corporations globally, and 20 percent of the Fortune 500 as clients. The division was generating about $100 million a year in revenue but costing the firm about $130 million a year in expenses. There was a lot of thought around what to do because the annual loss was unsustainable.
When we got on the ground, the feeling was, "our technology is old. It's outdated. It's expensive. We need to fix that." The initial hypothesis was, "It's a technology problem, not a business problem." There were several groups in the company that had different ideas on what should be done. One wanted to outsource all of the technology. Another wanted to sell the business. Another wanted to change the customer base and go for smaller, simpler-to-administer plans. We did a traditional roadmap and uncovered a lot of compliance-based, operational problems, especially in terms of their ability to reconcile and keep track of where customers were.
Our advice: "If you try to sell this business and go through real due diligence, no one will give you anywhere close to what you think it's worth because of all these problems. There are some things you need to do foundationally to stop the bleeding and things you need to do to get the unit ready for sale and things you need to do if you want to keep the business and run it as a business." Ultimately, they decided to keep the business, and over the course of five years, they gradually implemented a majority of our recommendations to turn around the division.
---
Want More Digital Transformation Advice?
The digital transformation strategies I share in this blog post draw from Perficient's e-book, "How to Make Digital Transformation Gains in 2019." In it, my fellow Perficient Chief Strategists and I share real-world examples from conversations with today's leading brands at various stages of digital transformation. Our 10-chapter e-book features our business insights, actions to take now, and client success stories. Download it here or via the form below.
Next in the Series
This blog series is part of a special series inspired by our e-book. In the next post, Perficient Chief Strategist Mark Polly will share tips for streamlining your digital platforms.
Subscribe to our Digital Transformation weekly digest here to get the blog posts automatically delivered to your inbox every week. Or, follow our Digital Transformation blog for this series and advice on the topic from all of our thought leaders.
---
About the Author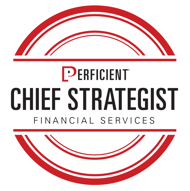 Scott works with banking and wealth management clients to significantly improve business processes across the full client lifecycle, including prospecting, on-boarding, servicing, channel management, advisor platforms, integrated reporting, and customer analytics. He has extensive experience with client centricity; client acquisition and retention; client service platforms and contact center services as well as integrating solutions from multiple vendors.