Those conducting clinical trials using EDC systems such as Oracle Clinical Remote Data Capture and Oracle InForm, face the challenge of converting their eCRF data into CDISC's SDTM domain datasets. Regardless of the system you are using, most companies have adopted standard data collection objects. Companies are adapting to follow the CDASH guidelines, to reduce the final
transformation effort.
Oracle Clinical RDC and Oracle InForm provide your eCRF data as SAS datasets. But, Oracle InForm comes with a distinct feature: an optional feature to the generate SDTM datasets.
CDISC's XML-based ODM standard exchange format is designed for the transfer and archival of a clinical trial's metadata as well as it's eCRF data. ODM standard is the regulatory compliant method for archiving studies. ODM can also be used as a means to generate SDTM datasets.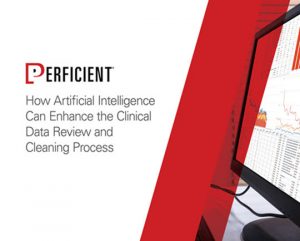 This guide analyzes how artificial intelligence – including machine learning – can be used by pharmaceutical and medical device companies to improve the clinical data review and cleansing process.
Oracle InForm comes with the InForm Adapter software. Using RDE (reporting and analysis database) and InForm Adapter web services, InForm provides interfaces for a fully integrated solution with other Oracle products like Oracle Data Management Workbench (DMW).
A similar approach can be used to integrate InForm with other third-party applications, such as SAS. Along with a discrepancy interface, InForm Adapter also provides an ODM Export Interface. The ODM Export interface is a web service which can be used by outside applications, such as SAS, to retrieve InForm admin data, metadata, and EDC data, in the ODM 1.3.0 standard format.
Knowledge of SAS, XML, and SOAP (Simple Object Access Protocol) is required. Leveraging InForm Adapter and the ODM export will provide an end–to-end solution for creating SDTM domain datasets.
—
Perficient's deep clinical data management experience makes us the ideal partner to support your use of Oracle InForm. We assist through a variety of key strategic capabilities, including:
Study Build and Post-go-live Support Services
Process Development Re-engineering
Project Management
User Acceptance Testing and Edit Check Specifications
If you are interested in learning more about our services, please reach out to Tammy Dutkin, Director, Clinical Data Management and EDC.