On Tuesday of this week I attended the invitation only, 1st annual Oracle Analytics Summit at the Skywalker Ranch just outside of San Francisco. It was held in a beautiful location and was attended by customers, partners and industry press personnel.
At the Summit Oracle introduced new analytics products and announced plans to simplify the products and unify them under the Oracle Analytics brand. Please see this post from my colleague, Shiv Bharti, on Oracle's new products and simplification approach: https://bit.ly/2Fz4eKy
Additionally, and importantly, Oracle announced that this was the start of a new era for Oracle Analytics and that this era will be focused on the customer first.  Oracle talked about acting with transparency and being a trustworthy partner to customers.  Oracle wants to make it much easier for customers to do the following:
understand Oracle's future state roadmap for analytics and have access to it at all times

understand the Oracle Analytics product offerings and how they fit together

acquire the Oracle Analytics products they need regardless of their current licensing situation

obtain support for their Oracle Analytics products

implement pre-built solutions and not just platforms.
It was clear Oracle is doing much more than just talking about these goals.  They have taken a significant number of concrete steps toward making things easier for customers including the following:
Simplified product branding and packaging – just three products to choose from now:

Oracle Analytics Cloud (OAC)
Oracle Analytics Server (OAS) – same as OAC but running on premises
Oracle Analytics for Applications (OAX) – pre built analytic applications for Oracle SaaS customers leveraging the Oracle Autonomous Data Warehouse (ADW)

Simplified versions and pricing – there are now just two versions:

Professional (per user licensing)
Enterprise (by CPU)

Implemented a unified look and feel across all products (eg the new version of OAC will have the same look and feel for Answers and Dashboards as for Data Visualization)
Announced that all Oracle Business Intelligence Enterprise Edition (OBIEE) customers are automatically licensed for Oracle Analytics Server (OAS) – no new products to buy or contracts to sign.  So customers not ready for the Cloud can get Cloud functionality on prem (eg augmented analytics, self service data prep, machine learning, natural language queries, etc)
Hired significantly more customer support personnel to ensure customer success
Made the Oracle Analytics Roadmap publicly available on the internet (https://www.oracle.com/solutions/business-analytics/roadmap.html)
Developed Oracle Analytics for Applications so customers can leverage the full Oracle analytics platform without having to custom develop analytic solutions from scratch.  First to be released will be pre-built solutions for Finance and Supply Chain followed by HR and CRM.  These solutions are fully extensible and customizable.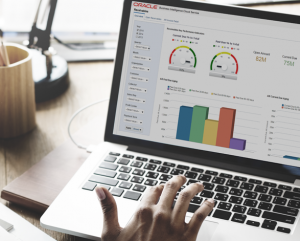 Explore key considerations, integrating the cloud with legacy applications and challenges of current cloud implementations.
Here at Perficient we are very excited about this new era of Oracle Analytics.  For the past 15 years, covering over 400 projects, we have been helping customers design and implement Oracle Analytics technologies and solutions.  When the Cloud became available we were one of the first systems integrators to design and deploy Oracle Analytics technologies in the Cloud.  We continue to be at the forefront of leveraging Oracle Analytics technologies to improve analytics for our customers.
We provide Oracle Analytics services broken out into the following 4 categories:
Strategic Assessments and Analytics Roadmap Development – helping define the future no matter what the present state is
Modernizing Data and Analytics to the Cloud – we specialize in all the major pathways to the Cloud:

migrating existing analytics environments to the Cloud
developing new analytic solutions in the Cloud
implementing hybrid on prem/Cloud solutions

Optimizing and/or Upgrading Existing On Prem Environments – not all companies want to move to the Cloud or are ready.  We help optimize and upgrade on prem analytic environments.
Managed Services Support – using a blended onshore/offshore model, we support existing environments in an efficient, flexible, low cost manner.
Below is the link to the full keynote from the 2019 Oracle Analytics Summit: