In this blog series, I examine how change management can and should pay for your next project. Previously, my post analyzed the demand for value. In this post I explore why some organizations don't immediately realize the value of a business transformation.
A Harvard Business Review article found that companies get only 63% of the value they expect from their transformation initiatives. Nearly 8% of unrealized value is due to inadequate resources, 5% to problems communicating the strategy, and 4.5% to unclear definitions of the actions needed for execution. The balance of the value loss typically stems from organizational silos, a failure to measure performance, and poor or uncommitted leadership.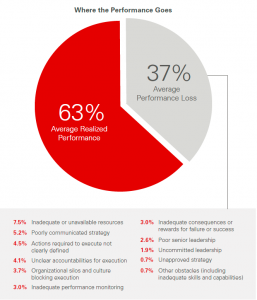 Faced with a risk of failure, leaders need to find ways of accelerating value in their business transformation initiatives. After all, no organization has unlimited resources, either financial or human. Transformation projects that demonstrate the fastest return have the best chance of surviving.
Indeed, many leaders fail to pursue opportunities for accelerated value capture, believing that value realization only begins at the implementation phase of a project. However, astute leaders find ways of capturing value sooner, especially for leaders adept at driving behavior change and managing project complexity.
For more insight on how OCM can (and should) pay for your next project, download our guide here or below.