What is it like to live and work in Bozeman, Montana? When people ask Justin Bartels that question, he often feels as though they listen to his stories in disbelief.
"It's kind of a fairy tale," he said.
Justin, a portfolio specialist at Perficient, has lived in Bozeman for ten years. He's part of our team of marketing technology solutions colleagues based in our Bozeman location. The majestic Rocky Mountains serve as a backdrop among the stunning scenery of the Gallatin County valley in southwestern Montana. The mountain town has long been known as a world-class ski destination. In recent years, it has gained national attention as a thriving technology sector as well.
The locale certainly has a lot to offer professionals. However, there's one thing Justin and his teammates come back to time and again as the main selling point: each other. Whether collaborating on a client project or backcountry skiing after work, Ellie Swanson, project coordinator, cites the connections she's formed with her colleagues as one of the truly great aspects of working in our Bozeman office.
"My coworkers are what make this place special," she said. "They are there to push me to be the best version of myself."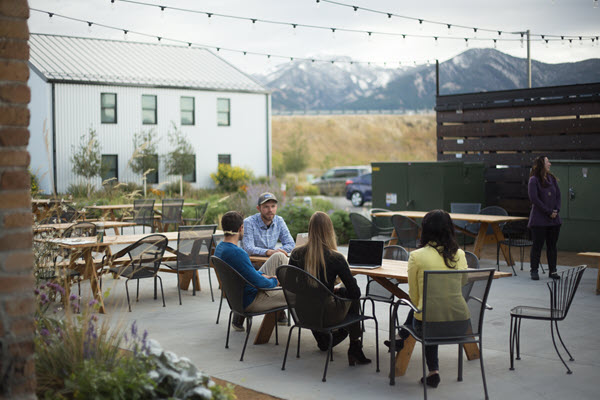 5 Reasons Our Colleagues Love Working in Bozeman:
1. They Feel Like One Big Family.
The bonds Ellie has forged with her teammates aren't entirely by chance. Team building is a top priority. Therefore, the office space is specifically designed to bring everyone together.
Our team occupies the entire third floor and half of the fourth floor of a building that originally housed the Bozeman Canning Company, circa 1917. The vibrant architectural area is called the Cannery District.
"The third floor is entirely open. It's where all team members work. The fourth floor is filled with conference rooms to allow private spaces for calls and meetings," explained Laura Phillips, marketing manager. "There is a full kitchen with healthy snacks and seating. Impromptu meetings often occur there around bagels and coffee."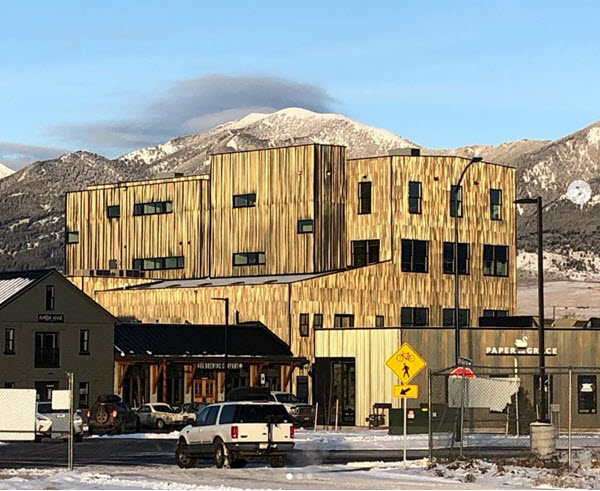 Collaboration comes easily in the space. There are no offices.
"You may need to jump into a conference room for a quiet place to take a call. But there is an upbeat air about the office that is always fun to experience," said Morgan Hausauer, director. "Each day is different with a lot of collaboration and exciting energy. You will hear all sorts of music playing throughout the day with our app-driven Sonos system."
Justin is a huge fan of the office's central gathering space. "You have a lot of inherent cross-pollination of ideas there. You'll hear about a project in which we helped a client through a certain scenario and the takeaways from it. We all share ideas. As a result, everyone feels the energy of us working together."
Everyone pitches in where needed, regardless of their area of expertise.
"No matter what role you have, there is always someone to bounce ideas off of, ask questions to, or discuss weekend plans with," Morgan said. "The Bozeman office is one big family."
2. They Attract Top Talent.
The collaborative environment breeds success. "I think you can go as far as to say it's a competitive differentiator," Justin said. "We develop deep expertise and standard best practices for serving clients. Hence, you need to be all in one room sharing ideas and interacting."
Colleagues are groomed from the onset to be successful. The team established an extensive three-month onboarding program. It fully assimilates new members.
"We hire go-getters, people who push the boundaries," Justin said. "We're working with really smart people. There's a gratitude and enjoyment in that. I haven't experienced it at other places."
They know how to perform. At the same time, they know how to sustain. "We know that if we burn ourselves out, we're not as good," Justin said. "We understand work-life balance really well."
3. They Enjoy the Outdoors. 
Bozeman is a lively, growing town with no shortage of activities. Our colleagues take full advantage.
"Bozeman is a mecca for the outdoors. Nearly every sport or recreational activity can be done here or in nearby areas," Morgan said.
"There is no doubt that access to the backcountry is one of the most wonderful parts of Bozeman," Ellie said. "The ability to go whitewater rafting, skiing, hiking, or fishing within 15 minutes of the office allows coworkers to pursue their many passions in and out of the office."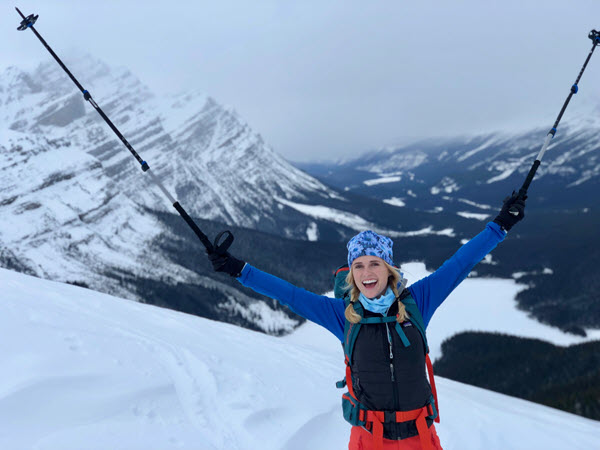 Bozeman is nestled between two world-class ski resorts, Big Sky and Bridger Bowl. The city is 90 miles from Yellowstone National Park. Montana is also known to have the best fly-fishing in the world.
The Cannery District is within walking distance to Bozeman's downtown area and 15 minutes from Bridger Bowl Ski Area.
"The district partners envisioned celebrating the originality of the existing buildings and revitalized them into functional, modern-day versions of what they used to be," Laura said.
Within the Cannery District itself are numerous restaurants and venues. It is home to a sushi restaurant, kombucha bar, distillery, speakeasy, brewery, and many other local businesses. Bozeman is also home to Montana State University. More and more graduates are opting to stay in town with the growing number of tech jobs, thanks to companies such as Perficient.
The community as a whole is extremely health-focused, Morgan said. The slower pace of life and ease of getting around play into that. Justin's daily commute to work is less than five minutes.
"The amount of time driving compared to the time spent living life is so small," he said. "You can live a very accessible and full life. You don't have to spend a lot of time commuting from point A to point B."
He devotes the time he would have spent in the car to coaching at a local gym and participating part-time with the board of a local theater.
4. They Maintain a Balanced Lifestyle. 
Zachary Holmes, director of sales, has traveled the world many times over, and Bozeman remains one of his favorite places.
"I always relate every experience back to Bozeman because it changes you," he said.
Zachary lived with his family in Bozeman growing up and then moved to California for work, most recently in San Francisco where he worked for Marketo and Salesforce.com. He returned to Bozeman in late 2018 to seize on the opportunity to join the Perficient team. The experience has been distinctly different from the hustle and bustle of the Bay Area.
"When I woke up in San Francisco, I would be thinking, 'How much can I get today? What do I need to do today to make sure I'm comfortable tomorrow?' It's a rat race. When I wake up in Bozeman, it's not about the rat race. I'm thinking, 'What's my personal health? Have I exercised enough?' It's also about my family and whether I'm doing things to better the world."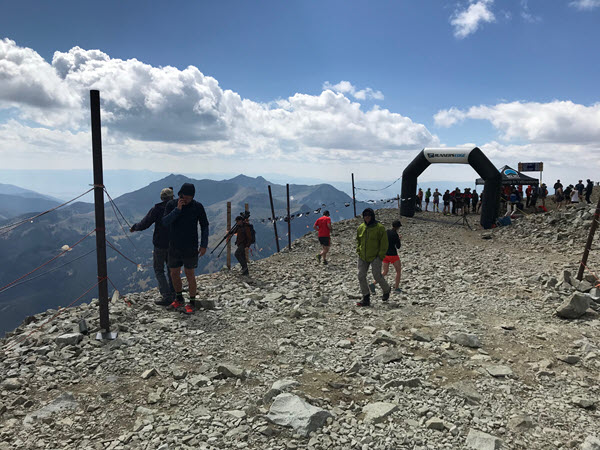 However, a better-balanced lifestyle hasn't led to a worsened job performance. Quite the contrary. "I think it translates into doing better work," Zachary said. "There's something about the mountains that instills a strong work ethic. It takes a certain type of person to live here, someone who can deal with a six-month winter. Things aren't handed to you here. You have to work for them."
"Our team's talent rivals that of any other top company," he said.
Justin has certainly found that to be the case. "When people are happier and healthier, they work more efficiently," he added. "Bozeman is the perfect place to build a business."
Having the best of both worlds certainly feeds into outsiders' too-good-to-be-true perception of the Bozeman experience. But those immersed in it seem to have no shortage of praises to sing.
"Being born and raised in Montana, I love traveling. However, returning home to the kind people and fresh air is one of my favorite things. It is something I never take for granted," Morgan said. "It is a wonderful place to live and work."
5. They Work Hard and Play Hard.
Our Bozeman teammates know how to get down to business. At the same time, they know how to have fun and give back to the community where they live.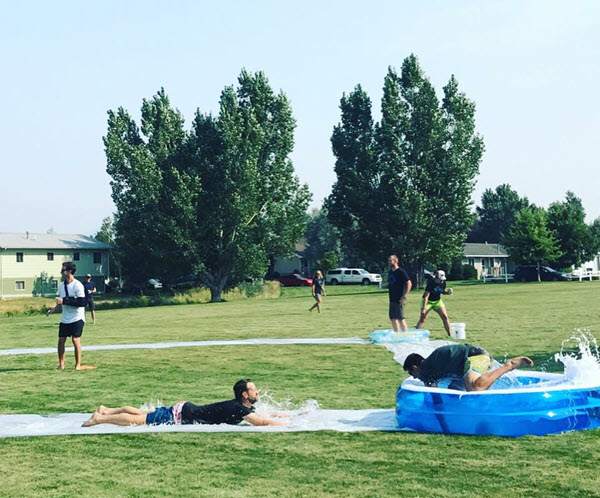 Some of the activities they do to create a strong culture include:
monthly celebrations for birthdays, anniversaries, passing an exam or certification, and life events
seasonal festivities, including a Halloween costume contest, full Thanksgiving meal prepared potluck style by the team, a holiday cookie exchange, white elephant gift exchange, and ugly sweater contest
Lunch & Learns on Tuesdays featuring a catered healthy lunch and a team training or all-staff meeting
Thirsty Thursdays featuring a social happy hour and fun team-building events, such as games, scavenger hunts, bowling, hikes, or guest educators from local businesses speaking on topics like whiskey tastings, cooking classes, philanthropy in the community, recycling, and more
peer-nominated quarterly awards for certain categories
a company retreat including, a bonfire, food, team activities, goal setting, relaxing, and a good old-fashioned game of dodgeball
an end-of-summer party with friends and family and a winter holiday cocktail party
Colleagues also volunteer throughout the year as a team for nonprofit organizations, including, but not limited to, Fork and Spoon "Pay What You Can Café," Can the Griz food drive, Run to the Pub, Special Olympics, Pintler Pets, American Red Cross blood drive, and Give Big Gallatin Valley.
The outreach certainly enhances the positive spirit of our Bozeman office and further solidifies it as a wonderful place to work.
---
READY TO GROW YOUR CAREER IN BOZEMAN?
At Perficient, we continually look for ways to champion and challenge our talented workforce with interesting projects for high-profile clients, encourage personal and professional growth through training and mentoring, and celebrate our people-oriented culture and the innovative ways they serve Perficient and the community.
Learn more about what it's like to work at Perficient at our Careers page. 
Go inside Life at Perficient and connect with us on LinkedIn, YouTube, Twitter, and Instagram.