Everybody's talking about Medellin these days and for good reason. The city is no stranger to accolades like the Lee Kuan Yew World City Award, the World Travel Awards leading destination in South America, and the Bravo award for most Transformational City of the Year by Council of the Americas. Not surprisingly, Medellin has recently added another award to its list of achievements; the Nearshore Americas "Nearshore Destination of the Year."
This is a particularly exciting win for Perficient Latin America because we have been championing this very notion since we first started nearshoring software development services nearly 15 years ago. Medellin was once a misunderstood location, but things are changing and these accolades continue to support that notion.
By now, the transformational story of Medellin is taking a back seat to the developing narrative around highly talented developers and pioneering businesses (hello, Rappi), not to mention the numerous opportunities for growth. This story switch is a very good thing for Medellin. International opinion is beginning to recognize the city for it's potential to be a competitive force in numerous industries such as fashion, technology, textiles, and more. So, if you want something more to say when the same old Medellin narrative is brought up in conversation, we've outlined the reasons we think Medellin is a force to be reckoned with, and probably why Medellin won top Nearshore Destination of the Year.
Top Talent – Focus on Growth
Medellin has a growing talent pool and some of the top engineering talent in Colombia. The city is also a hub for government programs, forward-thinking engineering schools, and non-profits that are making it easier for students to become developers, no matter their economic status or lack of formal education. In fact, the Holberton School of Engineering will be opening its first international campuses in Medellin and Bogota. The curriculum focuses on the fundamentals of software engineering, rather than just teaching students how to code. During the full 2 years of their study to become a developer, students don't need to pay tuition. Students begin to make payments on a schedule after they have graduated and secured a job, effectively opening the door for students of all economic backgrounds to take part in technology. Perficient Latin America is a partner of the Holberton School and actively invested in using technology and education to change communities.
Ease of Doing Business
Since the World Bank Group completes a Doing Business in Colombia report every year, this is a relatively easy point to prove and highlight. Overall, in 2019, Colombia ranked 65 out of 100 with 100 representing the best performance and Medellin came in #4 out of 32 in Colombia, great achievements for both and up from the previous years. Beyond what the World Bank Group says in their report, Medellin is also incredibly convenient for time zone compatibility. Due to daylights savings time in the US (Medellin does not participate, we have a more or less unchanging12 hour cycle of day and night throughout the year), for half the year we work on central time, the other half we work on east coast time, a bit odd for us but very convenient for our clients!
Even more attractive is how easy it is to get to and stay in Medellin. The international airport is 45 minutes from the city and airlines are always adding more international flights, like direct flights from New York City and Madrid. Staying in the city is comfortable and affordable with hotels ranging from hostels to luxury hideaways. The city is also teaming with international restaurants trying to put Medellin on the map for dining and some are definitely succeeding, but don't just take our word for it, we'll share the list when you come to visit.
Perhaps, more importantly, is the supporting infrastructure. With quality public transportation and reliable internet and fiber optic infrastructure, it's hard to make a case against working with companies in Medellin.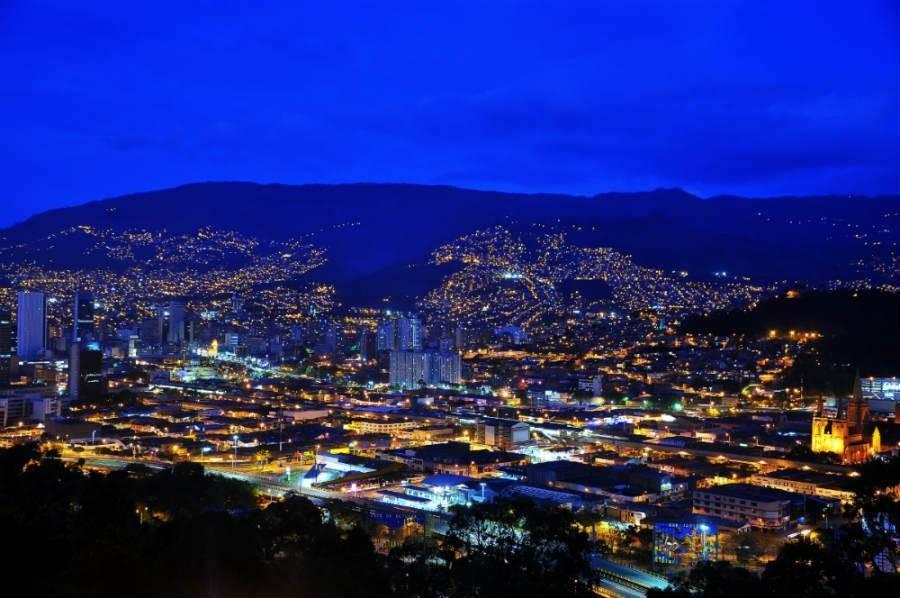 Cultural Similarities
Latin American countries are more culturally similar to the U.S. than countries in Asia for example. Due to those similarities, traveling to and working with companies in Medellin is still exotic enough for foreigners, but easy and comfortable enough not to cause constant headaches and miscommunications. International companies located in Medellin have experience working with North American clients and understand the nuances and ways of working that are hallmarks of U.S. business culture. One of the ways we make sure our clients get a firsthand look at Medellin, witness firsthand cultural affinities, and ensure alignment and engagement with their nearshoring teams is by recommending clients visit for an initial kick off for a project and frequently thereafter. And, because it's close and culturally similar, most of our clients want to keep coming back!
Top Travel Destination
Most recently, Medellin is being hailed as a top travel destination by the New York Times, Conde Nast Traveler, and numerous other publications and travel sites. Most visitors find it's easy to be in Medellin and it's easy to stay. Since 2011, tourism to Colombia has been growing by an average of 8.4% every year and isn't showing any signs of stopping anytime soon. Visitors can take part in a host of events happening regularly throughout the city, including art installations, outdoor music, and food events; the variety of international restaurants, catering to a growing international community and foodie scene; the world-class nature that draws Medellin locals and tourists alike on sunny days; and so much more.
It's not then surprising then that Medellin has been named the Nearshore destination of the year by Nearshore Americas, in fact, we couldn't be happier. Medellin is where Perficient Latin America was born and the hub from where we continue to innovate and evolve. The opportunities for tech and nearshoring in Medellin are booming, and it's never been a better time to start taking advantage of them.
—
Want to learn more about nearshoring to Medellin? Give us a call!