Stallion Oilfield Services, a leading energy service company, struggled with non-standard business practices as well as antiquated and manual systems. The company needed to standardize processes across all business units and establish governance and accounting controls. A modern financial, procurement, and inventory management solution was the answer.
Stallion selected Oracle ERP and SCM Cloud and partnered with Perficient to deliver the implementation in a six-month timeframe.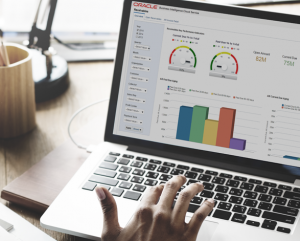 Explore key considerations, integrating the cloud with legacy applications and challenges of current cloud implementations.
Join us as Jason Lu, Stallion vice president and CIO, discusses the company's migration to Oracle ERP and SCM Cloud including lessons learned and how Oracle Cloud could benefit your organization as well.
Discussion will include:
Challenges with the legacy business processes
Why Stallion chose Oracle Cloud
Key performance metrics including procurement compliance and supplier collaboration
The value of streamlined procurement processes
Benefits realized with Oracle ERP and SCM Cloud
We'd love to have you attend our live event, but if you're unable to make it, all registrants will receive links to the presentation materials and a recording of the on-demand webinar post-event.