In early February, OneStream elevated Perficient to gold partner status within the OneStream partner network. We are excited to announce just three short months later, the momentum continues with Perficient having earned Platinum status.
OneStream Software was recently named a leader in the 2019 CPM Value Matrix by Nucleus Research. Andrew MacMillen, analyst at Nucleus Research said, "OneStream is well-positioned to penetrate the legacy CPM customer base, thanks to the unified nature of its platform and simplicity of its cloud transitions. Its comprehensive suite of functionality should also be attractive for customers who wish to consolidate their planning and performance management systems into one platform."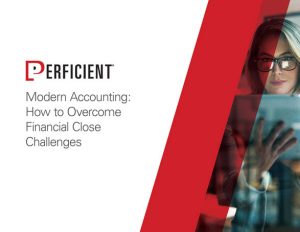 Improvements in each of the following period-close core tasks can provide transformative change and are reviewed in this guide include closing the books and external reporting, periodic reconciliations, and managing the period-close process.
To echo the position of Nucleus Research, in our discussions with the Office of the CFO, Onestream's Unified SmartCPM™ Platform is an attractive option for enterprises looking to replace legacy products. Our expert OneStream consultants bring a consultative approach founded on honesty, integrity, and lasting relationships. Through our partnership, we believe we can better serve the unique needs of our clients.
Not surprisingly, more and more customers and prospects ask us about OneStream. With the significant investment from KKR OneStream is well positioned to scale operations and continue on a path toward record growth in 2019. As a Platinum Partner, we look forward to providing clients with a choice for CPM solutions in the cloud.
If you are headed to New Orleans for Splash, OneStream's annual User Conference and Partner Summit, make sure to stop by Perficient booth #303 to learn more about our OneStream expertise and how we can help you transform your financial processes with this next generation agile platform. While you're there, make sure to catch one of all of our four sessions!