A new ERP system presented a financial reporting challenge for one of the top specialty contractors in the U.S. – the means to assemble financial data from multiple systems (Penta ERP, ADP, and other custom-built applications) and easily distribute that information to various business unit leaders. The current solution required manual intervention and was very limiting.
Our customer needed to consolidate and automate expenses of all types to support future growth. The company embarked on a business analytics project to provide visibility to leadership and business owners across different areas.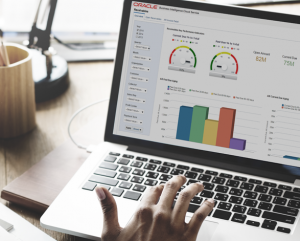 Explore key considerations, integrating the cloud with legacy applications and challenges of current cloud implementations.
Oracle Analytics Cloud was chosen as the solution to provide a seamless view of information rich dashboards and reports regardless of where the data resides. Known for ease of use, Oracle Analytics Cloud meant business users would need no special training to be able to perform ad-hoc drill down, visualization, and access to content via mobile devices.
The initial phase of the project focused on building a data warehouse solution on the Oracle Analytics Cloud platform. We automated the data integration processes through Oracle DataSync. The solution was designed to provide visibility into identified KPIs and metrics, following best practices and approach to render the KPIs, dashboards and reports. User adoption has soared since first released.
Key Benefits:
Consolidated expense reporting includes labor, materials, equipment depreciation and overhead, each of which is sourced from a different application
Eliminated the manual effort required to assemble financial data
If you find yourself in a similar situation, relying upon manual processes to assemble the data necessary to run your business, the interactive dashboards available with Oracle Analytics Cloud, can provide up-to-date information needed to make decisions that can truly impact your bottom line.
This project served as a proof of concept for expanded use of Oracle Analytics Cloud to cover several other areas of reporting. We have numerous customers that have experience transformative change with Oracle Cloud. Let's talk about what Oracle Analytics Cloud can do for you.
We recently performed an Oracle Analytics Cloud workshop. For more on that, click here.