Today during Red Hat Summit, Red Hat announced the launch of RHEL 8, Red Hat's newest Enterprise Linux edition. Red Hat Enterprise Linux is an intelligent operating system built for enterprise hybrid cloud. Version 8 is the most recent update – and the first in five years.
What's New in RHEL 8
Red Hat Insights included in every RHEL subscription to help you proactively predict and prevent issues in your infrastructure.
New feature releases every six months and major releases every three years.
New configuration and deployment features like automated resolution for faster delivery across deployment models.
Enhanced security for new workloads by only deploying necessary packages to limit vulnerabilities.
Streaming updates from new languages, frameworks, and developer tools that get updated frequently.
Lower barrier to entry for those new to Linux and Windows with user-friendly graphical console.
Easy migration from earlier RHEL versions with "in-place" upgrade tools.
The Impact of RHEL 8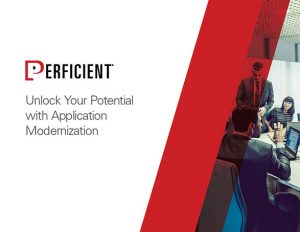 Application modernization is a growing area of focus for enterprises. If you're considering this path to cloud adoption, this guide explores considerations for the best approach – cloud native or legacy migration – and more.
Alongside the announcement of RHEL 8, Red Hat also commissioned an IDC report to analyze the release. IDC found that RHEL 8 could be expected to impact more than $10 trillion in business revenue in 2019 alone. RHEL as a whole is estimated to provide $7 billion in IT savings per year. With those impressive figures on the opportunity, how will you ensure you take full advantage of RHEL 8's new features for your business?
If you're also at Red Hat Summit, stop by our booth, #215, to connect with our Red Hat experts, or if not, schedule a meeting for a strategy session on how you can be leveraging the new features in RHEL 8.