Perficient is excited to be a Bronze sponsor at this year's Red Hat Summit 2019! Taking place in less than a week in Boston from May 7-9th, Summit brings together all kinds of professionals – from career IT pros to open source contributors – who represent nearly every industry. It is the premier open source technology event featuring the latest and greatest in cloud computing, platform virtualization, middleware, storage, and systems management technologies.
Hear From Our Experts
We will be exhibiting at Booth #215 in the Expo Hall. Our team of Red Hat experts will be available onsite to discuss how we can help you innovate your organization. Stop by to learn more about our unique solutions and services offerings.
Learn In Our Session
We will also be featuring our thought leadership in our breakout session, Florida Blue: Digital Transformation to Deliver at the Speed of Healthcare, taking place on Wednesday, May 8, from 10:30 a.m.-11:15 a.m. Join this session to hear how we assisted Florida Blue, a major healthcare provider, in using an elastic environment to meet the fluctuating demands of the evolving healthcare market across multiple domains and tenants.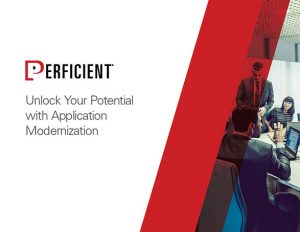 Application modernization is a growing area of focus for enterprises. If you're considering this path to cloud adoption, this guide explores considerations for the best approach – cloud native or legacy migration – and more.
Connect With Us At Our Reception
Even more questions around the healthcare industry? Join us for a Healthcare Networking Reception. We will be co-sponsoring this reception with Red Hat on Thursday, May 9, from 4:30-6:30 PM at Harpoon Brewery. Stop by to speak with other industry leaders before heading over to the closing party.
We look forward to seeing you in just a few short days at Red Hat Summit 2019!
Are you attending Red Hat Summit this year? Reach out to connect with our team.