What is Splash? OneStream's annual User Conference and Partner Summit including four days of best practices, product updates, networking and hands-on workshops with an estimated 1,200 finance and industry experts! Perficient is proud to be a gold sponsor of OneStream Splash, which is being held May 14-17 in New Orleans.
Visit us at booth #303 to meet with subject matter experts and thought leaders and learn how we've leveraged our extensive expertise in Corporate Performance Management to drive digital transformation for our customers.
Perficient is a leading technology and management consulting firm serving customers throughout North America with domain expertise in a wide array of technology platforms. Our CPM practice started in 2002 and since then we have implemented 1,500+ projects for clients. Within CPM we specialize in financial consolidations, budgeting & forecasting, financial reporting, account reconciliations, metadata management, profitability & cost, education and change management.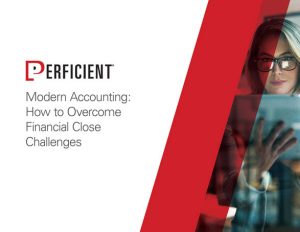 Improvements in each of the following period-close core tasks can provide transformative change and are reviewed in this guide include closing the books and external reporting, periodic reconciliations, and managing the period-close process.
We have four great sessions at this year's conference, where you'll hear from two of our customers, Presidio and Herbalife.
OneStream XF: Critical Success Factors at Presidio – How We Delivered Multiple Solutions in a Unified Platform
Wednesday, May 15 | 3:55 PM – 4:55 PM
Presenters: Brian Schaffer & Nick Kroppe
Topic: Implementation & Best Practices
Crossing the Chasm: Relating HFM Design Patterns to Leverage the Capabilities of OneStream XF
Thursday, May 16 | 10:05 AM – 10:55 AM
Presenter: Kirill Bannikov
Topic: Other
Guided Workflow for Complex Planning and Approval Processes
Thursday, May 16 | 4:10 PM – 5:00 PM
Presenters: Neal Yeung & Celeste Qian
Topic: Workflow
Cube Views Right the First Time: A Best Practices Design Session
Friday, May 17 | 9:20 AM – 10:10 AM
Presenters: Mitch Pasqualoni
Topic: Cube Views, Reporting & Analysis
If you're not able to attend the event, but would like to learn more about any of the topics listed above or more about our OneStream practice, please reach out to us.