This version of our study demonstrates the growth of the mobile web versus the desktop in 2018. The stats in this and our prior studies were pulled from SimilarWeb and reflect U.S. traffic across the web. For the most recent data, see our newest study, Mobile vs Desktop Usage in 2020.
In 2018, 58% of site visits were from mobile devices
Mobile devices made up 42% of total time spent online
Mobile bounce rate came in at 50%
For reference, here are our prior years' studies:
The details are in the charts below.
Changes to Our Data Collection Methodology for 2018
During 2018, SimilarWeb made some shifts in its data sources. For that reason, the charts show the 2018 data separated from the 2016 and 2017 data. The new sources in 2018 have slightly lower mobile usage, but this does not reflect an actual drop in mobile usage—just a change in the data sources used.
Nonetheless, SimilarWeb has one of the largest data samples on the web, and was picked by Rand Fishkin as the best tool for getting data on web traffic. For that reason, we will continue to use SimilarWeb as the data source for this study on an annual basis.
Aggregated Stats: Desktop vs. Mobile
The most common stat that people talk about is the percentage of their visits that comes from mobile devices. Here is a look at the percentage of visits sites get from mobile vs. desktop for 2016, 2017, and 2018:
The data continues to show that for most sites, the majority of their traffic comes from mobile devices. This is a critical fact of life for all business and media websites.
It's also interesting to consider total time on site. Here is what we see across the three years:
Bear in mind, that's the percentage of total aggregated time across all visits for mobile, compared with that of desktop. The total time users spend on sites when using desktop devices is still larger than the total time for mobile. This suggests that the time per visit must be longer, as we see here: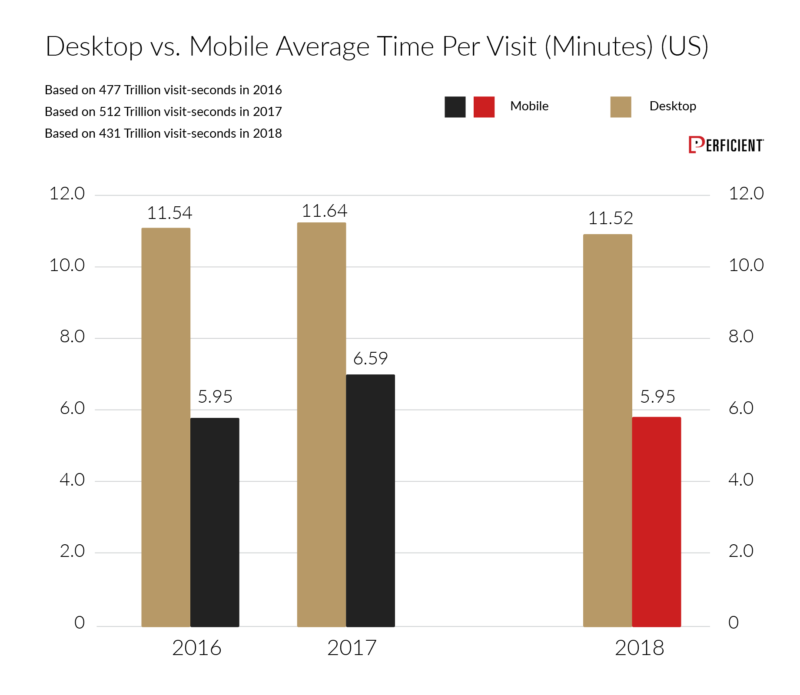 Next, let's take a look at bounce rate. Here is what we saw for 2016, 2017, and 2018: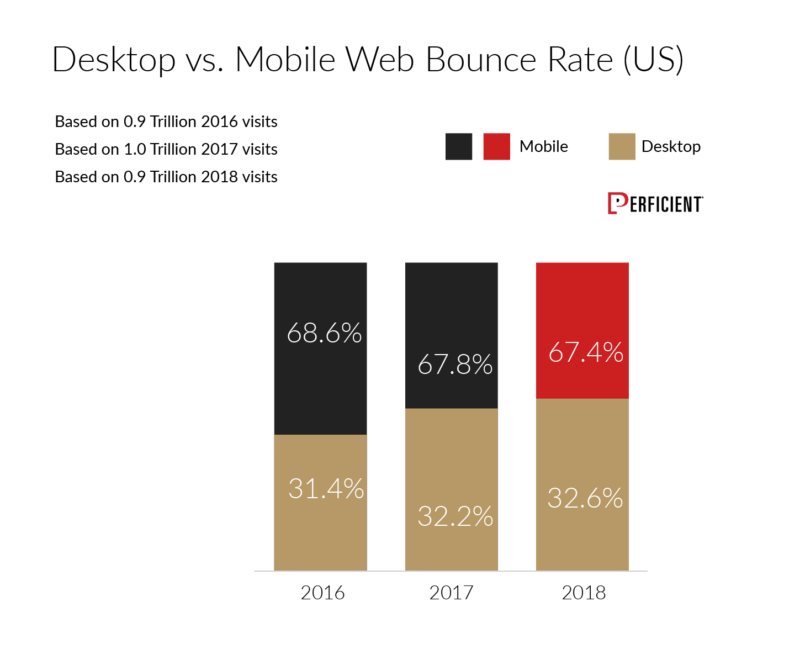 With the new data sources from SimilarWeb, the mobile bounce rate is back up a bit, but still lower than it was in 2016. As found in last year's study, we believe that mobile site experiences are improving, and users are getting more comfortable with it. However, desktop still has the lead over mobile as it relates to bounce rate, and that's not likely to change. For one thing, the use cases for people on mobile devices often involve the need to look something up quickly while they are on the go.
Let's now take a look at the total page views between desktop and mobile devices:
Because of the new data sources from SimilarWeb, we see a drop in the percentage of total page views from mobile devices vs desktop, but this number is still higher than it was in 2016.
To wrap this section up, let's also take a look at page views per visitor:
The page views per visitor remain significantly higher on desktop than mobile. This is consistent with the differences in time on site and bounce rate data shown above.
The data continues to show that for most sites, the majority of their traffic comes from mobile devices.
Stats by Industry Category
As we did in the last two years' studies, we broke the data down by industry category, to determine which industries are the most mobile-centric. The variance between categories remains significant: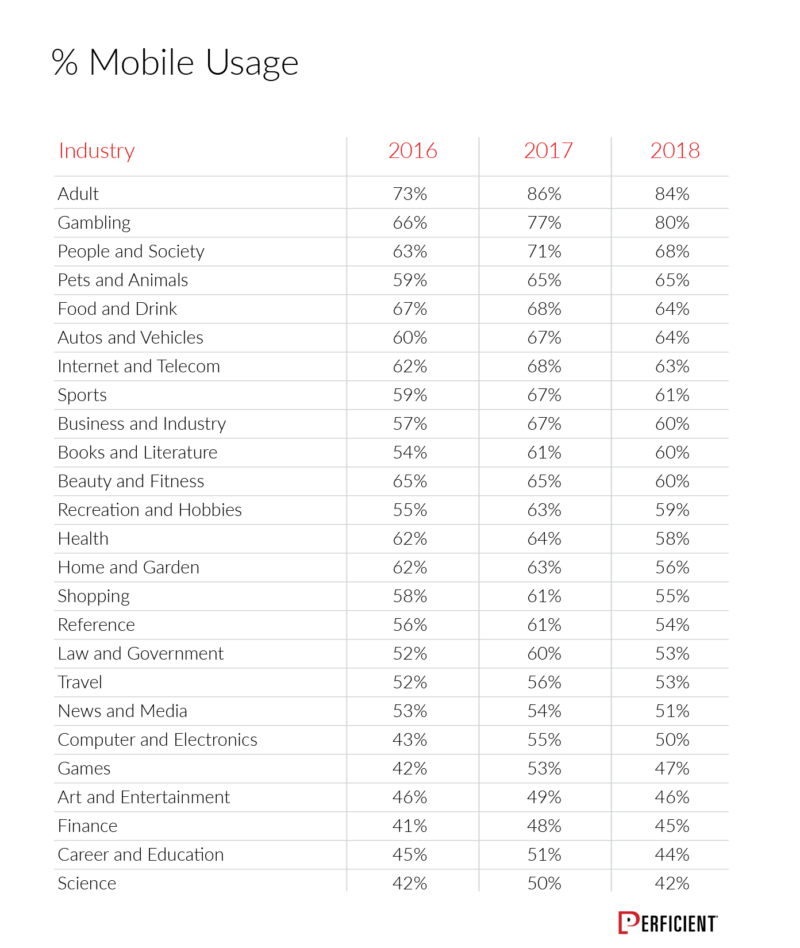 In 2016, the adult industry was the leader, with 73% of the visits coming from mobile devices. In spite of that, it was the biggest gainer this year, jumping up to 86% of all traffic coming from mobile.
The other interesting thing is that the finance category and arts & entertainment categories are the only industries that still see more traffic on desktop, by narrow 52% to 48% and 51% to 49% margins, respectively. By next year, these should also get most of their traffic from mobile.
Next up, let's look at time on site by industry category: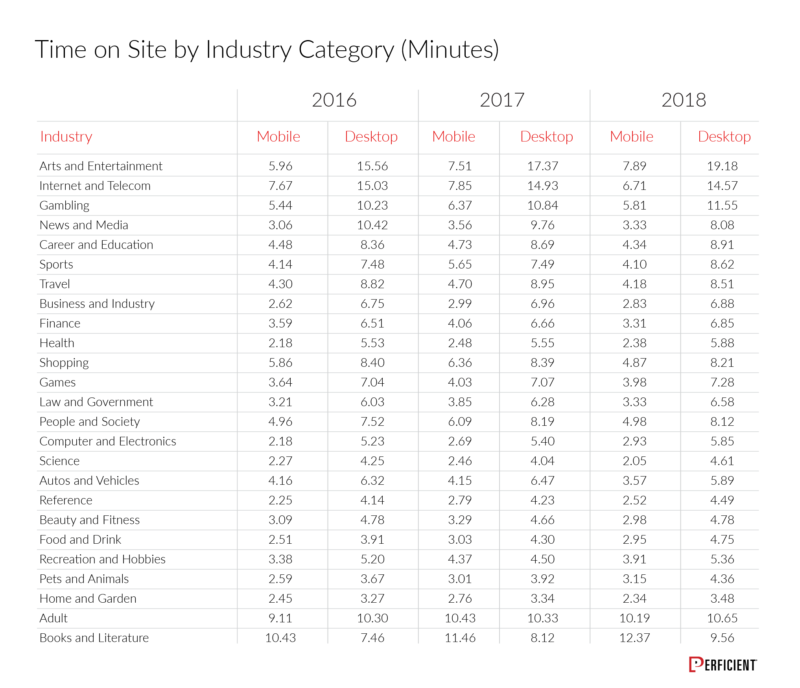 Here we see that every industry has a longer time on site for desktop over mobile, except for books and literature. The latter is probably due to people reading on mobile devices such as tablets.
Let's look at bounce rate next: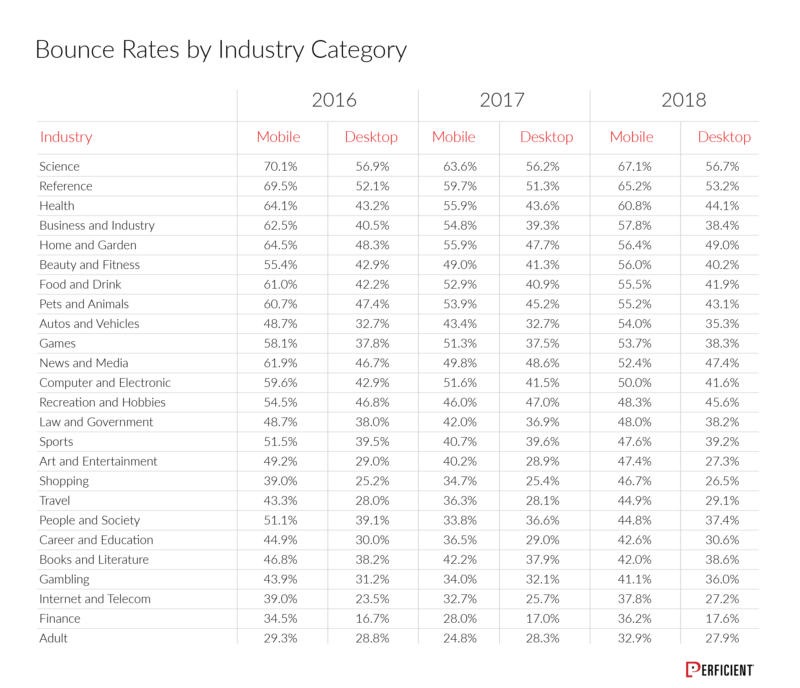 The desktop bounce rate is lower than the mobile bounce rate in every single industry, though the margin is quite small for these two categories:
Recreation and Hobbies
Books and Literature
Last, but not least, let's look at page views per visitor: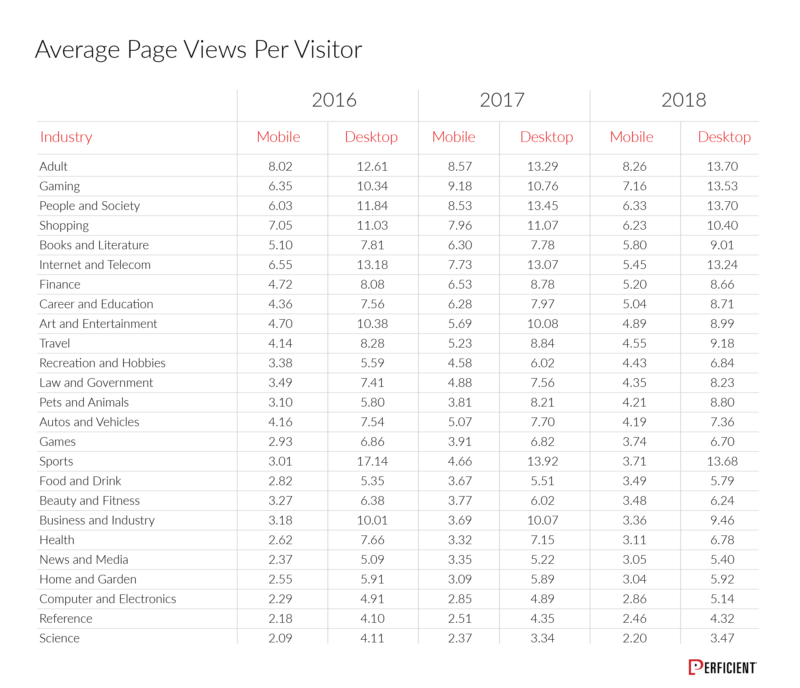 Page views per visitor remained higher in every industry for desktop than mobile.
Mobile user interfaces are improving, and users are getting more accustomed to them. Being mobile friendly is important in all industries—it's the largest source of traffic in nearly all of them.
Four Takeaway Recommendations:
How can you use this data to inform your digital marketing strategy? Here are four of our top observations and ideas:
Mobile Experiences are Continuing to Improve
Mobile user interfaces are improving, and users are getting more accustomed to them. Being mobile friendly is important in all industries—it's the largest source of traffic in nearly all of them.
This means designing your mobile site before you design the desktop site. Instead of coding your desktop site and then writing style sheets to shrink it into a smartphone form factor, design your mobile site first. Then you can figure out how to leverage the larger screen real estate available on a desktop platform as a second step.
Important note: We're not saying this because desktop is dead; it's not. It's still very important, but it's far easier to take a mobile UI to the desktop than take a desktop one to a smartphone.
Desktop Remains Very Important
Other industry data still suggests that more conversions continue to happen on desktop in most industries, so continuing to pay a lot of attention to your desktop site makes a great deal of sense. And, if you're in an industry where 75% or more of your conversions come from desktop, you may even want to offer users on mobile devices the option to provide contact information, save shopping carts, or implement other functionality that allows them to defer the actual completion of a conversion to a later time (perhaps on a desktop).
The rationale is that users may not want to deal with complicated forms on a mobile device, and/or may not want to enter their credit card there. Following up with them later lets them come back on a desktop device and convert at a more convenient time.
If you're open to this idea, I'd urge you to test it thoroughly first, to see which gets better results for you.
Compare Your Site's Behavior to Industry Norms
If the average percentage of mobile visitors in your industry is 60%, and your site is at 35%, that may indicate a problem like a very slow mobile site. See how you compare to industry norms; if there is a large delta with your site, take the time to understand why.
Pay Attention to Site Speed
Consider implementing AMP. Here is our study on AMP, which thoroughly explains how effective AMP is in accelerating site speed, as well as our detailed guide to implementing AMP. AMP is not the only way to speed up your site, of course, but it's an open source standardized way to do it, so it deserves consideration.
Wonder why page speed is so important? See our Page Speed Guide.