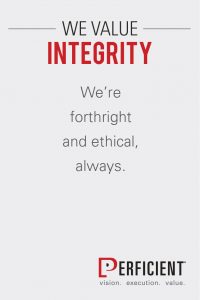 Our Perficient colleagues share how they live and breathe our core values. Here, Michael Porter, Managing Principal for our strategic advising practice, writes about why as technology strategist, integrity is so important.
Integrity is one of the most important things for a business. At Perficient, we talk about creating a mentoring relationship with our clients. When you break down what that is, being in a mentoring relationship brings with it a level of trust. You're trusted because you've provided pragmatic advice that has proven to be true and valuable.
A Mutually Beneficial Relationship
By exceeding our client's expectations and demonstrating our value, we develop a profitable relationship on both sides. Not only are we able to work with that client again, but the client knows now that we provide honest and true feedback and has found value in our work.
Being a consultant sometimes involves responding to clients with tough answers. For example, we may have to explain that something they thought was true, is not. This is an example of how important integrity is, because providing information that is best for that client, regardless of whether it is what they expected to, or wanted to hear, is far better than being a "yes or no" person.
Perficient colleagues share what our core values mean to them as part of our special "We Value" series.
---
Learn more about what it's like to work at Perficient at our Careers page.
Follow our Life at Perficient blog on Twitter via @PerficientLife.
Connect with us on LinkedIn here.