Digital transformation is a high-stakes game. Business leaders often have lofty goals in the fight for survival. But big ambitions don't always result in big wins. As a result, many decision makers are taking more pragmatic approaches in 2019 rather than trying to boil the ocean.
A Shifting Approach to Digital Transformation
Without a doubt, modernizing a business takes considerable time and investment. Rome wasn't built in a day. Likewise, digital transformation isn't something an organization can achieve in a year or two. Additionally, rapid shifts in technology and cultural resistance to change amplify the challenges today's business leaders face. Moreover, Forrester predicts that "2019 will be a year in which transformational ideals translate to pragmatic actions. Leaders will make hard choices as to what is truly strategic and what is the basis for bolder strategies in 2020."
Not Sure How to Proceed?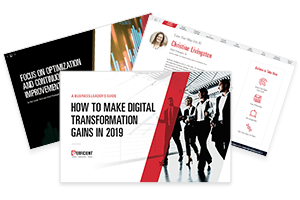 In an upcoming series of blog posts, our team of 10 Chief Strategists will share their advice for sustaining digital momentum in 2019. Subsequently, with the strategic approaches, companies can build a foundation for future success. Our Chief Strategists' insights will draw from our newly published e-book, "How to Make Digital Transformation Gains in 2019." In the e-book, they reveal real-world examples from conversations with today's leading brands that at various stages of digital transformation.
Subscribe to our Digital Transformation weekly digest here to get the blog posts automatically delivered to your inbox every week. Or, follow our Digital Transformation blog for this series and advice on the topic from all of our thought leaders.
10 Ways to Make Digital Transformation Gains
Digital initiatives are the top priority for 2019. Only four percent of organizations have no digital initiative at all. That signals an overall shift to digital as a mainstream platform, according to Gartner. Above all, well-crafted strategies underpin success with digital transformation. Therefore, our strategists suggest the following steps to success in 2019:
Each Chief Strategist focuses on a specific practice area. However, their diversity of thought brings different perspectives to the table. To that end, their insights better inform the entire digital transformation journey.
"Most importantly, we help filter some of the market noise and bring clarity. From that, the knowledge gained enables clients to show actionable strategies," says Juliet Silver, our Chief Strategist aligned to our Healthcare practice.
Want All of the Insights Now? 
Our 10-chapter e-book features our Chief Strategists' business insights, actions to take now, and client success stories. Download it here or via the form below.
Special Series: Get the latest posts inspired by our e-book, How to Make Digital Transformation Gains in 2019, from our Chief Strategists here.