There's a lot to consider when implementing Microsoft Office 365 (O365) – be it one application or the entire suite. Often, the last thing organizations think about is the impact on the users. Yet they are your most valuable asset, and their adoption can drive true value and impact across the entire organization. The content in this guide is designed to provide key steps that can help drive increased O365 end user adoption for a more successful implementation.
Organizational change management (OCM) is a structured approach for getting people ready, willing, and able to accept and embrace new ways of working that are critical to future-state performance. Although the changes may be unique, a good strategy motivates willing individuals, encourages those who have doubts, and aligns the motivation and encouragement with the implementation.
Numerous data points over the last 10 years indicate that almost 70% of all change projects fail to meet their objectives (timeline, budget, and most importantly ROI). The cause of these failures is not usually poor or failing technology; rather, it is the lack of user adoption. Moreover, recent data suggests that 70-80% of that ROI is dependent on people using the new systems, applications, and tools as desired. That's a big number, and that's why change management is essential.
For more insight on how organizational change management boosts adoption of Office 365, download our guide here or below.
About the Author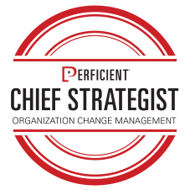 David Chapman serves as General Manager and Chief Strategist for Perficient's Organizational Change Management practice. He has more than 20 years of management consulting experience, specializing in the change management discipline. David brings his unique insight to the people aspects of any change from technology implementations to broader strategic organizational imperatives.