The St. Louis Business Journal recently named Perficient a Best Place to Work. A team from our global headquarters celebrated the honor during an awards ceremony the publication hosted to spotlight winners of the annual program.
"The recognition is a testament that our employees are truly excited about working at Perficient," said Jason Hudnall, general manager, St. Louis. "We are extremely honored."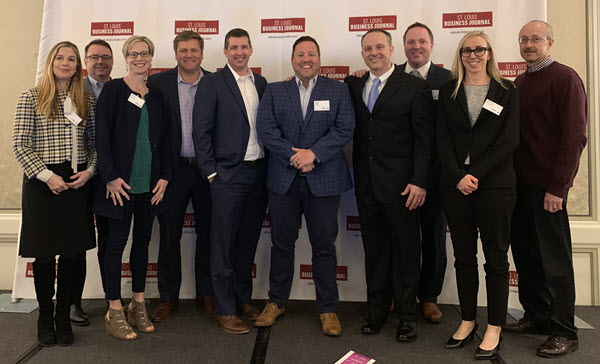 During the St. Louis Business Journal's ceremony, more than 750 attendees – a record number – cheered each other on for going above and beyond for their employees. Perficient landed in the "Large Finalists: 100-249 local employees" category, and ceremony speakers cited our high degree of role autonomy, significant work-life balance benefits, awards for excellence, opportunities to connect with colleagues during fun office festivities and outings, and more.

Back at our St. Louis office, colleagues were treated to 10 dozen donuts. In all the celebrations, the Best Place to Work award brought to mind all the aspects of working at Perficient that our colleagues hold dear.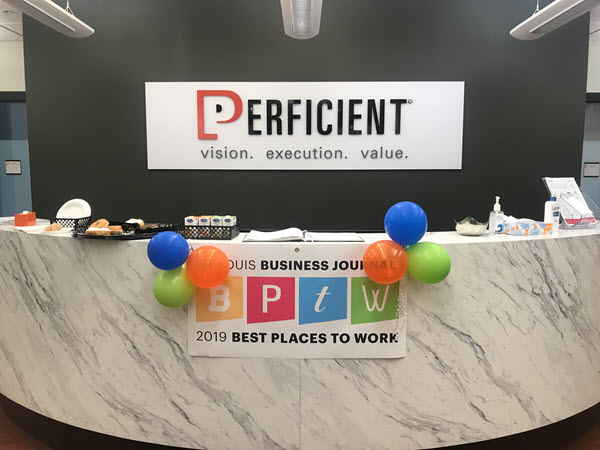 Teammates of all tenures – from recent hires to veterans – shared their experiences:
Why Perficient is a Best Place to Work
All-Time Favorite Employer
"I have been with Perficient for nearly four years, and I can say this has truly been the best place I have worked throughout my 20-plus years in IT consulting. Engaging leadership, continual organizational growth, and co-workers who have an authentic desire to always deliver the best all make me proud to call Perficient home."
– Josh Ward, strategic client director, three years with Perficient
People Are a Priority
"It is rare to find a company like Perficient that never loses focus of its people, even while growing at such a rapid pace. Perficient understands the importance and the value in building a strong, positive culture. Perficient truly cares about its people, and the communities they operate in. Our customers know they have a true partner in Perficient, and not just another consulting firm looking to ring the register."
– Kevin Kozlowski, client services director, one year with Perficient
Culture Centered on Involvement
"Perficient promotes a culture in which your fulfillment as an employee is as important as your value as an employee. Perficient values its employees as individuals, and Perficient promotes and supports employee involvement in the community. Perficient has been successful at building its St. Louis customer base while sustaining its culture of involvement. Many employees have been with the company for several years."
– Anthony Karre, director, 19 years with Perficient
Teammates Help Each Other Excel in Work and Life
"Perficient provides many opportunities for our employees to get involved in leadership projects outside of their daily job functions. For instance, many of our team members spend time giving back and volunteering in the community. Other colleagues help coordinate amazing social events that help build culture and foster networking. Others are focused on growing their skills by lead trainings and mentoring their peers through career counseling. It's all about building relationships and making an impact in each other's lives."
-Jason Hudnall, general manager, three years with Perficient
Looking Forward to the Future
"The people, our clients, our growth, opportunities to succeed, and the engagement of senior leadership has made the past seven and a half years of my career with Perficient unbelievable. Perficient is the absolute best place to work, and I am looking extremely forward to the next seven-plus years."
– Ellie Huss, director, seven years with Perficient
Our St. Louis office was also named as one of the St. Louis Business Journal's Best Places to Work in 2016 and a Top Workplace by the St. Louis Post-Dispatch in 2015, 2014 and 2013. Perficient has been named a Top Workplace in additional markets including Denver, Chicago and Minneapolis as well. In addition, FlexJobs, a job service specializing in remote and flexible job opportunities, named Perficient a Top 100 Company to Watch for Remote Work for the three consecutive years. Perficient also maintains a 4.0 rating on Glassdoor.
---
Learn more about what it's like to work at Perficient at our Careers page.

Follow Perficient on LinkedIn here.