Thrilling our clients with innovation and impact – it's not just rhetoric. This belief is instrumental for our clients' success. In 2018 we announced the first class of Chief Strategists, who provide vision and leadership to help our clients remain competitive. Get to know each of our strategists as they share their unique insights on their areas of expertise.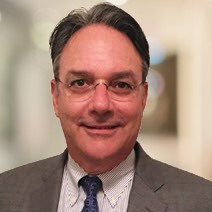 In the past 50 years, technology has changed the financial services industry tremendously. Not only do financial services firms have to keep pace with technology but also tackle the moving targets of regulatory reform and increasing consumer expectations.
Scott Albahary, Financial Services Chief Strategist, has extensive industry experience and advises our banking and wealth management clients on business and technical strategies that significantly improve business processes across the full client lifecycle.
We recently spoke to Scott and learned more about his role as a chief strategist, his advice on developing strategies in this industry, and his life beyond the role of chief strategist.
What does this new role as a Chief Strategist mean to you?
SA: This role means a lot because it allows me to be a translator for our colleagues and financial services clients. Through applying my experience and knowledge, I bridge the gap of what we do at Perficient and how it benefits our clients.
Think of Perficient's offerings and capabilities like items on a shelf in a supermarket aisle. We have a wide variety of technology partners and solutions fighting for shelf space, and our practitioners excel at understanding and implementing technology.
Then, think of the financial services industry, with its convoluted regulations, complicated account ownership structures, data relationships, and niche technologies, as the organic supplement aisle of the supermarket. You know it's there. But, you'd rather not go down it because you don't understand anything about the supplements nor what they do.
My goal as a Chief Strategist is to provide internal and external education. I educate colleagues on how our work in financial services aligns with Perficient's offerings from our wide portfolio. I also want to educate our clients and delivery teams on our innovative work in financial services, so they can look to Perficient for solutions outside of what they might expect from us.
What do you hope to learn as a Chief Strategist?
SA: The financial services industry is so broad; it's hard to be a master of every topic that affects it. I particularly want to understand the practical applications of new technologies, like artificial intelligence, and learn how we can bring them to our financial services clients in a way that provides value.
Strategically Speaking
What excites (or concerns) you about what's happening in financial services?
SA: Financial services is an industry poised for rapid transformation and disruption. We're going to see some positive transformations over the next few years as firms react to the massive demographic and technology changes from the past decade.
Since the financial crisis of 2008, most financial services firms have prioritized and invested in regulatory compliance. However, this investment has not contributed to business growth and has only produced regulatory reports. We're now seeing more firms invest in projects that will help grow or change their enterprises. These are exciting projects, and I look forward to seeing the outcomes.
My concerns for the industry are twofold. The political and economic climate is the first concern. While investment flowed more freely after the 2016 election, firms could reverse course based on the 2018 and 2020 election results, which will contribute to continued market volatility.
Failing to learn from the past is my second concern. For those who remember the hype around the internet [in the 2000s], we saw it drive significant investment in solutions that ultimately had little or no value. We're now going through a similar era with emerging technologies like blockchain, artificial intelligence, big data, and predictive analytics. Firms are feeling incredible competitive and shareholder pressure to do something – anything – with these technologies. This pressure leads to businesses making decisions based on what their competition is doing, not whether it's the right direction for their company.
What advice or tips do you have for developing a strategy?
SA: Financial services firms can't say they want to be more like Amazon as a way to appeal to more Millennials. Developing a strategy requires discipline. First, understand your desired customer experience – how customers decide to purchase from you, what motivates them, why they use your competitors. It's important to understand these areas because the decisions you make will affect the all-important and delicate "moments of truth" with your customers.
Second, learn from your customers. Invest in primary research, whether you use surveys, focus groups, or customer interviews, to find out what people really want. Once you have that data, incorporate it into your business strategy.
Finally, look at what you're trying to achieve as a business and deconstruct that into a list, series, or hierarchy of business capabilities that you need to provide. What items on the list are essential to maintain competitiveness? What are table stakes to just to be in the game? What is not germane to your particular market or your particular customer segments?
Once you define that hierarchy of business capabilities, you can match the appropriate technology to support those capabilities. We frequently use this strategy exercise used with our clients. Remember, technology decisions are driven by customer experience capabilities, not the other way around.
Think Like a Chief Strategist
How does your team help clients on their digital transformation journey?
SA: A key strength of our team is knowing the data, the systems, and the movement of data between systems in the financial services industry. This knowledge lays the foundation for enabling any digital transformation. We're also extremely knowledgeable about the financial technology (fintech) players and regulations. When combined, this expertise has yielded practical, real-world success stories where digital transformation provided real value.
We help our clients align and prioritize their digital transformation investments to consider their business objectives, existing infrastructure environments, and investment tolerance. We have significant experience with managing transformational efforts for some of the largest financial services firms in the world. Digital transformation is more than a compelling vision of seamless integration and personalized customer experiences. Making it a reality requires a lot of roll-up-your-sleeves blocking and tackling to get the job done.
Tell us about a recent project you've tackled. How did we help the client achieve success?
SA: We recently worked with a bank on preventative damage control. More specifically, it required reviewing their data to make sure employees weren't creating unauthorized accounts. This involved heavy data analytics.
We started looking at their customer base for patterns and anomalies between accounts and transactions. If anything triggered as a possible unauthorized account, then it was correlated with the employee who opened it. Then, the information was correlated with other structured and unstructured data to identify patterns for additional detailed research. This innovative approach allowed us to develop a plan of attack that reviewed all the bank's accounts (rather than other approaches that relied on statistical sampling). Our work also withstood regulatory scrutiny and helped the bank prove it did not have problems with its sales practices.
Beyond the World of Strategy
Tell us about yourself and your interests when you're not wearing the Chief Strategist hat.
SA: I have four kids, which doesn't leave much time for hobbies not related to raising my family and spending time with my grandchildren. I also like to play golf, and maybe this year I will actually get out on a course!
---
Follow along on this series to learn more about each of our Chief Strategists. And, take a look at recent blog posts they've written on trending topics for their industries.