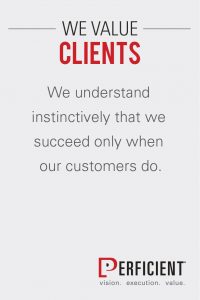 Our Perficient colleagues share how they live and breathe our core values. Here, Pawan Gupta, Principal and Managing Director, Commerce, writes about reaching across all Perficient teams to ensure high-quality deliverables to clients.
If I look at my colleagues and all of the people working for our Commerce practice, the thing that differentiates us and stands out is their passion to work at Perficient – and the passion to solve customers' problems. Those are big. That brings in a lot of trust from our customer. That's the secret sauce that we have at Perficient.
When you look at Perficient, you can find subject matter expertise from all of our groups. For the customer, Perficient is a one-stop shop. Customers really get excited when they see Perficient has the capability to deliver end-to-end solutions for them.
Perficient colleagues share what our core values mean to them as part of our special "We Value" series.
---
Learn more about what it's like to work at Perficient at our Careers page.
Follow our Life at Perficient blog on Twitter via @PerficientLife.
Connect with us on LinkedIn here.