IBM Think 2019 got its official kickoff yesterday. IBM's Chairman, President and CEO Ginni Rometty delivered the conference keynote welcoming prominent CEOs and company leaders while discussing transforming into Cognitive Enterprises.
Dear Tech… The address started with a video of individuals writing an open letter to the tech industry. Security, cloud, scale, safety, AI-ending bias, understanding each other, business, etc.  It starts with people, who then use tech to make the world better – together.
Five customer speakers joined Ginni Rometty during the address:
Greg Kalinsky, Geico
Ted Chung, Hyundai Card Co., Ltd
Jim Whitehurst, Red Hat
Bernard Tyson, Kaiser Permanente
John Donovan, AT&T Communications
Key messages and insights from each speaker are below (you can also view the replay).
Ginni Rometty, President and CEO, IBM
Shared with the audience that there are 120 countries and 22 industries in attendance at IBM Think 2019.
The second chapter of digital and AI is beginning, and these dimensions include:
Scaling
Hybrid cloud
Mission critical apps
Trust and responsible stewardship
Five lessons learned when it comes to scaling digital and AI:
Outside in – CX apps
Inside out – workflow and data driving change
Business platform to connect CX and data, AI infused in a workflow
Going to need an AI platform
Will never have AI without information architecture (IA) because you spend 80% of the time getting data
Announcements
Watson Anywhere – Support any cloud variation including private, public, on premises, etc.  Most open scalable AI solution available today.
IBM Business Automation with Watson – Workflow with moments of intelligence built-in
IBM End to End services – 22 offerings
IBM Cloud Integration Platform – Connect data from anyone's platform
IBM Hyper Protect – Highest level of security today
Greg Kalinsky, EVP and CIO, Geico
Shared journey of digitization at Geico:
Recent contest by replaying commercials and people vote (1.5m voted for the "Hump Day" commercial)
Geico is a commoditized industry – nobody wants to buy insurance, has to and hopes to not use it
Distinguishes themselves via customer service and price
Internet removed manual processes
Moving to mobile, couldn't quite get there in terms of intuitive and dynamic but 8,000,000 use the mobile app
Nervous that consumers were not ready for AI and would alienate people
Phases of transformation
Phase 1
Do no harm – Initial stage was a PoC
Would review verbatim transcripts to see how customers reacted with Watson because they didn't know it was Watson
Phase 2
Now investing time and effort to value-add phase – go beyond "do no harm" and increase sales
Started with auto, got some improvement but not up to max goals
Decided to try it on renters policy instead.  Were able to reconfigure it to simplify flow and got a 40% increase rate in closure on those policies.
Now, figuring out how can the same lift be brought back to auto
Takeaways and Leadership Lesson
To get the value of AI, you can't just layer it on your existing processes – Not just outside in but go inside out
Opportunity may appear obvious but people do not like change. Must work together to distinguish yourself and leverage tech to change the way things are done.
Ted Chung, CEO, Hyundai Card Co., Ltd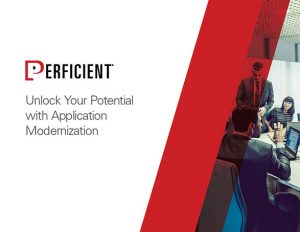 Application modernization is a growing area of focus for enterprises. If you're considering this path to cloud adoption, this guide explores considerations for the best approach – cloud native or legacy migration – and more.
Scaling AI and digital – Hyundai Card's strategy and transformation journey started 15 years ago with branding and marketing. 4 years ago started digital transformation – AI and blockchain.
Plan to put AI at the center of customer service.
50% of calls went unresolved
Poor customer service cost $65 billion
30% turnover in the US
Pain points:
Almost impossible to memorize benefits, terms, conditions from a financial product
Training cost is high
Looked to AI to help:
Turnover rate is now 10% – a 20% decrease
The younger generation wants to interact with text and mobile devices
Developed a Watson conversation based customer service app with 2 personas – one serious and one fun
Now building a large data lake to allow super customizations.
Market segmentation
Takes raw info, maps to service info and then to insights
For example, there can be 10 addresses – home, work, shopping, eating, etc. Marry that with identified preferred shopping times as an example to determine when to market.
Biggest lesson learned
Have a lot of data but don't know how to use it. If you find your data is a mess, you have taken the first step. Understand AI is evolving. Lastly, project management must understand both AI and the business.
Jim Whitehurst, CEO, Red Hat
Shared his viewpoint on the technology landscape and open source:
3.5 billion in revenue with no IP
The growth of user-driven innovation
For a subset of problems enterprises need, software is out there in open source – By-products of large companies is open source
Many open source products are not meant to have long term use
Puts life-cycle security around open source so enterprises can use them
E.g. RedHat helped update Kubernetes so it can run legacy stateful apps
Open source can get you 90% of the way there, RedHat can help with the other 10%
That is good but getting at enterprise data is what is important.
Linux, containers, and Kubernetes is where most innovation is happening
Bernard Tyson, Chairman and CEO, Kaiser Permanente
Pioneered preventative vs reactive healthcare – started with a vision. Now in a great place in healthcare, but it didn't change much until the late 20th century. People used to die early so healthcare wasn't an issue – sanitation and food changed that.
At KP, previously created a system called a "fix-it" system, where the organization tailored everything so patients must come to KP. This has changed drastically – it is being flipped upside down because of the thought, "why focus on sickness only?"
Realization this is healthcare, not sickcare – early detection, diagnosis, etc. are all things needed to help a person thrive. KP is helping people understand their health.
Cloud – what it's enabled and the journey:
KP has always used technology, always collected data, lots of it
Built up physical data centers
Worried about data security with cloud
Now over half of the data is stored in IBM cloud
This has helped enable affordability coverage and care and accessibility
Social determinants – factors that influence health:
Healthcare contributes about 10%
Behaviors are about 40% (exercise, eating, etc)
Rest are social determinants, e.g. environment, shelter, pollution, crime
Data and AI: a way to innovate and act on social determinants
Leadership lesson
It is a journey and the reality needs to be embraced.  Technology has opened up possibilities and we cannot let history stop that.
John Donovan, CEO, AT&T Communications
John Donavan has taken AT&T Communications through end-to-end digital transformation journey.
Phase 1
Started in 2013 – had a million CPU cores
Decided to visualize the environment – 80k VMs
Now, figuring out:
How to move it to the cloud
Micro-services
How to virtualize network functions
Move from micro-services to functions
Phase 2
Move inside out with mission-critical apps.
Tried to move 40-year-old systems just to gain experiences moving
Used learning to move more complex and critical systems in a repeatable capacity
AI example:
70k trucks dispatched every day
Dealing with a dispatch system that is old, but people know the system and the process
Data can be used to make decisions, e.g. because of weather or traffic, dispatch a truck an hour away instead of one 15 minutes away
AI is most powerful when a device can make local decisions combined with macro decisions in a cloud
He wrapped up by sharing that 5G technology will be a big pendulum swing coming which will maximize hybrid cloud.
If you were unable to make it to Think this year, I highly recommend checking out the recording of this keynote session – lots of great insights from leaders who are making huge strides with AI.