MicroStrategy 2019 officially kicked off this week with some major announcements. Several of these offer new and exciting opportunities for enterprises to leverage business intelligence and analytics in truly transformative ways.
Kicking things off on Tuesday, Perficient was proud to be named MicroStrategy's 2019 North America Partner of the Year. The award recognizes our team's deep, long-term expertise in delivering end-to-end business intelligence (BI) solutions. Not surprisingly, the notion of an intelligent enterprise was the very theme of MicroStrategy CEO Michael Saylor's keynote session, where he emphasized:
"Over time, insights will be progressively infused into all elements of our life."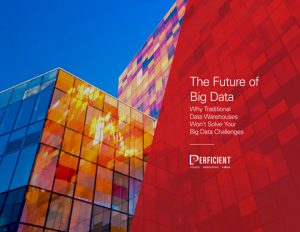 With some guidance, you can craft a data platform that is right for your organization's needs and gets the most return from your data capital.
Using that theme as a prelude of what's to come in 2019, Saylor unveiled MicroStrategy 2019. optimized for the Microsoft Azure cloud platform. This powerful combination of MicroStrategy 2019 on Azure will allow clients to launch and manage fully-configured analytics, mobility, and HyperIntelligence projects on the Azure platform.
As MicroStrategy's Technology Partner of the Year and a Perficient Enterprise partner, Microsoft has made significant investments in data and AI over the last few years. With a strong focus on helping their customers turn their data and insight into action, it should come as no surprise that together, MicroStrategy on Azure creates a powerful intersection of data, AI and cloud. As John "JG" Chirapurath, Microsoft General Manager, Azure Data and Artificial Intelligence said:
"Leading analytics customers are starting new projects and moving their current workloads to Microsoft Azure in order to benefit from its flexibility, scalability, and reliability. MicroStrategy 2019 on Azure will accelerate this adoption and help leading organizations realize the benefits of a full-featured enterprise cloud analytics platform in Azure."
Perhaps even more powerful, MicroStrategy's HyperIntelligence provides zero-click, real-time answers to questions you may not have thought to ask and the ability to embed this intelligence in Microsoft Office 365. This Office 365 integration will enable sales teams and end users with a 360-degree view of your business and streamline workflows in tools they are already familiar with.
If you are on the ground at MicroStrategy World this week, be sure to check out our sessions to learn more about these solutions. Or, click here to learn more about our award-winning MicroStrategy practice.