Perficient is excited to be a Gold sponsor at this year's IBM Think 2019! Taking place in just a few short weeks in San Francisco from February 12 – 15th, Think brings over 40,000 attendees together to learn, strategize, and engage in all things digital transformation.
We will be exhibiting at Booth #320 in the Data & AI Campus. Experts from across our IBM solution areas – AI, automation, cloud, commerce, data & analytics, DX, DevOps, and more – will be showcasing demos and their thought leadership in a range of sessions.
OUR SESSIONS
Wednesday, 3:30 PM – 4:10 PM
Westin St. Francis, Level 2 | Olympic
Our industry's pace of change challenges digital leaders to stay abreast of today's latest, innovative deployments. Come hear how the nation's leading fabric and craft retailer is using IBM Watson Commerce to elevate the customer experience. With IBM Order Management as a foundational element underpinning this client's solution, this session will focus on how the initial deployment has migrated to the cloud and provides a single view of supply and demand. Additionally, how it orchestrates order fulfillment processes across Buy Online Pickup In Store (BOPIS) and Ship-from-Store (SFS). Lastly, this session will focus on how it empowers company representatives to better serve clients both in call centers and in-store engagements.
Speakers:
Wednesday, 4:30 PM – 5:10 PM | Session ID: 5787A
Westin St. Francis, Level 1 | Tower Salon A
At Leggett & Platt, a global, diversified manufacturer, the topic of supply chain and order management technology has transitioned from the dark corners of the warehouse to the executive table. While supply chain optimization is fairly well-established among retailers, branded manufacturers and distributors are being pressured to augment or even break from their traditional models. Join L&P and IBM Business Partner Perficient Digital as they discuss the challenge of blending physical with digital across customer acquisition, engagement and retention initiatives. Learn how L&P is optimizing inventory and order orchestration with IBM Order Management to grow revenue, gain market share and disrupt the industry.
Speakers:
Pawan Kumar Gupta, Director OMS, CPQ, B2B and Commerce, Perficient Digital
Tyler Burgess, Leggett and Platt Inc.
Michael Blinzler, Leggett & Platt
Wednesday, 4:30 PM – 4:50 PM | Session ID: 7377A
Moscone South, Exhibit Level, Hall D | Data & AI Think Tank F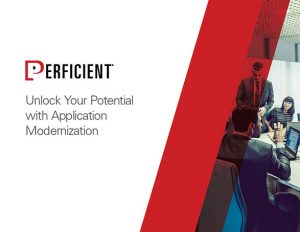 Application modernization is a growing area of focus for enterprises. If you're considering this path to cloud adoption, this guide explores considerations for the best approach – cloud native or legacy migration – and more.
The demand for personalized order orchestration services has compelled organizations to re-examine their order-to-fulfillment lifecycle. It is imperative to enhance processes to improve business agility and support both B2C and B2B customers. With IBM's newest order management solution, you can continue to deliver a differentiating experience. Learn how to use IBM Order Management to: aggregate, manage and monitor orders from all channels; use intelligent sourcing rules to determine the most efficient fulfillment; access a single order repository to manage the "order life cycle" in real-time; gain insights and alerts for performance and capacity, while managing supply and demand; and augment ERP processes to meet customer needs.
Speakers:
Wednesday, 5:30 PM – 6:10 PM | Session ID: 6033A
Hilton Union Square, Ballroom Level | Yosemite B
Every year, more than half a million patients from all 50 states and nearly 150 countries come to Mayo Clinic expecting the best that medicine has to offer. The founders of Mayo Clinic clearly defined our mission: "the needs of the patient come first." To fulfill that mission, security, performance and resiliency are beyond priorities—these are fundamental. But while patient health information demands robust security at all layers, teams need to share information across the organization to enable collaborative care. Come hear how layered security technology and a coordinated effort across networks, infrastructure, security and interface teams enables Mayo Clinic to "get security right."
Speakers:
Wednesday, 3:30 PM – 4:10 PM | Session ID: 7520B
Moscone South, Level 2 | San Francisco Ballroom 205
Western and Southern Life Insurance Company has embarked on a multi-year transformation initiative to deploy IBM Business Automation Workflow (BAW), FileNet and Datacap across multiple business lines, including Annuity New Business, Claims and Servicing. To increase delivery speed and minimize deployment costs, Western and Southern needed a highly adaptable, reusable user experience framework deployed inside of BAW. Learn how Western and Southern partnered with Perficient to develop and deploy a reusable user interface framework that extends the IBM BAW platform to support more dynamic user interfaces.
Speakers:
Friday, 11:30 AM – 11:50 AM | Session ID: 7372A
Moscone South, Exhibit Level, Hall D | Data & AI Think Tank F
Business customers of large enterprises desire the same quality in their digital interactions as consumers do. Real-time data, product information, service notices, tools, service scheduling, maintenance, parts, data and more must be readily available—as well as current, accurate and easy to consume. Attend this session to learn the best practices, tips and tricks on how to elevate the combined dealer and customer website experiences using IBM Digital Experience Manager. Topics covered will include: accelerating speed to market, delivering targeted and secured content and data, producing highly polished user interfaces, mobility support, scaling for performance and content integration.
Speakers:
Glenn Kline, Principal and Technical Director, Perficient Digital
There has been a lot of change in the IBM portfolio with the acquisition of Red Hat and the sale of some IBM software to HCL. The news of both of these changes marks an exciting time for customers, but has also led to some upheaval as everyone tries to learn what exactly this will mean for them. We will be onsite to talk about what these changes mean and how we can help you achieve your goals within this new IBM portfolio.
Are you attending IBM Think this year? Reach out to connect with our team.