Reporting on Oracle Fusion and non-Fusion SaaS Apps from Oracle Analytics Cloud (OAC) is a common solution to performing cross-functional reporting from one or more Cloud and non-Cloud applications. The BI capabilities within each of the transaction systems, whether Financials, HCM, Sales or other, are limited when it comes to integrated reporting with external data sources. Leveraging OAC is a great way of benefiting from consolidated cross-app reporting. In addition, the direct integration between Oracle SaaS and OAC (PaaS) also maintains security setups from the source applications and therefore avoids the overhead of securing data access in multiple systems. There are more than one ways through which an Oracle Analytics user may access data from Oracle SaaS. In the table below I compare 3 different techniques: Data Set Connection, Data Replication and Data Sync. Depending on the business need, a combination of one or more of these techniques may be implemented to address different use cases.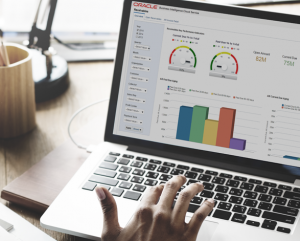 Explore key considerations, integrating the cloud with legacy applications and challenges of current cloud implementations.
The Data Replication method has been available on OAC since September of this year and requires that your environment be patched with the latest OAC release. Data Replication offers the most straight forward and robust approach to integrating Oracle SaaS data into the OAC Data Warehouse. In my next post I will do a deep dive into Data Replication and describe how to achieve that integration. To learn about implementing OAC security based on Fusion SaaS Security settings refer to this blog post.
Note – Jan 2, 2019: At this time, OAC supports a direct (real-time) connection to Oracle Fusion SaaS Applications through a Data Set Connection only. There is no direct connectivity from the OAC Data Model (neither the thin data modeler accessible from an internet browser nor the BI Server Repository (RPD) Administration Tool). While the on-prem OBIEE Data Model Repository supports direct connectivity to Oracle Fusion SaaS through the ADF Connection Pool adapter, OAC doesn't. So I thought its worth mentioning this here especially if you are planning to do a lift and shift from OBIEE on-prem to OAC. To validate the latest supported OAC data sources in the data model, refer to this Oracle Doc.