Google seems to be showing interest in the authors of web content once again. Does that mean it's now an SEO ranking factor?
In this episode of our popular Here's Why digital marketing video series, Mark Traphagen explores the evidence and gives you the real reasons it matters who authors your content.
Don't miss a single episode of Here's Why. Click the subscribe button below to be notified via email each time a new video is published.
Resources
Transcript
Google Agent Rank
Eric: Mark, Google has shown some interest in authors behind web content for some time, haven't they?
Mark: Yes, but it seems to pop up in spurts. It goes back at least to their agent rank patent which proposed a search ranking factor based on a quality score and attributed to various agents or entities associated with a web page. One of the those would be the author or authors of the content on the page.
Eric: Did Google do anything with that?
Mark: We don't know for sure, but sometimes companies like Google take out patents just to protect the intellectual property of their ideas. So having a patent doesn't mean they ever actually have to use it.
Google Authorship
Eric: What was the next time Google showed interest in authors then?
Mark: That was the big one and we call it "Google Authorship."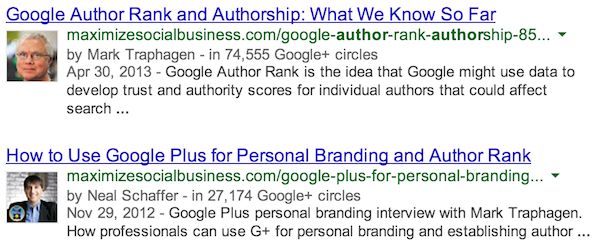 Authorship was a program that allowed authors and publishers to cross-reference each other using schema markup, allowing Google to verify the author of a given piece, as well as see all of his or her other content. A few months after announcing that, Google began showing author photos and bylines next to some content that used markup.
Eric: Was authorship a search ranking factor then?
Mark: We never found any evidence that it was, and Google representatives said that while they might use it as such in the future, they weren't at the time. Still, it was a significant experiment with a lot of investment from Google, seeing as it lasted three years.
Recent Google Interest in Authors
Eric: So that's interesting, but anything more recent?
Mark: Yes. A couple of interesting things just in the past few months.
The first one came in July of 2018 when Google released an update to their search quality raters guidelines. That's the training manual for their search quality raters, humans who help evaluate the quality of search results. The new version has significant additions that directed the raters to look into the expertise, authority, and trustworthiness of the authors of web content.
Eric: Does that mean author reputation is now a search ranking factor?
Mark: Again, we can't really say that. We know that something being mentioned in the guidelines does not mean it is a direct ranking factor. Nevertheless, it certainly indicates that Google thinks the qualifications of an author are an important gauge of content quality.
There was one more small but short-lived piece of evidence. For a couple of weeks in August 2018, we discovered Google was experimenting with displaying an "interesting finds" box in mobile search results for some prolific authors.


The box contained links to more content by or about that author. While I can't find those anymore, I found it very interesting that Google was experimenting with something like that.
Takeaways
Eric: If we can't be sure whether any of this directly affects search rankings at this point, what're your takeaways for our viewers?
Mark: While I agree it would be presumptive to say that Google is actively using author reputation right now in search rankings, I think it's undeniable that Google continues to show an interest in authors.
So my first takeaway would be if you're trying to build search authority with expert-level content, an investment in using well-known authors who have a good reputation in the topical area of your content might be a good future-proofing search tactic. Now, by that I mean if Google ever does decide to turn up the knobs on author reputation, you'll be ready.
Now, that may be particularly important since we've had recent evidence that Google is turning a hard eye toward your money or your life (YMYL)-type content. YMYL is anything that affects a user's personal wellbeing or finances. Now, if you have that kind of content, I would highly recommend using reputable, authoritative authors.
Eric: Yes, and we've seen an increased effort by social media sites and Google to crack down on fake news and dangerous pseudo-science. Who authors the content could be an indicator that it's really important.
Mark: Right you are.
But my other takeaway is that whether or not Google is watching your authors for search rankings, it's still a good idea to have the best authors you can for your content. Google put that in their rating guidelines for a very good reason. Real people care about it.
Now especially, as you've mentioned, in this era of fake news awareness, more people will stop to scrutinize a source of content, including who wrote it.
Eric: Thanks, Mark.
Don't miss a single episode of Here's Why. Click the subscribe button below to be notified via email each time a new video is published.
See all of our Here's Why Videos | Subscribe to our YouTube Channel