Content marketing is a highly underutilized approach that can build your brand, reputation, and visibility while bringing new prospects to the top of your sales funnel. Well-structured campaigns can achieve all of these things, and they can also lift your SEO traffic at the same time. At the core of successful campaigns is a keen understanding of the dramatic shifts that have happened between customers and companies.
The fact that the consumer is now in control of the conversation fundamentally reshapes the way that marketers must behave. The most successful marketers in today's environment understand that, and one of the tactics in their tool bags is content marketing. In this post, I'll explain how great content marketing can build both brand AND SEO.
Enterprise Companies Forced to Respond to the Market
To start, I'll share examples of cases where large brands have been forced to act because of consumer pressure:
Volkswagen
On September 18, 2015, The Atlantic published an article titled Volkswagen's Game of Make-Believe, which broke the news that Volkswagen had been inserting a device into their cars that had one purpose: fool emissions tests into giving their cars better results than they deserved.
The public reaction to this news was not good, and it showed in the company's stock price:

Not only did the stock price drop 46% in the near term, it still has not recovered to its highs even by 2018.
Facebook
Another great example of a company feeling pressure from the market occurred just this year at Facebook. On January 11, 2018, Facebook announced major changes to their news feed. The scope of this change was significant: according to Mark Zuckerberg, usage dropped by 50 million hours per day.
In fact, the day after the announcement, CNN Money released an article with the headline "Mark Zuckerberg is fighting to save Facebook." What the heck were they talking about? Save Facebook? What was behind that grandiose statement?
The answer is that it was the reality of how people were responding to the service. For example, one study shows that passive Facebook usage undermines a sense of well-being. Data in the study reveals that even a single day of passive usage would cause a reduction of well-being in test-subjects of 9 percent!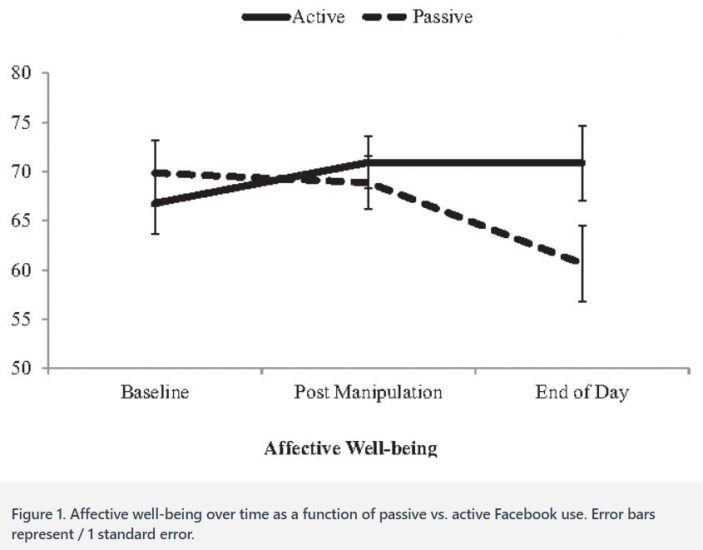 The fact is that Facebook had to respond to how people were feeling about the service itself. If using Facebook was causing people to feel poorly about themselves, the long-term result was inevitable. In fact, Facebook's action was both an aggressive and progressive move.
Google
The core of Google's revenue is Internet advertising. This has made it a mega-giant in the industry, sporting a market cap of more than $850 billion.
Yet, it too faces a dire threat to its long-term health: People don't like ads. So much so that it has led to the meteoric rise of people using ad blockers. In the US, this has grown to over 30 percent of users:


That's a fundamental threat to Google's business. As a result, it has taken aggressive action as well. Consider the March 2017 update that the industry called "Fred", which reportedly demoted sites that placed too great an emphasis on revenue per user, at the expense of value to users.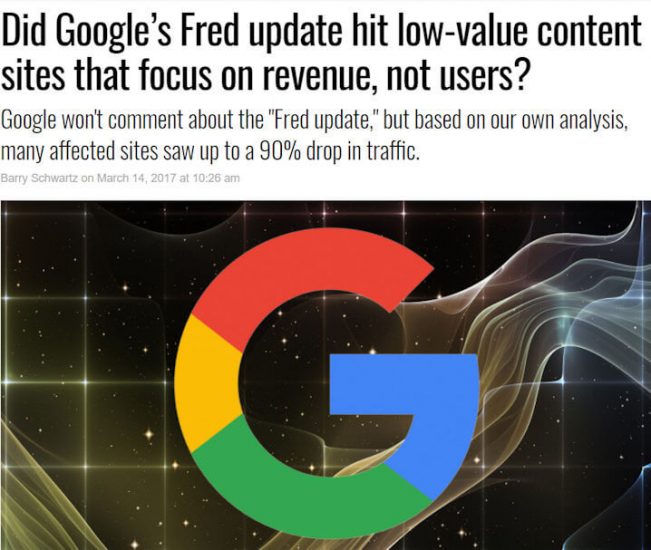 Or consider the moves by Google's Chrome browser to integrate its own ad blocking capability. As of February 15, 2018, sites that run ads that violate the guidelines of the Better Ads Coalition have seen ALL of their ads blocked by Chrome.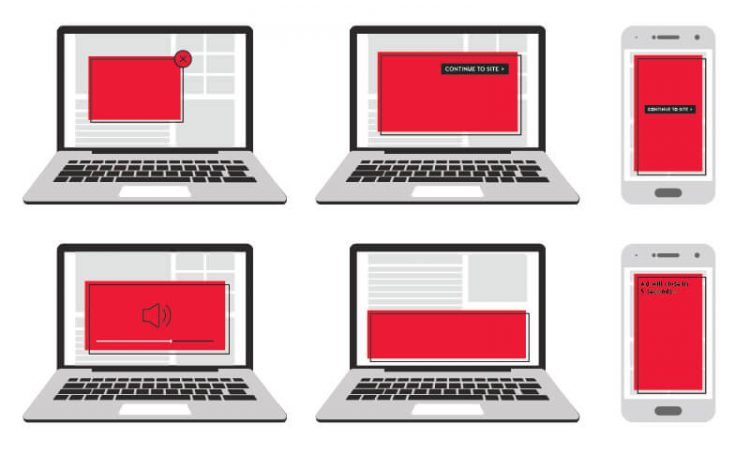 As all three of these scenarios show, there are many ways that consumers can make their weight felt today. Progressive brands are finding creative ways to meet these challenges. In fact, some of them are being even more proactive about it. Let's look at that next.
[Tweet "Big brands like Volkswagen, Google & Facebook are under pressure because these days the consumer is in control. Learn how to get on top of your content marketing!" quote="Big brands like Volkswagen, Google & Facebook are under pressure because these days the consumer is in control."]
Brands Proactively Taking Control with Creative Content
This looks like a challenging environment, and it will be if your business takes on the risk of trying to fool consumers with misleading marketing messages. However, as my Facebook and Google examples show, you need to do more than just not mislead your customers. You need to have a laser focus on making sure you're meeting their needs.
That's easier said than done. But many brands have found great ways to successfully embrace this environment and position themselves to thrive in it. I think of this as "Brand Content Marketing." Now let's look at a couple of companies that have done this well.
Example 1: Patagonia
Patagonia launched a new campaign via an ad in the November 25, 2011, edition of The New York Times:


This obviously catches your eye very quickly, as Patagonia is in the business of selling jackets. Of course, your instinctual reaction might quickly lead you to believe that it's all a gimmick, but then you read on and realize that the messaging is quite real:


The campaign is a classic because of how it appealed to customer values in a way that aligned with brand values. It represents a brilliant piece of marketing that succeeded in spite of its non-intuitive approach. How well did it succeed? Here is what ZDNet had to report on September 3, 2013:


Patagonia's commitment to content has continued long past 2013, with its highly active and vibrant blog, The Cleanest Line. It is also highly active on Instagram with 3.5M followers and Facebook with another 1.4M.
[Tweet "Patagonia's 'don't buy our jacket!' ads were examples of successful content marketing. What? Learn why!" quote="Patagonia's 'don't buy our jacket!' ads were examples of successful content marketing. What? Learn why!"]
Example 2: Lean Cuisine
Other brands have executed counter-intuitive campaigns with great success. Consider the #WeighThis campaign from Lean Cuisine. Lean Cuisine is a brand that focuses on helping people with weight issues, so the natural thought would be that the campaign was about weighing yourself to see if you need to go on a diet. But it wasn't.
Instead, the concept was much more about women not being judged by their weight or their looks, but instead by the measure of their successes. In the campaign, they got women to share accomplishments that they were most proud of. This ranged from extensive world travel, to a marriage of 24 years, to a divorce, to a woman in her 30s who graduated high school with her daughter by her side.
The point of all this is that these accomplishments are often far more significant and important than weight loss.

This campaign aligned with customer values and brand values in a powerful way. And, it provided very strong results: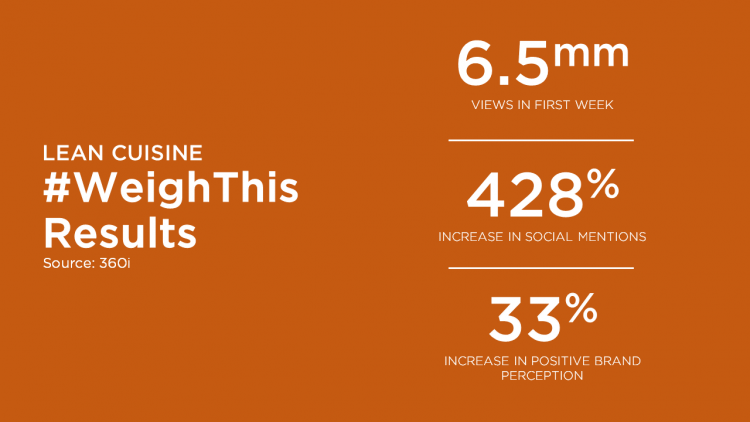 Example 2: Nike
A more recent example is the controversial campaign that Nike released featuring Colin Kaepernick. Here is Kaepernick's post for the campaign:

The controversial campaign yielded strong results. The Kaepernick post drew more than 1M links, and the campaign was covered by numerous major media outlets. Here are a few examples:
In addition, Nike's stock price, which had begun to dip, soared to new highs:


As CNBC said in its article, Nike knows their target audience, and they designed a campaign that fit it to a T.
Core Attributes of Brand Content Marketing Campaigns
So, what are the lessons we can draw from this? There are many complex reasons why these marketing campaigns worked and why the moves by Google and Facebook have resulted in great results for each of the parties involved. Here is a look at the key components:
Take a strong position: This comes with risks, of course, because not everyone will agree with those values or your position. Note also that a strong position does not necessarily need to be center around major political or social issues — it can be about business issues as well.
Appeal to customer (and prospect) values: By taking a stand for something, you create alignment with a segment of the market. As long as it's your target market, that's a good thing!
Align with brand values, too: Aligning brand values with your target audience's values is a great way to develop strong brand loyalty, including a likelihood to buy from you.
Reinforce brand persona: Every brand has a persona. Even if you have not explicitly mapped out or crafted what that is, there is a perception of your brand. For a campaign to be successful, it needs to be consistent with the way you're already perceived. Otherwise, it will seem disingenuous, and people will not trust your motives.
Avoid the "Buy Our Stuff" message: Last, but not least, you can't have a "buy our stuff" component to the messaging of the campaign. For these types of campaigns to work, there must be an inherent altruistic aspect to them.
These types of campaigns are not easy to execute, but they can also unfold over a long period of time through the consistent, ongoing behavior of your brand.
[Tweet "Learn the 5 components of great brand content marketing campaigns. " quote="Learn the 5 components of great brand content marketing campaigns. "]
Content Marketing Campaigns That Drive SEO
This is all great, but can the right kind of content marketing campaign also drive SEO? You bet! Let's look at a few examples:
Abbvie
Abbvie describes itself as "a highly focused research-driven biopharmaceutical company." Formerly a part of Abbott Laboratories, it became an independent entity in 2013. It prides itself on having blended the focus and culture of a biotech company with the resources of pharmaceutical companies.
Abbvie published a fair number of posts on its Stories blog, too. Here are the stats I pulled from Google:
23 posts in 2016
40 posts in 2017
35 posts in 2018

SEO growth started shortly after Abbvie ramped up its content marketing efforts in April 2017.
Cleveland Clinic
Cleveland Clinic describes itself as, "a nonprofit multispecialty academic medical center that integrates clinical and hospital care with research and education." It's one of the most respected healthcare institutions in the US. It has a Health Essentials Content Hub on its site, as well as an active Podcast channel.
Here is what Google showed me for newly indexed article content:
622 in 2013
836 in 2014
991 in 2015
963 in 2016
906 in 2017
640 in 2018
In addition, it has built out an Alexa App, and a highly active Facebook Live channel. It also has 52.2K followers on Instagram. The SEO results are as follows:


Since 2014, their SEO Visibility has nearly doubled, according to Searchmetrics.
Stitch Fix
Stitch Fix is an online clothing subscription service. Users fill out a profile with preferences for clothing size, style and price, and Stitch Fix sends a box of hand-selected pieces of clothing. Subscribers pick what they want to keep and return the rest. The company has been serious about content on the Stitch Fix Blog, and the indexation figures for the blog reflect that:
4 posts in 2013
19 posts in 2014
49 posts in 2015
743 posts in 2016
513 posts in 2017
316 posts in 2018
The service is also extremely active on social media, with more than 1M Pinterest followers, 1.5M Facebook followers, 673K Instagram followers, 77.7K Twitter followers, and 39.7K on LinkedIn. All of this has led to great SEO results along the way: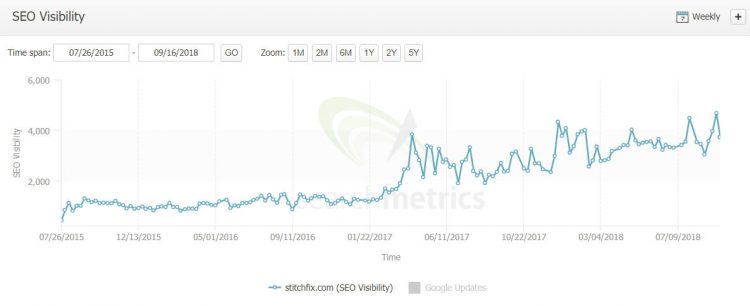 The ramp started in late 2016, a few months after the company began to seriously accelerate its content production.
Fortune 100 eCommerce Site
This case study is for a large-scale eCommerce site with a B2C focus (whose name we're not revealing for confidentiality reasons). Historically, it published hundreds of pieces of content per year, both on site and off site. This particular campaign was the only one among these which did not have strong social media support, but its off-site work helped drive overall visibility. Nonetheless, from 2012 to mid-2017, its non-branded SEO traffic grew by 2.69x:


The company pulled back from its content marketing efforts in mid-2017, and traffic has been flat to down since then.
Large Financial Services Company
This company is a large financial services provider for both businesses and consumers (we're also not revealing this company's name for confidentiality reasons). The annual article publication volume on its highly active content hub is shown below:
72 in 2013
225 in 2014
280 in 2015
348 in 2016
830 in 2017
1,840 in 2018
The company also maintains a very strong presence on Facebook, with more than 2M followers. The SEO results have been rock-solid since late 2014:


[Tweet "Well-executed content marketing can build both brand and SEO. Find out how!" quote="Well-executed content marketing can build both brand and SEO. Find out how!"]
Case Study: The Addiction Treatment Marketplace
The addiction treatment industry is an extremely competitive marketplace, with many companies with large marketing budgets. To make it even more interesting, Google's updates throughout the year had a particularly large impact in this arena. What was particularly noticeable was how the updates affected sites with a large publishing volume. Here is a look at the content publishing volumes of four different sites:


Using Searchmetrics, we can look at the SEO visibility for these four sites:


Of particular note is the rocket-ship-like growth for Site 4. Site 3 also shows very strong overall results. In the next few sections, I'll highlight what I've seen in common between the set of case studies above and Sites 3 and 4 in the addiction treatment marketplace.
Amplification
Effective amplification is essential to success. The investment in content in all of these campaigns was substantial, but it's not a "build it and they will come" world, even if you are a major brand. With such a large investment, it's crazy to not maximize your results with effective amplification.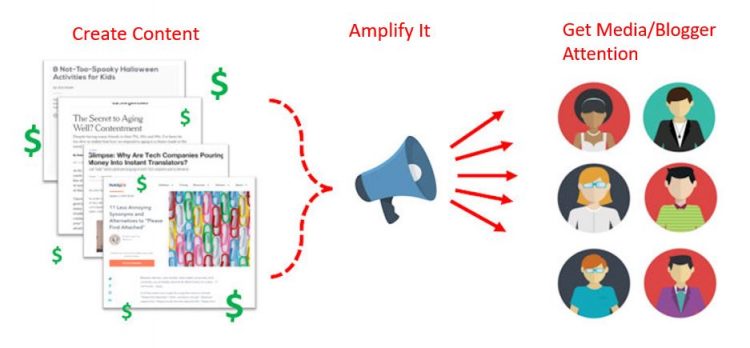 In all of the case studies, some form of content amplification was a key part of the mix. Most of the case studies actually used a mix of promotional strategies. Some of the best channels for amplification are:
Social media: If you've crafted a strong social media presence, it can play an invaluable role in increasing visibility for your content. As a brand, you may need to rely on paid social to do this, but this is often a highly-effective way to get traffic, once you've learned to tune your campaigns to reach the right audiences. One brand that does this effectively is Abbvie:

Media and Bloggers: Direct outreach to the media and bloggers can be incredibly effective. However, there are a few things needed to make this work well:
You must publish content that hits a very high mark for value, or else you'll be ignored.
The integrity of what you're doing must be unquestionable.
All your outreach must be 100 percent custom. You're looking to create relationships of trust, and that means you need to invest the time in the people you're contacting to understand how your content might be of interest to them. Highlight that aspect of your content in the pitch. At the truly elite content marketing level, an understanding of what would be of interest to media and bloggers should be a major input into your content plan.
One brand that has done this well for an extended period of time is the Cleveland Clinic. In fact, it has done this so well, that it can accomplish much of what it wants today with simple news releases:


Beware though – simple press releases won't work for you until your reputation in your market space has become huge. And even when it has, direct outreach to media and bloggers will still help amplify your visibility.
Influencers: Developing mutually beneficial relationships with influencers can go a long way to help amplify your content. In some cases, you may pay for this service, but it's also possible to get influencers involved in other (free) ways such as doing an interview with them.
One brand that is very deliberate about how they do this is Stitch Fix, as it has a very active influencer engagement program:


Leverage at least one of these amplification strategies, and ideally all three to maximize your results.
SEO Fundamentals
Why is it that some high-visibility content marketing campaigns drive SEO and others do not? There are many reasons why this may be the case. One of the biggest is a lack of attention to SEO fundamentals. This, of course, includes the title tags, heading tags, and more. Beyond those extremely basic components, here are the key reasons why some campaigns succeed:
1. Structured as a Content Hub: I find that sites that build out a separate content hub perform better than sites that rely on a traditional blog structure. Here are two big reasons why a blog does not work as well as a content hub:
Blog posts descend in the site hierarchy over time. They start on the home page of the blog, then they move off to the category archives, and then they drop into the paginated sections of their respective categories. In a content hub architecture, the content resides in a strategic location over time.
Blogs have a lot of infrastructure pages that ultimately end up being fairly wasteful. I did an analysis of one blog in October 2018 that had over 1,300 pages, and only 27 percent of those pages represented actual blog posts. That's a lot of crawl budget wasted on pages that will likely never rank!
2. Clear Hierarchy: What this really means in this context is that there is a clear hierarchy that properly categorizes the content for easy navigation by users and bots. While "crawlability" is always an SEO concern and a must, I'm focused more on UX considerations here.
3. In-Demand Topics: This makes sense even on the surface level, but traditional SEO keyword research plays a big role here. Find out what people are searching for. Then, give it to them. Consider the addiction treatment space where the search volume is huge. Here are some related example terms:

4. Breadth of Coverage: In addition to highly demanded topics, cover many related topics. It's great to cover one narrow topic area in depth, but users also want information on related subtopics, and each major topic likely has numerous subtopics. Google knows this, and it rewards sites that provide both depth and breadth with lots of search traffic. Looking a bit more in the addiction treatment space, here is what one site did for article coverage:


That's a lot of content on each of these four topic areas! I believe this extreme breadth of coverage plays a big role in their strong traffic growth over time.
5. Depth of Coverage: For each given topic you take on, it's very helpful to cover it in a great deal of depth. This may involve providing that coverage across many articles, in order to capture each and every aspect of the particular topic area.


What's interesting here is that some of the content is being written about topics that have very low, or even no, perceivable monthly search volume. Why would the publisher focus on this as part of their strategy? It's because they know that Google wants to promote sites that create content that addresses a large percentage of overall user needs — not just those that effectively scratch the surface with content focused only on major keywords.
You may not think of items 4 and 5 in the above list as SEO fundamentals, but in today's Google world, they absolutely are. That's an essential part of the story behind every content marketing effort that drove SEO results in the case studies I've outlined above.
Key Characteristics of Elite Content Marketing Campaigns
Let's now summarize the critical ways to achieve success in content marketing campaigns to deliver high visibility and drive great SEO results:
Deliver value to customers: In each case, the content focused on helping customers solve real problems they face and/or adding value to their daily lives.
Align with brand values: Customers won't receive this type of content from you very well if it comes across as inconsistent with your brand. A key focus area is for you to make sure that your audience is ready to receive this type of value from you.
Comes from/reinforces brand persona: This matters a great deal here too. Injecting any and all of the content with your brand persona is important.
Not centered in "Buy Our Stuff":   least, there needs to be no "buy our stuff" component to the messaging of the campaign. For these types of campaigns to work, there has to be a singular focus on adding value.
Get support across multiple channels: Reach out to users with your content through most (or all) of the channels where your prospects and customers aggregate online. This was done in nearly all of our examples via strong social media campaigns.
Engage in media and blogger outreach: Make mainstream media and major bloggers aware of what you're doing. Use direct outreach to connect with them. If possible, get them engaged in the process. Contribute content to their sites. Get quotes from them in pieces on your site. Link to them actively from your content.
Enlist influencers: Engaging with influencers is another major form of amplification. Get them to contribute content, or quote them in your content. Interview them. Interact with them on social media. Heck, pay them to share your content in social if you have to.
Practice SEO fundamentals: This goes without saying, but the new component of those fundamentals is the concept of covering your topics in both depth and breadth.
Note that bullets 2 through 4 are identical to the list we showed above for brand-oriented content marketing campaigns. Campaigns that server both brand and SEO goals are not easy to execute, and they involve many components. Most organizations are not willing to take them on. But, they combine the best mix of building your brand, reputation, visibility, and SEO, all rolled into one.
Summary
What our original Patagonia and Lean Cuisine campaigns did was add that emotional hook of strong alignment with consumer values. If the goal of the campaign is SEO growth, a campaign with such a hook can become its own form of amplification. Something that draws viral levels of attention can bring an enormous amount of attention to your content, and that's great. But, make sure you're also giving them a reason to come back to see more of your content too.
That means creating and offering a breadth and depth of content on topics that answer common user questions, solve their problems or add value to their lives. Your viral campaign will come and go like a shooting star. Don't forget the meat-and-potatoes content that is simply focused on what the users really need.
Last, but not least, implement a proper content hub and take care of your SEO fundamentals along the way.