Don't Overlook the Need for Governance!
One of the biggest pain points customers often have with managing their Salesforce environments is the lack of governance. Who's in charge? Where do you go with questions, or worse, problems?

Why Do You Need Salesforce Governance Framework?
A governance framework provides an intake method for receiving and prioritizing change requests in alignment with the Salesforce roadmap. It also helps to categorize requests so they're dealt with in a timely manner, or that requests that don't support your roadmap are not implemented. Salesforce shares six of the major reasons to add a comprehensive Governance framework approach to your Salesforce environment:
1. Compliance – Many industries require IT's guidance when it comes to meeting regulatory requirements. A Governance framework helps the department adhere to any rules around access, data, security, and visibility by facilitating the sharing of information.
2. Cost – One way a Governance framework's value is delivered is through cost savings, a result of reusing IT best practices and adopting standard processes across the board.
3. Delivery – Aligning with the Business is all about successfully delivering the solutions they want and need. A Governance framework improves IT's development process so the correct skills are in place to accomplish this in an efficient and rapid manner.
4. Innovation – With a Governance framework in place, a CoE becomes a "Center of Innovation." IT can see the big picture and better focus on key goals. This allows the Business to move at their own pace, not one set by traditional IT, and quickly test and try out new ideas.
5. Prioritization – To decrease an overall program's time-to-value, and increase IT's value-added services, business demands must be a priority. CoEs enable better communication around, and development of, the application roadmap.
6. Relationships – The end result and ultimate benefit of a Governance framework is an improved working relationship between the Business and IT. Clearly-defined roles, responsibilities, and expectations accelerate processes and help the organization go faster.
Who Should Be Included in a Salesforce Governance Framework?
Some of Salesforce's most successful customers have comprehensive governance frameworks, shared by both business and IT, to build and maintain an enterprise application. Not sure who should be in yours? We recommend the following teams and roles be assigned to ensure your Salesforce org supports your business across teams.
Executive Sponsor: Strategic alignment and decision-making
Executive Steering Committee: Cross-functional team to oversee prioritization, impact, and ROI
Program Management: Working groups to support user access and system changes, fast evaluation of LOE and impact, filter cross-business impact and cost upwards
Business and Technical Working Groups: Individuals responsible for change management, training support, and system architecture
Business Advisory Team: A community of business function leads serving as advisors to recommend system enhancements and bug fixes
Build Your Own Salesforce Governance Framework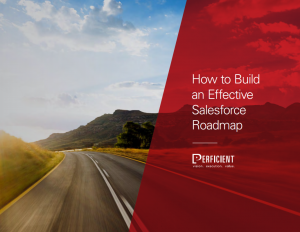 Taking control over your data is imperative to turn it into actionable intelligence for your business. To begin solving those challenges, we always recommend having a strategic Salesforce roadmap as the starting point. It is often the first step with many of our CRM engagements – whether it's a new implementation or optimizing an existing Salesforce solution.  Get your own Salesforce Roadmap drafted with this free guide on How to Create an Effective Salesforce Roadmap.
Salesforce Videos That Explain Governance Best Practices
Additionally, see what Salesforce themselves say on the topic of governance.
Salesforce Governance Best Practices
Watch this video to learn governance best practices that enable Salesforce solution sponsors (CFO/CIO) to ensure business and IT alignment, prioritize the Salesforce solution roadmap, increase agility, and ultimately measure and manage Salesforce's contribution to the business' success.
Effortless Governance: Running Salesforce with a Center of Excellence
Ensure your Salesforce success with the establishment of governance and a center of excellence (CoE) at your organization. Learn tips and best practices for understanding, designing, implementing, and measuring the success of a CoE at your organization.