Del Clark, Dave Granholm, and Stefan Schmitz spoke on the future of analytics:
When information is delivered in the context of a key business role or process, there is immediate understanding. However, it's more than contextual information—it's about key performance indicators to manage performance, exploring drivers of performance, and leveraging machine learning to enhance your understanding that leads to timely action for optimal impact. In this session learn about Oracle's strategy, products, and plans for next-generation analytics applications based on Oracle's SaaS application suite, as well as where these applications are headed in the future.
I love the keywords here of context and understanding. Really, we all want the ability to use this data and not just in a reporting portal.
Analytics Apps Strategy
Statistic: There is a $430 billion advantage to organizations who use all data (IDC).
This has to be led by executives. They need the data and they need to instill a data led culture.
Statistic: 74% of enterprises say they want to be data driven but only 29% say they achieve that. (Forrester)
To lead by example, you need apps that allow exec to:
Monitor the analytics
Align
Execute
For the existing tools, they are "content complete" In other words, no new functionality will be added besides support for some core platform serfices. This includes:
11.11.1.10.3 is planned within 12 months

oracle BI EE 12c
Oracle Data inegrator
Oracle BI Configuration Manager

Support will be extended by two additional years
Apps in development
Near and Mid Term
Pillar and domain speciic apps

for broad set of use cases
Focus on advanced reporting

Superior consumption of insights (e.g. more modern and usable user experience)

Modern
Focus on awareness and understanding

Apps

Financials
App fo rSCM
for HCM
for Sales
For Services
Future
Higher Value analytics apps
Designed for specific personae and targeted use cases
Focus on predictive and prescriptive insights
Pervasive and Collaborative
Bi-directional app integration

Transaction to analytics app and vice-versa. More contextual

Designed for collaboration and taking action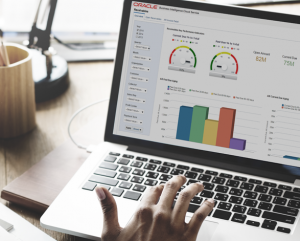 Explore key considerations, integrating the cloud with legacy applications and challenges of current cloud implementations.
Leverage network effects of data
Create more accurate and reliable predictive models
Apps
Procurement spending optimization app
supply chain risk analytics app
Adverse Impact Analysis app
Quality of hire analytics app
Incentive Comp what-if analysis app
Note how this will become more predictive and prescriptive
Need for Executive Analytics
Inspirage CFO Def Clark spoke about what he needs to do with the data.
Quote: "The only constant about our business is that it's changing."
Quote: "Running our business on the cloud has given us a wealth of data but it's not exactly at our fingertips…"
have data in many places
Client
Competition
Staff
Traditional ERP
So what are our key requirements?
This has to be real time.
It has to delivered automatically to the people that need it.
Drill down capable
User customizable.  We make the changes and not IT
Dynamic prioritization
Mobile device appropriate
Keep in mind that we need more than just reporting. We want to see data that represent true analytics. In other words, it's interactive, cross-functional, and predictive.
Quote: Any enterprise is built by wise planning, becomes strong through common sense, and profits by keeping abreast of the facts
Product Preview of next-Gen Analytics Apps
The new experience is specifically designed with decision makers in mind. Smart KPIs are in mind. It's about drive collaboration and take actions.
Over time, this experience will leverage more predictive and prescriptive analytics capabilities. Let the system tell you when it has enough data. The entire experience is designed to be very personalized. each exec should be able to create his or her thresholds.
Mobile is also very important.
Demo
Started with a mobile use case

Company called Ativo which is a product company building exercise bikes
Industry moving towards wearables which means brand new products

The First experience is the CEO mobile dashboard

earnings per share, revenue, retention, etc.

Any KPI has the ability to start a discussion thread

Easy to post the data to a discussion

CHRO sees the update from the CEO and also sees a generated alert regarding retention

Note that this dashboard contains role specific decks / KPI's
Can drill down into retention

which shows retention by job type and compares it to goal and an industry benchmark

Starts a chat regarding one KPI

the HR team is already talking about it
One analyst is already digging deeper into the data to look for cause

At work, has a more detailed view available on the desktop

Still role specific to HR
Large card is the same KPI but with more details around it

KPI details
notes
Tasks
Related KPI like retention by performance

Can drill into retention by high potential

The best performers are not hanging around

Meanwhile the analyst has come back with some things

three new visualizations
One which highlights that the high performers are below standard compensation
Highlights where the talent skills gap exists

Adds a note to the retention KPI for the exec team
Asks CEO to revisit compensation with the board
Reaches out to key departments and notes that new training funds are available
Goes back to the retention KPI and adds a threshold