Millennials have become the largest group of consumers in the United States. And organizations should take note. This shift has introduced the consumer market with a generation of people who are more digitally connected and more demanding than ever. Consumers expect an unprecedented level of 24x7x365 customer service and many enterprises are failing to meet this demand. Customers want to engage with brands through self-service channels using technology that understands them and is efficient. They want the type of customer service a cognitive virtual agent like IBM Watson Assistant can provide.
Currently, many call centers are still relying on interactive voice response (IVR). A traditional system that many customers don't enjoy navigating. If you've ever had to call a customer service call center and navigate through robotic menus, chances are you've experienced the frustration. Today's customers simply don't have the patience to put up with subpar customer experience.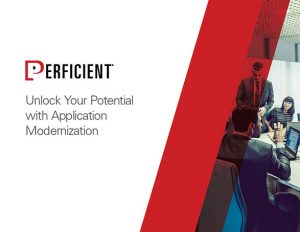 Application modernization is a growing area of focus for enterprises. If you're considering this path to cloud adoption, this guide explores considerations for the best approach – cloud native or legacy migration – and more.
To solve this issue, many enterprises (more than 50 percent) have invested in virtual agents for customer service. It's even estimated that by 2020 about 85 percent of enterprises will manage the customer relationship without any human interaction at all.
VIDEO: Watson Assistant and Virtual Agents Webinar
Learn more about IBM Watson Assistant and virtual agents for customer service by watching the recorded webinar below on Why Your Customers Want a Cognitive Call Center. Speakers Christine Livingston (Chief AI Strategist and Practice Director, Perficient) and Chris Desmarais (Product Manager, Watson Assistant, IBM) take viewers through virtual agents trends and forecasts, cognitive virtual agent review, training approach, PoT execution, and case studies.
Don't have time to watch? Click through the Cognitive Virtual Agents slide deck instead!
Want More?
Take a deep dive into IBM Watson and uncover the power of cognitive solutions by downloading the Demystifying Watson Guide.