Both Tableau and MicroStrategy are great for analytics. And when you combine MicroStrategy's security, governance and scalability with Tableau's ease of use and self-service you get the best of both worlds. A customized web data connector allows Tableau users to do just that.
Perficient's MicroStrategy experts have created a plug-in for Tableau users that provides access to MicroStrategy metadata, existing reports and cubes as data sources for ad-hoc analysis in Tableau.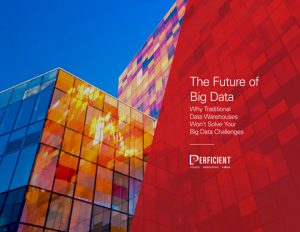 With some guidance, you can craft a data platform that is right for your organization's needs and gets the most return from your data capital.
Check out the video below to learn more about the MicroStrategy web data connector for Tableau as well as four key benefits of utilizing the plug-in.
VIDEO: Tableau Web Data Connector for MicroStrategy
4 Key Benefits of the MicroStrategy Web Data Connector
Ease of Use – Allow your users to conduct analysis using Tableau. Don't waste time training on a new interface or self-service tool.
Cost Savings and Faster Time to Value – Recapture the amount of time your users spend manually collecting data for analysis.  Free your IT resources from the burden of building custom extracts to support self-service.
Improved Governance – Reduce the cost and risk associated with the proliferation of manual extracts.  Leverage MicroStrategy's single metadata to deliver a ad-hoc analysis to your users based on a "single version of the truth" semantic layer.
Scalability and Governance – Underpin your Tableau UI with the enterprise platform capabilities of MicroStrategy to achieve significant gains in scalability and security.
Want more?
If you're interested in other data connectors, check out the custom data connector for Power BI.