The Period End Close Challenge
As an EBS consultant for the last 20 years, one of the hardest parts of my job has been explaining the period end process.
The reconciliation reports, roll forwards, the disparate screens, lack of consistency across the modules. Don't get me started on inventory, with its archaic requirement to close each inventory organization on its own.  Manage 2000 warehouses and let me know how that works out for you.
Cloud is a Game Changer
The game in Cloud has changed. Oracle has provided Period Close Monitor, easy to use dashboards and reconciliation tools, manage by exception capabilities.  It's *almost*all at your fingertips.
I feel confident Oracle will continue to streamline it in future releases.
Period End Close Monitor
The Period Close Monitor allows a quick and immediate snapshot of all the sub-ledgers, with actionable capability so *exceptions* can be dealt with in *real time*.  You can see record counts of not accounted transactions or transactions not yet transferred to general ledger.  You can *drill* into the records and see the specific issues so you can resolve them.  No need to dig through reports.
Reconciliations on Demand
In Accounts Receivable and Accounts Payable, there's a reconciliation dashboard which performs two functions at one time: Reconciles the AP/AR trial balance to the GL Balance – with drill down capability to see the differences, in categorized buckets (manual journals, for example).  And the roll-forward takes you from the previous months ending balance to the current months ending balance.  Each element of the formula is drillable so you can see each transaction that makes up the total.  Of course, you can always fall back on the standard reports for validation or supporting documentation.  Each reconciliation may be saved for future audit, by simply running the "reconciliation extract" process and giving it a unique name such as "AP-JUL-2018".  Doing this means you don't have to dig through cabinets of reports or network drives to find what you did last summer.  Yes, Oracle knows what you did last summer.
Room For Improvement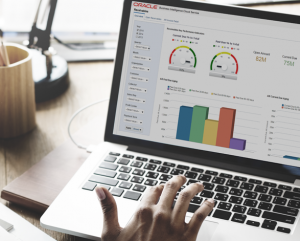 Explore key considerations, integrating the cloud with legacy applications and challenges of current cloud implementations.
Fixed Assets, while included in the close monitor, does not yet have a reconciliation dashboard.  This is one area I hope Oracle makes some improvement on.  All the traditional reports were brought forward from EBS.  One new thing Oracle has done in cloud, as of Release 13 – You can now re-open the previous period if no transactions were yet created in the new period – Nice improvement over EBS!  There is also a new feature to  "Manage All Books" where you can quickly run create accounting, copy to tax books, run depreciation, close the periods all from one screen, for each FA Book!  Just select the book and click the buttons.  If only we could get those reconciliation dashboards!
A Huge Leap Forward
The most significant improvement is BY FAR the Inventory month end close process. Let me explain: There is NO inventory month end process.  Let me explain further.  If you have 1 or 1000 inventory organizations, you have no inventory close process.  You can transact in inventory to the end of time, without ever worrying about close – separating operations from accounting and finance.  Sheer brilliance.
This is what an ERP should be – a masterpiece of integration minus obstruction.  How did Oracle do this?  Simple.  They moved all the accounting functions into the brand new Costing module.  Costing now controls all of the accounting and period end processes.  The close process is conducted at he "Cost Book" level, which ostensibly means, as long as all your inventory organizations belong to the same Cost Book (within a country), there is only one single inventory close.  ONE. SINGLE. INVENTORY. CLOSE.  Every inventory transaction is interfaced over to costing.  The costing engine runs.  Any errors sit in the costing close.  Allowing operations to move forward, without getting caught up in the costing process.  As with EBS, standard costs can be added in after the fact, and the costing engine will correct any errors as corrections are made in real time.    Operations is now free from the financial burden of their month end duties.
The second biggest improvement is the month end accrual process for expense.  As with Inventory, Oracle has essentially removed the month end close from Procurement.  Let me say that again: There is no month end process for procurement.  In the Costing tool, financial analysts can run the month end accrual processes on demand, whether AP is closed or not.  As AP Invoices are matched to PO's or receipts, they fall off the next accrual report and accounting entries are created automatically.
With these changes in the period close process,  there are fewer dependencies between operations and finance teams, placing all the tools the finance department needs in the finance departments hands.  This is how it should be – a 100% top down view, without bogging down operations – they have product to ship, and how many times have I heard in the realm of EBS – "My operations teams are not filled with CPAs".  Cloud ERP is about efficiency, and it has achieved it.
Speaking of dependencies, given the new structure, there are far fewer dependencies between the modules as well, however common sense still prevails.  You can close FA any time, but you still shouldn't close it before AP.  You will still more than likely follow the traditional sequence, starting with AP and AR.  Costing can be done any time, just keep running the integration between inventory and costing daily.
For assistance with your period end – contact PERFICIENT!  We are ready to assist you *right now*!