Update: As of the September update from Oracle, it's been decided to postpone these updates until sometime in 2019. However, we still advise Oracle Planning & Budgeting Cloud customers to follow the recommendations outlined in this post.
If you are like me and read the updates listed in the What's New document released monthly for each Oracle Cloud EPM product, you may have noticed the mention of two features within PBCS that will soon no longer be supported. Starting in October, the classic dimension editor will not be accessible. In January, the ability to create composite forms will be eliminated (the ability to edit existing forms will remain). Oracle customers will need to use the newer dimension editor and dashboards in place of these expiring features.
Admittedly, the move may be a bit surprising – these features have been used extensively in PBCS implementations. However, it's undeniable that the newer features are much more user-friendly. Let's take a more in-depth look at each to understand what's being removed.
Dimension Editor
The classic dimension editor can currently be accessed by clicking the Dimension option under the Create and Manage menu on the Navigator in PBCS: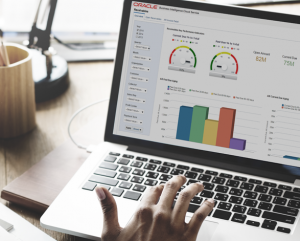 Explore key considerations, integrating the cloud with legacy applications and challenges of current cloud implementations.
However, starting with the October Update, the link will redirect to the Simplified Dimension Editor instead. The Simplified Dimension Editor can also be found through Application>Overview>Dimensions.
While both editors provide the same functionality, the Simplified Editor does take a bit to get used to for those of us more familiar with the Classic version. Therefore, it's highly recommended to start using the Simplified Editor soon, so that seemingly 'easy' tasks do not take significantly longer to perform.
Composite Forms
Composite Forms provide the ability to present multiple data forms simultaneously. While effective, they are not nearly as effective and user-friendly as Dashboards (see below images for comparison). An entire post could be written on comparing the two, so we'll stay on topic. Oracle provides a comparison chart here for those interested.
Example Composite Form:
Example Dashboard:
The interesting aspect of this change is that Oracle is not entirely removing Composite Form functionality. They are only removing the ability to create new composite forms. Customers will still have the ability to edit existing forms — this accommodates those who are migrating from on-prem Planning environments.
Want to learn more about the Simplified Editor? Have questions about Composite Forms or Dashboards? Feel free to contact us!