The goal of any data quality program is to improve quality of data at the source. Once a financial institution's data lineage capabilities are in place, a key starting point for data quality initiatives is the confirmation of critical data attributes for each major business line and functional area.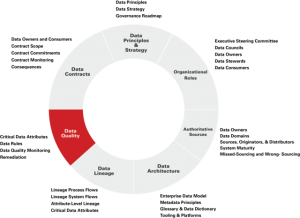 The data quality program should define data rules across multiple categories – completeness, validity, consistency, timeliness, and accuracy. These core attributes should be measured through a data quality monitoring capability against these rules on a real-time basis.
When the data quality rules are breached, the reasons for the breach should be investigated proactively and a proposed fix should be identified and remediated. For quick fixes, the data owners can be notified to correct and provide re-feeds or to make the necessary updates for the next delivery.
We recently published a guide that explores the building blocks (i.e., data governance components) of data governance, which can help drive better business decisions, enhance regulatory compliance, and improve risk management. You can download it here.