Still on Salesforce Classic? It's OK. We understand.
According to Salesforce, Lightning is "a quantum leap forward in functionality, usability, and speed for every user including admins, developers, and executives." Making the move to Lightning isn't as easy as the flip of a switch, but it's becoming more and more necessary with each Salesforce release. Sales Path, Assistant, Kanban, and Einstein Lead Scoring are a few of the features Classic users could be missing out on.
Don't be left behind. Even if you're not making the move tomorrow, start educating yourself so when the time is right, you will be able to lead your team through the conversation with knowledge and authority.
1. Educate Yourself About Salesforce Lightning
When there is any change in technology, there is an expected learning curve, apprehension from stakeholders, and the need to prove ROI. We discuss the best practices of Lightning, what it is exactly (and how to explain it), and how your business could be affected in the free guide about Salesforce Lightning Migrations Made Easy.
2. Complete a Salesforce Lightning Assessment
Understanding where you are at in your Lightning journey is key to knowing where to start. Speaking to a professional about what is the best path to take, how to roll this out to your employees, and reviewing technical considerations you might not have thought about are all keys to planning a successful rollout strategy. Learn more about Salesforce Lightning Assessments 
3. Craft Your Salesforce Lightning Experience Rollout Strategy
Now's the time to make some moves! Don't forget to visit the Lightning Experience Rollout Strategy Trailhead from Salesforce to incorporate their best tips when it's time to go live with Salesforce Lightning and use this handy worksheet to ensure you don't miss a step! Download your Lightning Experience Rollout Checklist below.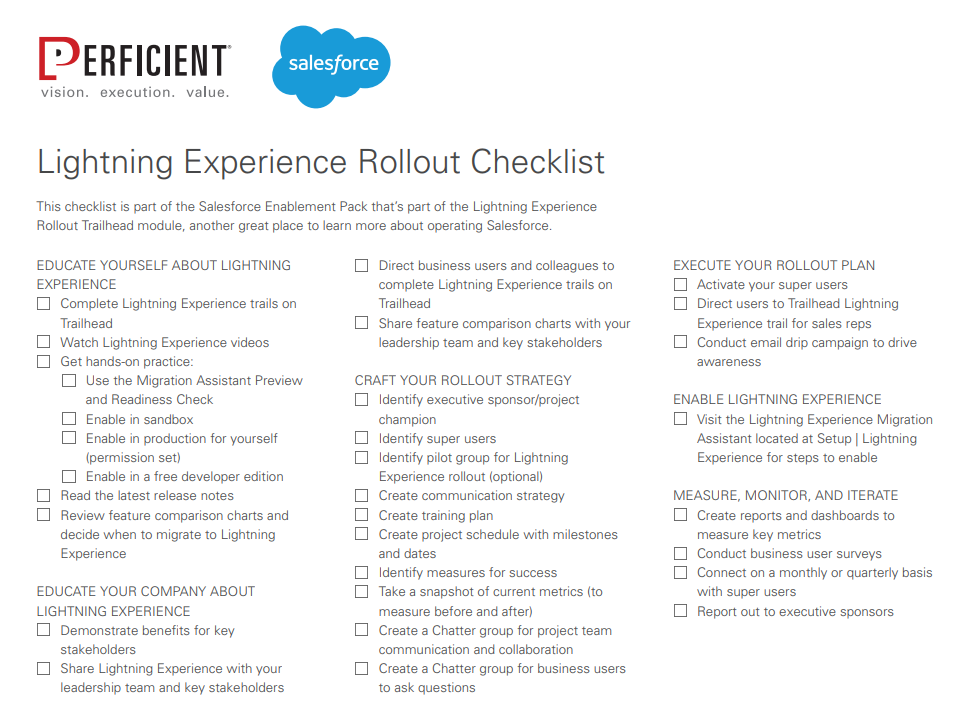 Download the Salesforce Lightning Experience Checklist