Companies on IBM WebSphere Commerce have long viewed new versions of the platform as incremental updates to the existing software and its features. Teams focused most of their efforts on how best to migrate existing implementations in their current state to the newest version of the platform and the migration itself was viewed as a technical hurdle – a necessary step to keep the solution on supported software versions. Migrations often moved the system in-kind and did not take advantage of any new capabilities until post-migration enhancement development iterations.
Business teams simply had to wait for the deployment of the new version before adoption and delivery of new features they needed to stay competitive. Some may perceive migrations as costly and aligning poorly with the current platform roadmap. Often, migrations take significant time and effort away from staff that could be used to further enable the business' digital plans. However…
The V9 release is more than just a software update.
WebSphere Commerce V9 reflects a fundamentally different approach, with the promise of supporting more unique customer experiences at a development velocity not previously achievable. The new V9 release is a much-needed refresh of a platform that has evolved over nearly 20 years. It's a fresh look at how eCommerce systems need to be developed, deployed, maintained, and operationalized on modern technology in today's digitally dominated business.
So, what does this mean for you?
For your business, V9 is a commerce platform that provides your marketers and merchandisers with the ability to enhance digital channels to meet and exceed the expectations of your customers.

For your IT professionals, this means faster, less expensive, and better performing means to support the business. The V9 architecture supports an approach to decoupling what has been a large, monolithic application into loosely coupled components.
However, this should be approached strategically, from the perspective of what the customer needs… not simply what the application will allow.
If you're planning to move to WebSphere Commerce V9, you now have the opportunity to develop an adoption strategy that will do more than simply address digital commerce. This is your chance to develop a new, more compelling strategy that modernizes your eCommerce platform and enables your business to be more agile and, ultimately, more successful.
You need more than just a "lift-and-shift" migration. You need a plan to leverage all that WebSphere Commerce V9 offers to address your challenges, including:
Greater operational effectiveness and cloud possibilities through use of virtualization and Docker containers

Adoption of more current software technology along with elimination of complex and outdated software

Operational and business velocity and the ability to assume continuous integration and continuous delivery practices

True omni-channel and headless commerce capabilities with V9's new microservices architecture

More seamless platform updates and upgrades from IBM's new External Customization (xC) programming model

Even more scalable solutions that result from WebSphere Commerce V9's modularized server topology
Based on your strategy, ensure there's a thorough understanding of what these new technologies can enable for your company. Development of a thorough adoption and transformation strategy that exploits modern technology is necessary before you can take advantage of all that WebSphere Commerce V9 offers.
What should you be doing?
The next digital commerce platform you adopt will dictate your business' ability to succeed for years to come. You are facing a strategic and technological imperative: It's time to develop a comprehensive roadmap that aligns technology with business agility.
The challenges to consider when evaluating updates to your digital commerce platform include: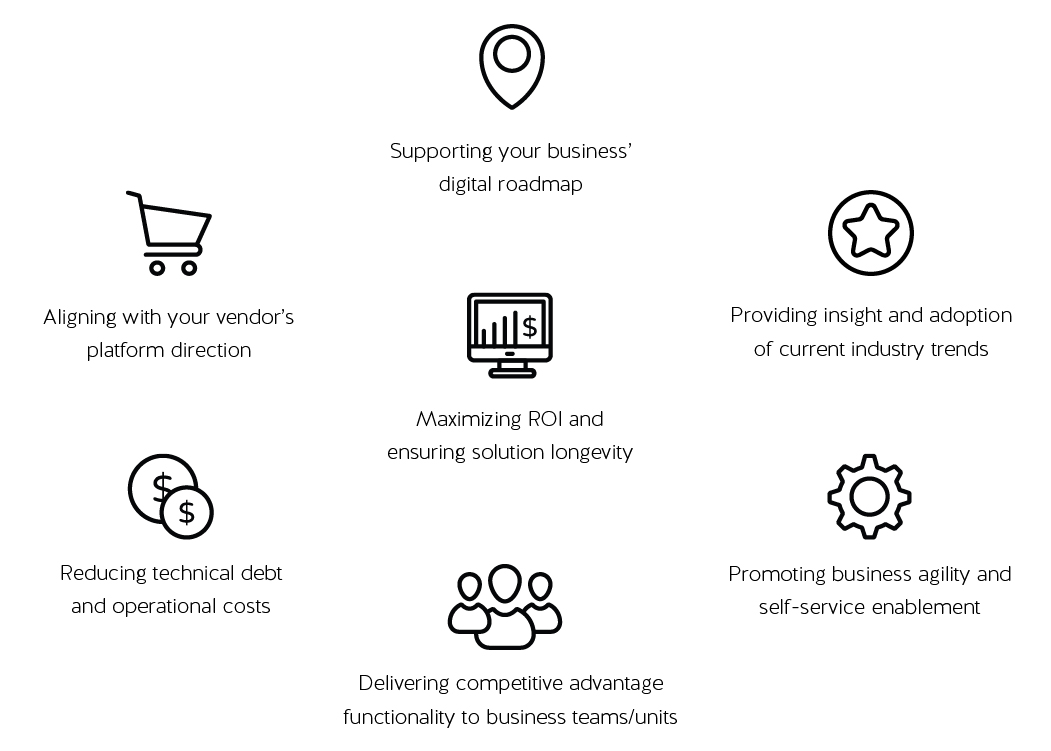 You'll need to asses the many different areas within your business and across the greater digital marketplace in order to make informed decisions to overcome these challenges. Your strategic plan involves many components, including:
Business team maturity

Operational enablement

Technology resources

Budgetary planning

Competitive landscape

Existing solution complexity
Considering each of these in your strategic approach will enable you to leverage a platform such as WebSphere Commerce V9 in a way that aligns with business goals. If you simply look at V9 as another software solution, you'll miss the opportunity to leverage your commerce technology to drive digital transformation for your business.
Learn more about upgrading to IBM WebSphere Commerce V9 in our guide, A Commerce Experience as Unique as Your Business – Upgrade to WebSphere Commerce V9.
Or, if you're ready to make the move to V9, contact us for a personalized assessment.