Since it launched late last year, I've been curious about Google Questions & Answers and the potential impact on local SEO and reputation management. With incentives for Local Guides to answer crowdsourced questions appearing on local listings and no Google My Business dashboard integration to manage them at this time, it's no surprise many brands ignore them.
If you're one of those brands, this FAQ on Google Q&A will give you the necessary information to show the value in actively managing questions and answers on your local listings and the harm it could cause if you don't.
1. Where do Google Questions & Answers show up?
The Google Questions & Answers feature originally launched for Android Google Maps, but was expanded to all mobile and desktop browsers in December 2017. Q&A still most frequently appears on Google Map result listings but can also appear prominently from the Local Knowledge Panel, especially for mobile users.
The more "Helpful" upvotes a question or answer earns, the more likely it is to appear in the Local Knowledge Panel as shown below in the yellow outline for Home Depot.

2. Who can ask and answer questions?
Anyone with a Google account can ask questions and answer them. If the Google My Business owner doesn't respond to a question quickly enough, a "perks hungry" Google Local Guide will. Users that participate in the Local Guide program are incentivized with a points-based rewards system that allows them to earn 3+ points for every question answered. As a verified Google My Business owner or manager, you can use Q&A to your advantage by asking questions and then answering them for your own listings.
3. How can I monitor the submitted questions and answers?
Google has not yet provided any Q&A integration directly into the admin dashboard or via API. Until they do so (hopefully very soon), you can't manage all questions and questions from all locations in a single dashboard interface.
Brands are left with the following alternatives to discover Q&A submitted to their local listings:
Option #1: Directly from Google search results when signed into your Google account on any device
Option #2: Push notifications from the Google Maps app on Android devices
Option #3: Email notifications from Gmail — just released but for now, only available for users with less than 100 locations!
Option #4: Q&A Dashboard from GetFiveStars (paid feature for Pro plans and higher)
Experiment time!
Google recently started sending near real-time notifications via email alerting GMB owners and managers about newly submitted questions and answers. Unfortunately, this notification feature is only applicable for users that have less than 100 locations. A Google My Business rep emailed my client that Google is actively working on expanding this feature to larger organizations. To test how quickly the email notification is sent after asking or answering a question, I conducted my own experiment. I asked a question on one of the Perficient GMB listings and found that within five minutes, the GMB admin email account received the email notification shown below. Less than 20 minutes after asking my question, a Local Guide answered it and my personal Gmail also received an email notification. Three points for Gryffindor.

4. What if someone asks or answers something inappropriate?
Google's user-contributed content guidelines dictate what cannot be shown in the Q&A. Although they will remove obvious spam and links as they do with reviews, everything else has to be flagged before it can be deleted. Google allows you to flag inappropriate questions and answers and report them as one of the following categories from the "More" icon next to each response:
Off-topic
No longer applies
Advertising or spam
Hate, violent, or inappropriate
Incorrect information
Something else
Anything that's been reported will be reviewed within a day or two and removed by Google if in violation of their content guidelines.
5. Why should I answer the questions?
If you're a Google My Business owner or manager not currently moderating the questions and answers coming through your local listings, you should strongly reconsider. Not only can it occupy prime organic visibility across all devices, Q&A also has the potential to foster misinformation, mistrust, and damage your reputation.
Especially if you're in a Your Money Or Your Life (YMYL) industry like finance, medical, or legal, monitoring Google Q&A is somewhat of a necessary evil. YMYL pages are described in Google's Search Quality Rater Guidelines as being held to the highest standards because they can potentially negatively impact users' happiness, health, or financial stability.
Recurring or commonly asked questions can indicate content gaps that need to be considered for on-page and Google My Business optimization. I recently discovered that many of the questions left for my client were regarding their service offerings. This gave us the opportunity to ensure Google My Business category accuracy and consider expanding content on the websites' location pages.
Here are some examples of questions Target left to the public to answer.
Example #1 shows a Local Guide sending the customer to a competitor for the product they are looking for.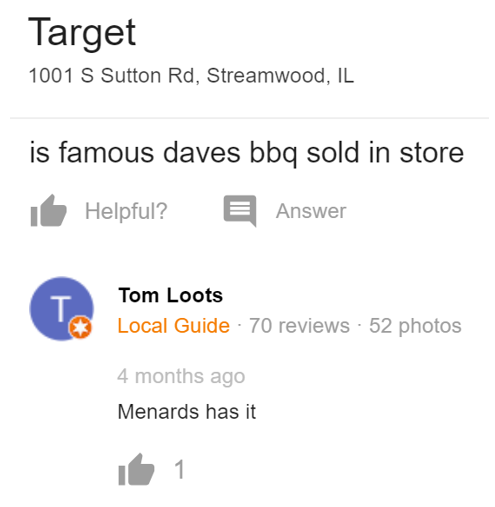 Example #2 shows a user questioning if the store is closing. An official answer from Target would have been helpful here.


Example #3 is just silly and makes me giggle probably a little too much. The fact that a penguin answered the complaint about the lack of salami paired with the "Helpful" upvote makes me LOL.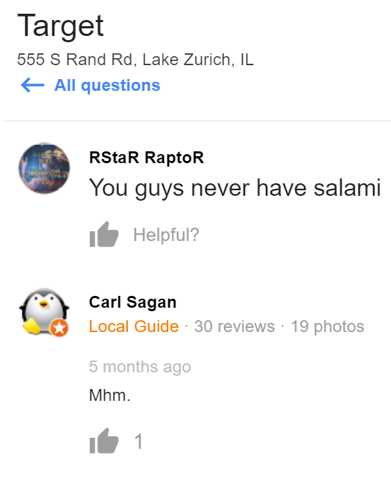 Takeaways
Although still relatively new, Q&A is quickly gaining momentum
Google Q&A management for multiple listings is a manual and tedious process that does not scale – for now
If you have an Android device, leverage the push notifications sent from the Google Maps app
Regularly monitor email notifications for Q&A as they happen
Provide timely responses to legitimate questions and answers
Consider submitting your own questions for your local listings
Use the most frequently asked questions to identify content gaps
Moderate answers for accuracy, helpfulness, and flag anything that violates Google's guidelines