Digital innovation continues to disrupt industries at lightning speed. Today's organizations are transforming their entire business – from strategy to operations, technology to culture – to better deliver value to their customers. In 2017, we compiled the top 10 trends leaders needed to know when it came to their digital transformation journey. In this 10-week blog series, we'll further explore each trend and address how you can continue to modernize your business for success. 
What Do You Think of When You Think of Customer Experience?
Do you think about your website? Your automated phone system? Human interaction between employees or customers? Your mobile app?
You may feel like your company is doing great at a couple of these things, but could use some improvement in other areas, or you may feel that you are getting good grades in all of them.
But even if you have all of the individual touchpoints working well, there is one overarching hidden touchpoint that impacts everything and can make or break the entire experience.
The customer journey.
Your customer could be highly satisfied with each element of the customer experience, yet the overall experience can still be poor if all of the pieces aren't working together cohesively.
Customer Experience is Complicated
The 2016 State of Crowdsourced Innovation study showed that 75 percent of companies said that their top objective was to improve customer experience. In order for CX to cross the great chasm from dream to reality, it needs to start in the CEO's office and be an integrated objective from the top down. An integrated customer experience won't work if you put fresh paint on a cracked foundation. It may look beautiful, but creating a seamless customer experience is more like an extreme home makeover. You may need to rip down the drywall to see what's hidden from view. It may even require a complete teardown and rebuild.
If you've ever watched a home-flipping show, you will understand how this sometimes plays out. You buy a house with the intention of adding a bathroom, renovating the kitchen with modern updates, and tearing down a wall between the kitchen and dining room with a budget of $25,000. Then you learn that the electrical was installed incorrectly, you have a mold problem, and the plumbing is corroded. Your $25,000 project now costs $33,000 and is going to take more time and more people than initially thought. Each time you rip down some sheetrock, you notice another hidden problem.
Welcome to Customer Experience
There is a lot that goes into the user experience, but I'd like to touch on a few key trends that may help you start the process of your extreme customer experience renovation:
In-Store and Digital – Knocking Down Walls
Most activity takes place in the kitchen and family room. I like to think of In-Store as the kitchen – the place where you go to get tasks done, and Digital is the family room – the place where you are most comfortable.
If there is a wall between the two, you have to choose one room over the other. When you knock down the wall, you are opening up the space to entirely new experiences.
In 2017, Target remodeled 110 stores with plans to reimagine more than 1,000 stores across the country by the end of 2020. I visited a Chicago store recently and was impressed with the modern design. They are transforming themselves into the 2018 version of a department store. And it's incredible.
Target is legendary for knowing a lot about their customers. That intelligence informs all decisions that they make. They use technology and data to learn our buying habits. Here is a quick snapshot of the Target customer:
70% female
63% have kids
735 million people visit their site on mobile each month
283 million people visit their site on desktop each month
80% love to shop and say they're always shopping in-store and online
88% are active on multiple social platforms
80% share what they find
This data backs up every decision they make around customer experience. The data is the reason they are investing so much into the user experience. In the remodel of a Dallas-Fort Worth store, they included nursing rooms in about 40 stores. They went over so well that they are now putting nursing rooms in every remodeled store.
Each remodel is designed to appeal to the needs of the local market even though Target is a national chain. These special touches will specifically appeal to their local customer base.
The store redesign ties in with the mobile experience. It's an open floor plan. You will be able to order products on your app and then pick them up at a drive up lane. You can pay for your purchase using your Target app and save 5 percent for yourself. If you need to make a return, they will now have a special returns register so you can quickly get in and out.
This is what it looks like when you tear down the walls between in-store and digital.
Customers don't "shop online" or "shop in store." They shop at Target and the experience needs to be a seamless, comfortable experience across the board.
Mobile is the Electric that Keeps Your Experience Running
If the open concept represents In-store and digital, the electricity represents mobile. It's the center of everything. If it doesn't work, the experience is broken.
Mobile-first has been a buzz-phrase for quite some time, but the reality is that mobile is now the first screen. If you are still designing your user experience through a desktop-first lens, it's time to start rethinking that approach and gathering data on your customers.
According to Statista, mobile now accounts for half of all web pages serves globally, up from 43.6 percent in 2016. Every business is different so the emphasis on mobile will be completely dependent on your own data analysis.
In 2011, Starbucks rolled out their own mobile payment plan and they saw over 26 million mobile transactions in the first year. It's been a huge success story and it worked because they know that their customers are technology early adopters who are on the go. They took a very calculated risk that their customers would adopt mobile payments earlier than most.
And did they ever.
"No single competency is enabling us to elevate the Starbucks brand more than our global leadership in mobile, digital, and loyalty.  Starbucks is a clear leader in mobile payments and we are encouraged by how consumers have embraced mobile apps as a way to pay."– Howard Schultz, 2013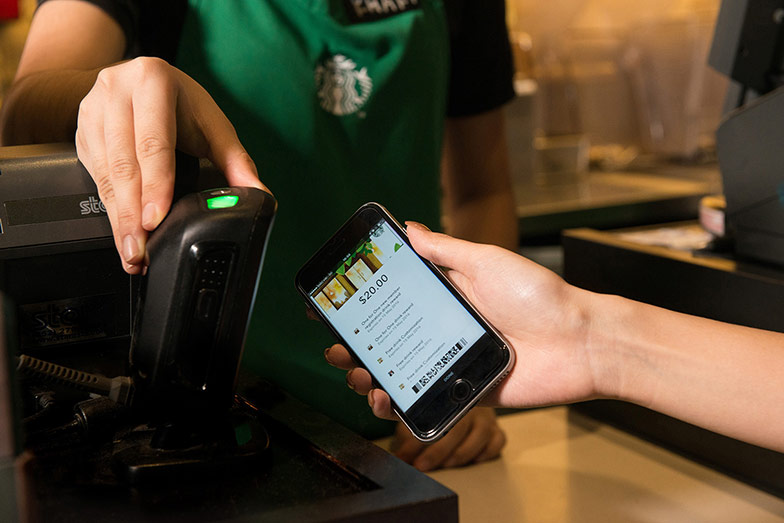 They currently have over 14 million active members in the Starbucks' Rewards program, which accounts for 37 percent of US sales.
I am an avid Starbucks' Rewards member. When they have double star day, I'm there. Guaranteed.
The combination of wonderful people at my local Starbucks, technology that is easy and fun to use, and gamification, they have leveraged mobile to create an amazing user experience. From the crystal clear speaker at the drive-through to the friendliest barista's around, to my chai tea latte in a clear cup with the paper over the straw, everything about it keeps me coming back for more.
The mobile app amps up my experience just like my electricity amps up my house.
The Backend Integration – Why Plumbing Matters
The house is beautiful and the lights are shining brightly, but if the plumbing isn't installed correctly, you are going to end up with toilet water in your kitchen sink. All of your hard work will go "down the drain" so to speak.
The plumbing is the hidden experience that ties everything together. Everything just works. The customer doesn't know how it all works and they don't really want to. They are just happy with the customer journey.
There is one time when the customer pays attention to the plumbing: when something breaks. They may experience high satisfaction in-store, online, on the phone and in-app, but if anything breaks between these touchpoints, the customer gets soaked. Yes, they were happy with the customer service they received on the phone, but they wouldn't have had to call if something didn't go wrong in the first place.
They assumed that the plumbing would work.
Just as nobody wants to take a long, relaxing bath in the dishwater from Taco Tuesday, your customer doesn't want to repeatedly enter her password into the payment app as a line of grumbling customers grows behind her.
Broken plumbing degrades an experience from remarkable to rotten.
If you are unsure where your business lies on this continuum, you can take our CX IQ Self-Assessment that evaluates your strengths and gaps across seven dimensions.
Data Security – Protecting the Customer Experience
When we think about customer experience, data security may not jump out at you right away. It doesn't impact the experience on the front end, but if customers don't feel secure, they will not buy from you no matter how well you've done everything else.
If a house is beautiful and affordable, but in a dangerous neighborhood, it's going to be a very tough sell. Data security tells buyers that they are in a safe neighborhood.
In 2017 alone, we saw data breaches at ESEA, Xbox 360 ISO, InterContinental Hotel Group, Arby's, Dun & Bradstreet, Saks Fifth Avenue, Chipotle, Gmail, Brooks Brothers, DocuSign, Kmart, Verizon, Equifax, Whole Foods Market, Hyatt Hotels, Forever 21, Uber, eBay and many others.
While it may seem that cybersecurity and user experience are polar opposites (good security could equate to a challenging user experience,) that's not always the case. When dealing with information like healthcare documents, security is important, but if it's clunky, people won't log in at all.
The current challenge is finding a way to implement security seamlessly and simply. You want to know that your home is protected without having to build a 10-foot wall with barbed wire.
Chatbots Are the Microwave, Not the Oven
Sometimes you want to spend hours in the kitchen creating a gourmet meal for your guests, but most of the time, you just want something to eat.
Chatbots make things happen quicker.
Although they are recently gaining traction, chatbots have been around for a long time. I remember using one on AOL Instant Messenger called SmarterChild. You could ask it questions and it would give you canned answers, not unlike Alexa or Siri does today.
Chatbots have recently seen a rise in popularity due to an increase in messaging apps. We also have better intelligence now, and therefore, better answers. With more than one billion people active on Facebook alone, there are currently more than 100,000 chatbots just in Facebook Messenger. With short attention spans and expectations of immediacy, chatbots allow users to order food or call a ride without ever leaving the app.
Chatbots positively impact the user experience because they deliver information quickly, which is becoming more and more important in a time-strapped society. Consumers are looking for the shortest distance between a problem and a solution. They don't need to cook lobster when a Hot Pocket will do.
Casper mattresses are a wonderful example of how you can tie a bot into your entire user experience. Imagine that you have had a difficult day and are so happy to climb into your nice, cozy bed and enjoy your Casper mattress. Two hours later, you are still awake.
Enter Insomnobot 3000. When you are awake and everyone you know is sound asleep, Insomnobot wants to talk to you. It's a wonderful way to create a positive customer experience at a moment when they feel alone.
Rome Wasn't Built in a Day
Construction takes time, especially if you are trying to build the Taj Mahal.
We have reached warp speed in our lives and we expect our needs to be met instantaneously or we will go somewhere else. The user experience begins the moment a prospective customer does a Google search and doesn't end until they are done with your brand. Advertising, social media, bots, website, phone interactions, physical environment, employee interactions and returns all play into the customer journey.
It can be overwhelming, but remember the answer to the question "Have you heard my construction joke?"
"It's not done yet."
The customer experience is never actually "done" but you need to start somewhere. With a good contractor and some solid blueprints, you will be on your way to a complete customer experience makeover.
---
Do you want to read more about the top ten digital transformation trends?
Click here to read about trend two: Avoid Becoming Digital Prey: How to Optimize Operations to Transform Your Business