Silicon Labs Director of Corporate Marketing. Kamran Shah provided insights on how Silicon Labs used Adobe Experience Cloud to identify and covert high-value customers. In this 2018 Adobe Summit session he outlined three data-driven strategies to identify, prioritize, and optimize the high-value customer journey with the Adobe Experience Cloud.
This is achieved through moving beyond the analysis paralysis that often comes from information overload. To achieve success this effort was distilled into three tracks. First set goals, then analyze the customer journey and finally personalize.
Set Goals
First, Silicon Labs focused on tying the customer journey to business objectives. They developed their customer journey in order to ensure that they understood the different phases. From this a set of clear business objects were established. Objectives such as: increase number of wins, improve customer insight, and several others shown in the figure.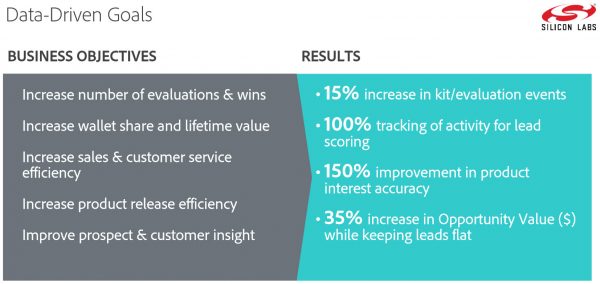 There was also effort given to better page design and aligning performance monitoring with the customer journey. Something as straight forward as the change from tabbed interface to a more direct navigation with scrolling yielded a 15% improvement to performance.
Analyze
Next, they went to work on tagging, analyzing and segment the content and user journey. During this process the emphasis was on tagging. A holistic strategy for tagging was developed and all key content in Adobe Experience Manager was tagged.


Once the tagging strategy was in place another level of analysis was performed on the analytics. This focused on conversion indicators and the creation of cohorts.
Here is the high level architecture of the Adobe solutions working to achieve the necessary analysis and customer experience.

Personalization
Finally, personalization was built based on experience segments. Using the power of Adobe Target automate, the solution auto allocated traffic as the tests matured. It generated recommendations and generated automated offers on each visit as the customer interacted within the site. The power of advancements within the Adobe Cloud Platform leveraging the artificial intelligence capabilities of Adobe Sensei allowed Silicon labs to analyze more than personalization 60 scenarios, something that would have take a team months or years to achieve. With Sensei this was accomplished with a 1/4 time marketing resource.
Has your organization moved past analysis paralysis to achieve success leveraging the native power of Adobe Cloud? Perficient Digital can help transform your customer journey and experience.