Is your business hungry to go beyond last touch in their channel attribution modeling, including a side of cross-device attribution while integrating with both AdWords and DoubleClick Search? We all know dessert, or the last touchpoint (conversion), is the best part of a meal, but it's very important that we recognize and appreciate the appetizer and main course as well (upper- and mid-funnel marketing channels that assist in that conversion).
In May of last year, Google announced that they'd be bringing deeper attribution modeling to the masses with a free version of Google Attribution.  They're still rolling out the beta to more advertisers, and this is where you can sign up to become one of them. There are already early success stories from Google Attribution beta customers in the Google Analytics blog post here.
Using advancements in machine learning, Google Attribution will allow us to fully understand every touch in the customer's journey and how the channels interact, including cross-device interactions. Cross-device attribution is a riddle that marketers are still working to resolve. The average digital consumer owns 3.64 connected devices and each device lends its own uniqueness to shopping behavior, causing even more attribution confusion. The goal is to capture those sometimes hard to see but impactful upper-to-mid funnel touchpoints, while eliminating last touch attribution limitations. This is especially important if the average number of visits to your site before converting is high (five or more).
Google Attribution will also integrate with AdWords and DoubleClick Search and use attribution data to inform their automated bidding strategies, without adding any additional tags to their sites.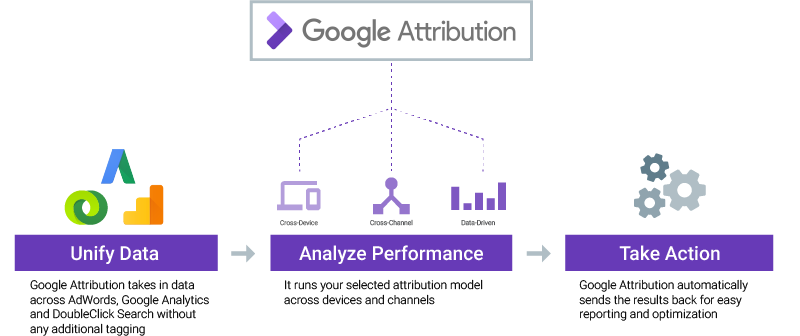 Attribution 360 (the paid version) that launched as part of the Analytics 360 suite is also still available. A few differences between this and the free version are that Attribution 360 integrates with DoubleClick Search, Bid Manager, and Campaign Manager. It also allows for data to be imported from third-party platforms, while including a dedicated account manager and a certified service partner program.
We look forward to more success stories from Google, as well as rollout plans for Google Attribution in the coming months. With better attribution modeling at our fingertips, we'll better understand what marketing channels assist in the conversion process (shrimp appetizer, anyone?), versus which channels close the deal (with a cherry on top).
The Digital Analysts here at Perficient Digital are both Google Analytics and Adobe Analytics Certified experts, and can help you navigate through these exciting analytics functionality updates. Our Digital Marketing team is ready to help you find the right ingredients for your marketing channel recipe of success.