We are heading toward the end of Q1. Organizations have finalized budgets and have set their strategic direction. Do you feel like you have the right operating model in place for your team to meet company objectives? Do you have your priorities sorted out? What does success look like?
Stepping back and taking a simple operating model approach to implement your strategy will yield immediate and long-term benefits: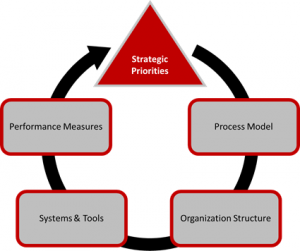 Ensuring alignment with the overall enterprise vision and strategy
Aligning your function with your peers and partners
Driving focus with your team on the priorities and measurable outcomes
Providing clarity to others in the organization
Establishing an introspective and continuous learning culture
This exercise isn't just for those at the top, you can do it with your team over a series of small working sessions.
1.  Define The Strategic Priorities
Define the top 3-5 things you can do that will move the needle for your organization.  Sometimes the priorities are obvious and clear, sometimes it requires some serious churn to land on the right set of priorities.
Collaborate:  Reach out to your peers, engage your team, find partners in the industry, and get different perspectives on strategic direction.
Iterate & debate: Test the priorities against each other, dive a bit deeper until the priorities become specific, achievable, and don't require explanation.
Incubate:  Let your priorities soak for a bit and breathe.  What might seem like a priority out of the gate may fade as you get into a more strategic mindset.
Once you have landed on your top strategic priorities, turn your focus towards aligning your processes, team members, systems, and performance measures to achieve the desired outcomes.
2.  Establish the Process Model:
Clearly articulate the what your team is accountable and committed to deliver to the overall value stream, shared services, or foundational operations.
Clear Scope:   Understand the processes you own versus those that you contribute or only need to be informed. Be able to articulate what is NOT in your scope.
Clear demarcation points:  Understand the inputs and outputs with your organization and the others in the enterprise. Overtime, these boundaries can get blurry, so taking some time to clarify roles and responsibilities with your peers will help avoid confusion and go a long way and avoid turf wars.
Ogres and Onions:  Processes are like ogres and onions, they come in layers.   By breaking down your processes into a layered inventory, you can get to the detail necessary to clearly define the inputs and outputs, responsible owners, the required tool, and control points.
3.  Align the Organization Structure
Now that you have clearly defined the processes, put the right organization structure in place to effectively manage the process.
Right leaders:    Surround yourself with great lieutenants. Many organizations reward top performers with promotions into management positions and these great individual contributors are thrust into leadership roles before they are ready. Transitioning from an doer to leader is an art and it takes time to hone management skills.
Right person in right role: Many employees don't flourish until they are in the right role at the right time.   Think about where it may make sense to make some personnel moves to find a better fit for a team member and make it a win-win situation.
Right mix of skills. Proactively diversify your team and embrace a mix of skills to maximize the strengths across the team.  Put together a well-rounded team that combines deep subject matter experts with generalists that can be flexible across roles. It's also important to balance technical skills with soft skills such as effective communication and emotional intelligence.
4.  Select the Right Systems and Tools
In today's business climate, there are so many tools to support business processes and provide unique capabilities. It is so easy to fall into the trap to believe that if you only had the right systems, everything would be just fine.
Keep it simple: Find the right tool suite stick to it in order to maximize the value.   Every time you introduce a new tool, you increase variability and lose some of the coveted benefits you seek to achieve.  However, if it is definitely not working, reassess what you need and move on quickly.
Be real:   It takes discipline and commitment to maximize the ROI on technical investments used across organizations. Expectations on what the tool set will provide need to be set at all levels of the organization.
Right-sized: Spend the time up front to ensure that you are selecting the tools that meet your requirements and are appropriate for your business.  There is no reason anymore to buy more than you need or to introduce complexity that your team doesn't gain benefit.
5.   Implement Performance Measures:
Establish a Hierarchy. Like a value tree, start with the #1 performance measure that effectively shows progress in achieving the strategic priorities.  Then define the 2-3 Key Performance Indicators (KPIs) that can used consistently measure and show trends against the performance measure. From there, you can then define each of the metrics across the organization that impact the KPIs.
Business Rhythm:  Establish the frequency that you are going to assess your performance against the strategic priorities. You will gain credibility and trust by sharing your progress and providing transparency across your leadership, peers, and employees.
Do it all again:   Taking an operating model approach to run an organization is a continuous improvement activity that should be refreshed, revised and takes discipline and commitment.   The most effective leaders are constantly evaluating where to make improvements and seizing opportunities.  They are honest with their progress, understand they will mature over time, and get genuinely excited about the opportunities to come.