The Responsibility is Shifting
When Adobe and Microsoft announced their partnership – and that Microsoft Azure is the preferred platform for hosting Adobe Marketing Cloud – the line between marketing and IT became even more blurred. The crossover between marketing technology and IT is not new, but it is continuing to increase year-on-year with no signs of slowing down.
According to the eMarketer report, Digital Security in the Age of New Tech: Best Practices for Marketers, Victoria Petrock says that as traditional IT budgets are reallocated to marketing, the onus no longer lies on the IT department to protect organizations from cyberattacks:
"Until recently, primary responsibility for cybersecurity resided squarely in an organization's IT department. But as marketing and communications become more technology-driven, each touchpoint creates potential security vulnerability. And as problems become larger and more widely distributed, they become more difficult for IT to address by itself.
'Any company dealing in digital—if you don't understand the risks of it—you're just a sitting duck for the bad guys,' said Dr. Augustine Fou, an independent ad fraud researcher at Marketing Science Consulting Group. 'There are so many different angles where they can attack you.'"
By the Numbers
We set out to analyze the numbers on why marketing and IT professionals alike should not ignore this trend. Based on reports and studies, it is not so much what's happening now – but what is planned for the future when it comes to marketing technology spend and software/platform implementations. According to a June 2017 survey from Technology for Marketing (TFM) and Smart Insights, while only 9.9% of marketers used a full marketing cloud prior to 2017, two-thirds of respondents plan a future update in 2018 and beyond.
[Read More: Adobe Experience Manager on Microsoft Azure: Better Together]
In addition, 98% of marketers expect their digital marketing budget to increase in 2018: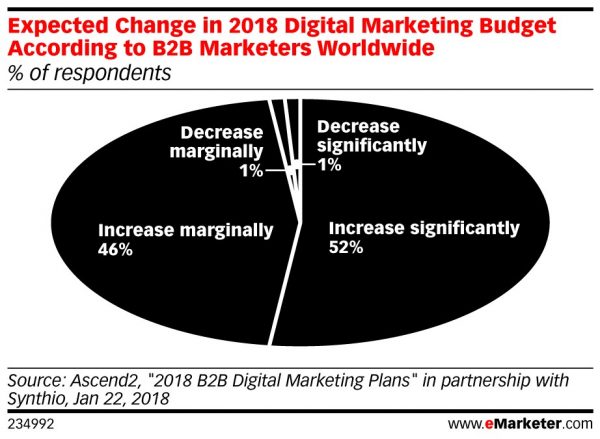 And more than two-thirds of those marketers are seeing that increase in budget come from IT: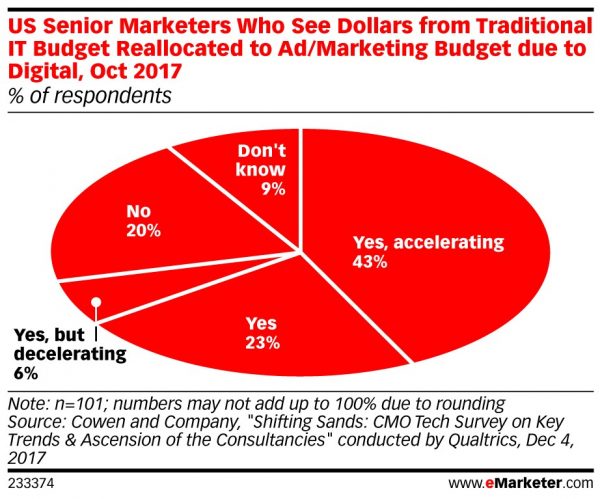 Here's a breakdown of where that spend is being applied when it comes to marketing technology: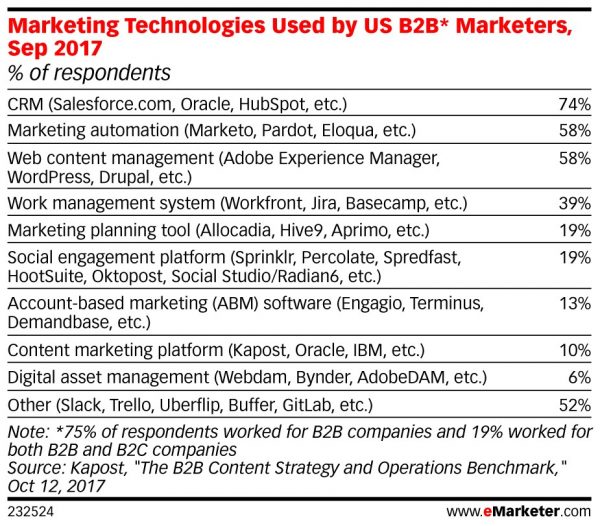 "Marketers are absolutely not doing enough today," said Kyle Metcalf, CEO of Inspired eLearning, in the eMarketer report. "Phishing and all the different threats are still very, very successful, and you read about a new breach every day. Most marketing organizations own the front-end website of an organization, and often it is manipulated or hacked and people are able to get into company systems or sensitive information."
Some experts point to the disconnect between marketing tools that expose vulnerabilities. Only three percent of marketers say that all of their systems and technologies are seamlessly connected: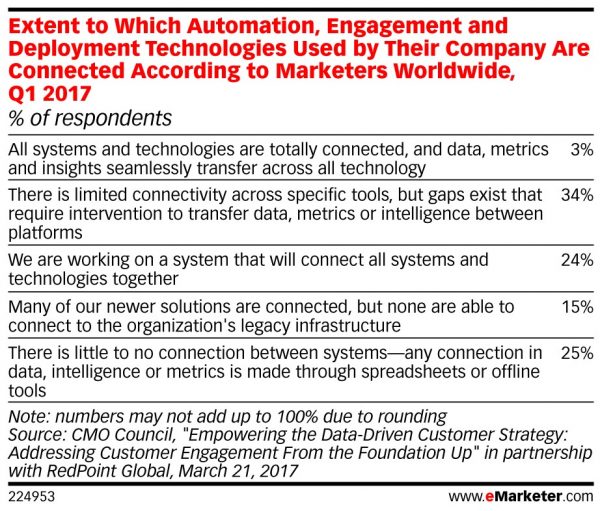 According to Holly Rollo, CMO of cyber security firm RSA, it is those gaps that expose an organization to cyber threats:
"Individual applications aren't vulnerable—it's the cracks in between them that cause problems. Think of WordPress: The top 10,000 websites in the US use WordPress as their core contact management system. The open-source product requires constant updates and patches. If marketers regularly keep up that's good, but it's difficult to chase down the latest patches in complex marketing tech infrastructures."
Marketing and IT: Working Together to Close the Gaps
Marketing and IT professionals need to work together to secure their organizations from cyberattacks. But those two groups often don't even agree when it comes to how frequently they actually collaborated together: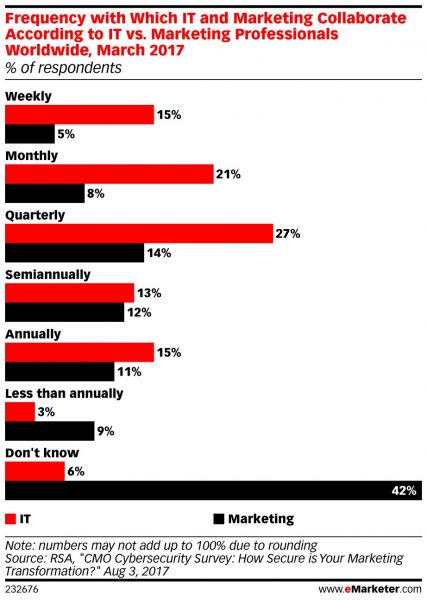 Working with a team like Perficient can help close the gaps and break down siloes between departments. We have expertise in organizational change management, process optimization, and more, as well as partnerships with leading software companies.
When implementing marketing technology on the cloud, such as Adobe Experience Manager on Microsoft Azure, Perficient provides deep technical knowledge, along with strategy design. Microsoft Azure's integration with Adobe Experience Manager brings together the best of both worlds for digital experience platforms and cloud-based hosting. You need to be thoughtful when selecting a platform that aligns to your business and marketing goals. However, you should avoid a do-it-yourself approach when it comes to the implementation.
By working with an implementation partner like Perficient, we can help you:
Develop your digital marketing and cloud strategies
Provide branding and experience design
Build, deploy, and monitor your implementation
Provide systems integrations
Perform testing and optimization
We have award-winning practices for both Adobe and Microsoft, and we have a deep breadth of knowledge in both digital marketing strategies and cloud solutions. We work side-by-side with our clients on their AEM journey, implementing digital experience and business optimization solutions on the Microsoft cloud. With our combined experience and industry knowledge, our team of industry specialists, management consultants, and experience design experts deliver vision, execution, and value to your organization.