Anyone who is single understands the exhaustion and frustration of modern dating, especially with so many different online platforms and mobile
applications. Without the right strategy, finding love becomes an overwhelming and thankless experience.
Developing a dating application is also a challenging endeavor, especially with the nuances of digital transformation. Akin to modern marketing challenges that enterprises face, singles:
Must find ways to devise the correct keywords and opening copy to attract the right interest.
Need to leverage the correct visual elements to combat short attention spans.
Face a competitive marketplace with other singles vying for a similar outcome.
Notably, none of these also include the personal challenges that singles face that dating applications cannot innovate upon, including one being at their best and hoping that timing works out.
However, let us say you could devise the perfect application to bring souls together. What would that include? With Valentine's Day tomorrow, we looked at modern technology for an answer.
#1 – Artificial Intelligence Meets Dating Context
At the heart of finding love is matchmaking, where both technologies and humans connect via similar interests and values. While most dating applications offer matching capabilities, few provide the automated and contextual triggers to ensure the right people meet over the right hobbies and values.
Artificial intelligence is playing a larger role across all dating technologies, providing the support for singles to wade through physical interests, hobbies, cultural background, or career with ease. Through a pre-determined selection process, an ideal artificial intelligence solution would seek matches without oversight and make stronger matches. Of course, a reliance on AI also may lead to overlooking the perfect person, so tread cautiously.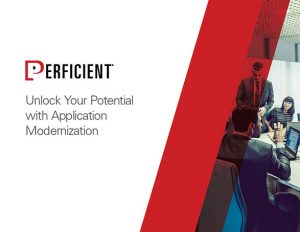 Application modernization is a growing area of focus for enterprises. If you're considering this path to cloud adoption, this guide explores considerations for the best approach – cloud native or legacy migration – and more.
Of course, why stop at the first date with AI? Even once you get to know someone, AI will be there to help you pick out dating ideas and spark conversation so you can further connect, nearly eliminating altogether the feared awkward silences.
#2 – The Internet of Things Inspires Immediate Connections
Imagine that you are out with your single friends at a bar or an art gallery. Surrounded by so many people, your phone begins buzzing to let you know that there are other singles around you too, enjoying an alcoholic beverage or a similar piece of abstract art. With the proper context, you and your friends meet up with other singles, leading to potential dating possibilities.
According to dating website eHarmony, this is one of the many possibilities of the future. From being able to notice singles nearby to even having built-in sensors answer physical interest questions, the possibility of knowing everything before even having a drink is entirely possible, even with more storage to hold individual metadata. Of course, you still need to have butterflies when seeing someone attractive for the first time too.
#3 – Robot Dating Mirrors Idealism
Perhaps the most controversial of all are the rise of robots in dating and love. Robots arrive with concerns that mirror the arrival of robotic process automation (RPA) in work, including the replacement of humanity. Still nascent, robot relationships seek to replace (or avoid) the difficulties of human interaction and provide unique and idealistic qualities while combating loneliness.
Dating a robot will likely require a multitude of technologies, including modern software and hardware in addition to customized features that meet the needs of every individual. Eliminating the need for keywords and competition with other single individuals, the only challenges here may lie on the development side where technology teams will leverage DevOps principles to push software updates, optimize robotic personalities, and add integrations (with IoT, artificial intelligence, storage – to name a few) to keep things interesting.
What do you think makes the perfect dating application? Share your thoughts in the comments below.
Learn More
Whether you are building the next killer dating application or just want to optimize your organization's current development efforts, we can help. Speak with a specialist at www.perficient.com today and download our guide, 5 Steps to Mastering DevOps to discover how you can boost innovation.