Western Alliance Bank had good visibility into profitability but lacked a platform that could pull data from different sources, model it, and create visual stories that empowered users to spot opportunities, forecast efficiently, and reduce risk.
Andrew Boucher, former vice president of FP&A at Western Alliance Bank, led the bank's effort to find a cloud analytics platform that would meet its needs without being overwhelming to deploy and manage. The company chose Oracle BI Cloud Service (BICS), part of the Oracle Analytics Cloud (OAC) suite and partnered with Perficient to help.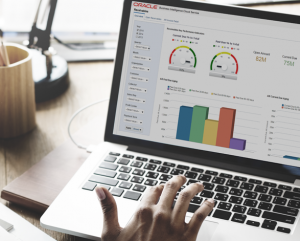 Explore key considerations, integrating the cloud with legacy applications and challenges of current cloud implementations.
Join us to hear Andrew discuss Western Alliance Bank's experience with Oracle Cloud, lessons learned, and how OAC could benefit your organization.
Discussion will include:
Challenges with the legacy environment
Benefits realized with consolidated analytics, ability to trend KPIs, and drill to detail
Best practices and methodology
Latest development on Oracle Analytics Cloud