When you think of Einstein, what comes to mind? Perhaps the German-born theoretical physicist who developed the theory of relativity or possibly a chain retailer of moderately priced coffee and bagels? If you use Salesforce, the term "Einstein" means a totally different thing: artificial intelligence (AI) for CRM. Einstein has made AI a reality for businesses and is powering the world's leading brands.
But First, What Is Artificial Intelligence?
Have you ever used Siri, Alexa, or a Google Home device? What about voice-to-text? Those are examples of voice recognition AI. Similarly, image and vision recognition is used by Facebook to suggest tags for friends in pictures and is the driver (pun intended) behind the self-navigating vehicles of the future.
"Artificial intelligence is the concept of having machines 'think like humans' — in other words, perform tasks like reasoning, planning, learning, and understanding language. While no one is expecting parity with human intelligence today or in the near future, AI has big implications in how we live our lives. The brains behind artificial intelligence is a technology called machine learning, which is designed to make our jobs easier and more productive." (Salesforce)
You can learn more in the Salesforce deep-dive on AI— including important questions like "Am I going to be replaced by a robot?"
Salesforce Brings Users AI
As cognition and problem-solving capabilities in AI improve, the real-world applications are growing rapidly. Salesforce shares that their AI, called Einstein, increases sales, fine-tunes marketing, and provides the immediate and personalized service today's customers want.
Sales — It can analyze information from email, calendars, and CRM data to proactively recommend actions like the best email response to move a deal forward.
Service — It can automatically classify cases and intelligently route them to the right service agent.
Marketing — It can intelligently score the likelihood of a customer to open an email, subscribe to a newsletter, or make a purchase.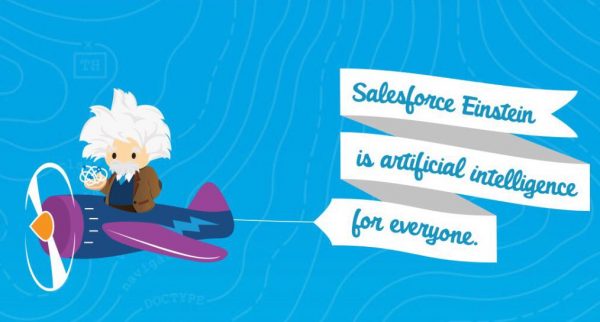 Harvard Business Review touts one of the "most welcome developments is that the necessary algorithms and hardware for modern AI can be bought or rented as needed" and even gives Salesforce a nod as a company "making powerful ML infrastructure available via the cloud." At Perficient, we can help you identify the best technology solutions for your business and we are happy to offer this new Salesforce capability.
Meet Salesforce Einstein
Chairman and CEO Marc Benioff takes the opportunity every year at Dreamforce (the largest tech conference in the world, if you didn't know) to share Salesforce's vision for the future and reveal key innovations, like these Einstein releases. Download the highlights of Benioff's Dreamforce '17 keynote to learn more.
Meet myEinstein
With myEinstein, businesses can give customers and employees the AI-powered apps that they love. Einstein Vision, Language, Prediction Builder, Bots, and Einstein for AppExchange enable Trailblazers to build apps that gain valuable customer insights and deliver meaningful, predictive experiences to all customers.
Drive Service Transformation
When your customers need answers, your service teams need to be equipped to respond quickly and easily. The #1 Service Platform gives agents the tools to deliver smarter, faster, more personalized service experiences on multiple channels. Automate service processes, streamline workflows, create self-service communities, and connect your entire mobile workforce.
Einstein Forecasting
Einstein Forecasting analyzes millions of data points in a company's opportunity history to create predictions around exactly how much is going to close. These predictions help sales leaders know where to focus their reps and attention and make proactive business decisions.
Einstein Answers
A customer community enhances the self-service experience by harnessing the collective knowledge of your customer base. Einstein Answers takes self-service further by automatically delivering answers to common questions in real-time. With the power of Einstein and your data in Salesforce, you'll answer every customer question faster and more accurately.
Einstein Bots
Einstein Bots chart directly with your customers on your customer service agents' behalf. Qualify and resolve routine customer requests automatically with AI-powered chatbots that are connected to CRM and existing business process.
Einstein Vision for Social
The millions of photos people share on social media represent many consumer behaviors, preferences, wants, and needs that are going undetected by marketers. Einstein Vision for Social Studio delivers AI-powered image recognition directly within the Marketing Platform. Now, marketers can automate the discovery and identification of images, and respond appropriately.
Einstein Search for Commerce
For retailers, search is a gateway to their products, driving conversion rates and revenue. By leveraging AI, retailers can help shoppers find what they want, faster. With features like Einstein Search Dictionaries, Einstein Search Recommendations, and Keyword Search Sorting Rules, retailers can deliver intelligent, relevant, and fast site search results.
What do you think? What are some ways AI could work with your business? With all major businesses evolving along their own path to Digital Transformation, don't get left behind.